The Department of Health has referred a World Health Organization study on links between the consumption of processed meats and cancer to its own experts as well as the Food Safety Authority of Ireland.
In a statement the department said the research "will feed into the review of healthy eating guidelines currently being undertaken by the Health Promotion Unit of the Department".
Experts from the International Agency for Research on Cancer, which is part of the WHO, concluded that 50g of processed meat eaten daily increases the risk of colorectal cancer.
After thoroughly reviewing the accumulated scientific literature, a group of 22 experts from ten countries further classified the consumption of red meat as probably carcinogenic to humans.
This association was observed mainly for colorectal cancer, but associations were also seen for pancreatic cancer and prostate cancer.
"For an individual, the risk of developing colorectal cancer because of their consumption of processed meat remains small, but this risk increases with the amount of meat consumed," says Dr Kurt Straif, Head of the IARC Monographs Programme.
"In view of the large number of people who consume processed meat, the global impact on cancer incidence is of public health importance," he said.
The IARC considered more than 800 studies that investigated associations of more than a dozen types of cancer with the consumption of red meat or processed meat in many countries and populations with diverse diets.
"These findings further support current public health recommendations to limit intake of meat," said IARC Director Dr Christopher Wild.
"At the same time, red meat has nutritional value. Therefore, these results are important in enabling governments and international regulatory agencies to conduct risk assessments, in order to balance the risks and benefits of eating red meat and processed meat and to provide the best possible dietary recommendations," he added.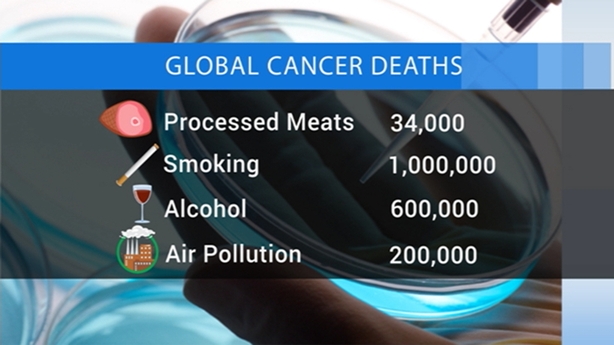 Source: WHO. Data refers to annual figures
Irish Cancer Society supports IARC research
The Irish Cancer Society has agreed with the results of the WHO report, saying that avoiding or limiting dietary intake of processed meat can help to reduce the risk of certain cancers.
In a statement the ICS said: "There is strong scientific evidence to support avoiding or limiting the consumption of processed meat, which has been linked to colorectal cancer.
"A diet high in red and processed meat is linked to bowel cancer and (the ICS) recommends avoiding processed meats and reducing the consumption of cooked red meat to 500 grams per week."
As part of a balanced diet the ICS also advocates eating more fruit, vegetables, wholegrains and pulses, cutting down on foods high in calories, fat and sugar, reducing alcohol consumption, and cutting down on salt.
Eating a healthy diet, being physically active, and being a healthy weight, the ICS said, can reduce cancer risk by one-third.
Meanwhile, the Irish Farmers' Association has said consuming recommended quantities of red meat is well recognised by medical experts as being beneficial to human health and provides the body with essential vitamins and minerals.
The IFA added that red meat is an important part of a balanced diet in most Western societies where a plentiful supply of quality foods has added greatly to health and life expectancy.