The evidence always pointed to one man. The post-mortem report said Fr Niall Molloy had died from head injuries sustained in a beating at the home of businessman Richard Flynn.
Fr Molloy had suffered at least five or six blows, then-State Pathologist John Harbison estimated. The gruesome photos of the battered face of Fr Niall Molloy suggested this may have been a conservative estimate.
And the man who had beaten the priest, Richard Flynn, even pointed to himself.
"I am the culprit," he told gardaí hours after the attack on 8 July 1985.
But Flynn was acquitted of manslaughter and assault after a trial the following June that lasted just hours.
In a controversial ruling, Judge Frank Roe accepted Flynn's defence that he struck Fr Molloy in reasonable self-defence and that the 52-year-old Roscommon priest may have died because of a pre-existing heart condition.
However, RTÉ Investigates has obtained new documents relating to the case that were not seen by investigating gardaí.
They contain admissions by Flynn that contradict what he told gardaí. They reveal, for the first time, in Richard Flynn's own words, the extent of his assault on Fr Molloy and a possible motive for it.
In the newly uncovered evidence, Flynn stated that he "must have hammered" Fr Molloy and that he struck him more than the two or three times he had admitted to gardaí, suggesting that he went well beyond reasonable self-defence.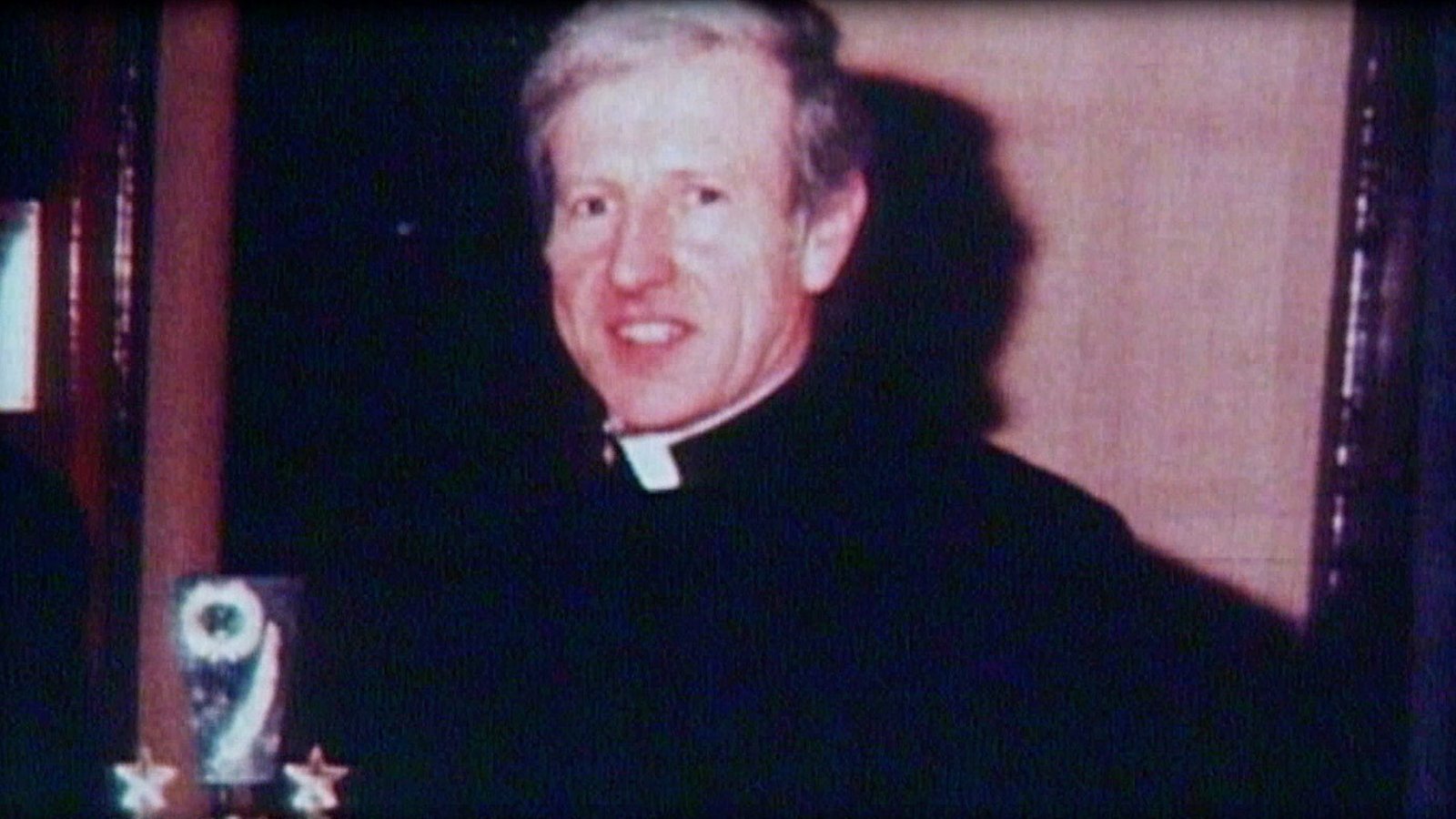 The documents are significant because they are largely in Richard Flynn's own words. Flynn did not testify at his criminal trial and he did not give any details to gardaí beyond a brief interview in the early hours of 8 July, just after the incident.
Under the law at the time, a murder suspect could not be involuntarily detained and questioned by gardaí unless a firearm was involved.
Flynn testified at the inquest into Fr Molloy's death but didn't deviate from the thrust of his original statement to gardaí, which was just one page. That statement represented Richard Flynn's public version of what happened, how it happened and why it happened. Until now.
The new documents, including a psychiatric assessment of Richard Flynn conducted four months after the incident, detail Flynn's deep and prolonged resentment at the very close relationship his wife, Thérèse, had with Fr Molloy.
Richard Flynn states in one document that Fr Molloy was responsible for "wrecking" his marriage, suggesting a deeper motive that may explain the ferocity of his attack.
According to the psychiatric assessment – a six-page report prepared by psychiatrist Liam Hanniffy – Flynn told Dr Hanniffy that, while he only remembered hitting Fr Molloy one punch, "I must have hammered him".
In his report, Dr Hanniffy, the former chief psychiatrist at St Fintan's Hospital in Portlaoise, described the attack as "frenzied".
We shared the psychiatric assessment and other documents with Niamh Maguire, a Senior Lecturer in Law at South East Technological University.

In the morning I asked Thérèse to leave and go and live with Fr Molloy and I would take care of the children
"If the psychiatric assessment was available to the prosecution and if the prosecution was able to have that admissible at trial, I think it would've been a completely different outcome," Dr Maguire told RTÉ Investigates.
The new evidence "definitely would have grounded a conviction", she said.

And, in a second significant document unearthed by RTÉ Investigates, a written account of the assault, Flynn described how he "butted him [Fr Molloy] into the face several times with my head".
Flynn added that he had "another lapse of memory," and "then I remember hitting him one punch on the left side of the jaw. Then I had another black-out and the next thing was I saw him lying on the floor".
That account is dated 28 May 1986, a fortnight before Flynn's criminal trial began at the Circuit Criminal Court in Dublin.
While these documents were not available to the prosecution, RTÉ Investigates has seen evidence that the psychiatric report was sent to Richard Flynn's defence team. But they were under no obligation to supply it to the prosecution.
The admissions contradict Richard Flynn's comments to gardaí in the hours after Fr Molloy died – that he had punched the priest in self-defence.
"I hit Fr Molloy at least twice and probably three times in the face with my clenched fists," he said in his statement.
As a matter of pure arithmetic, the newly revealed documents show that he went beyond two or three blows – referencing, as he did, one punch and several headbutts.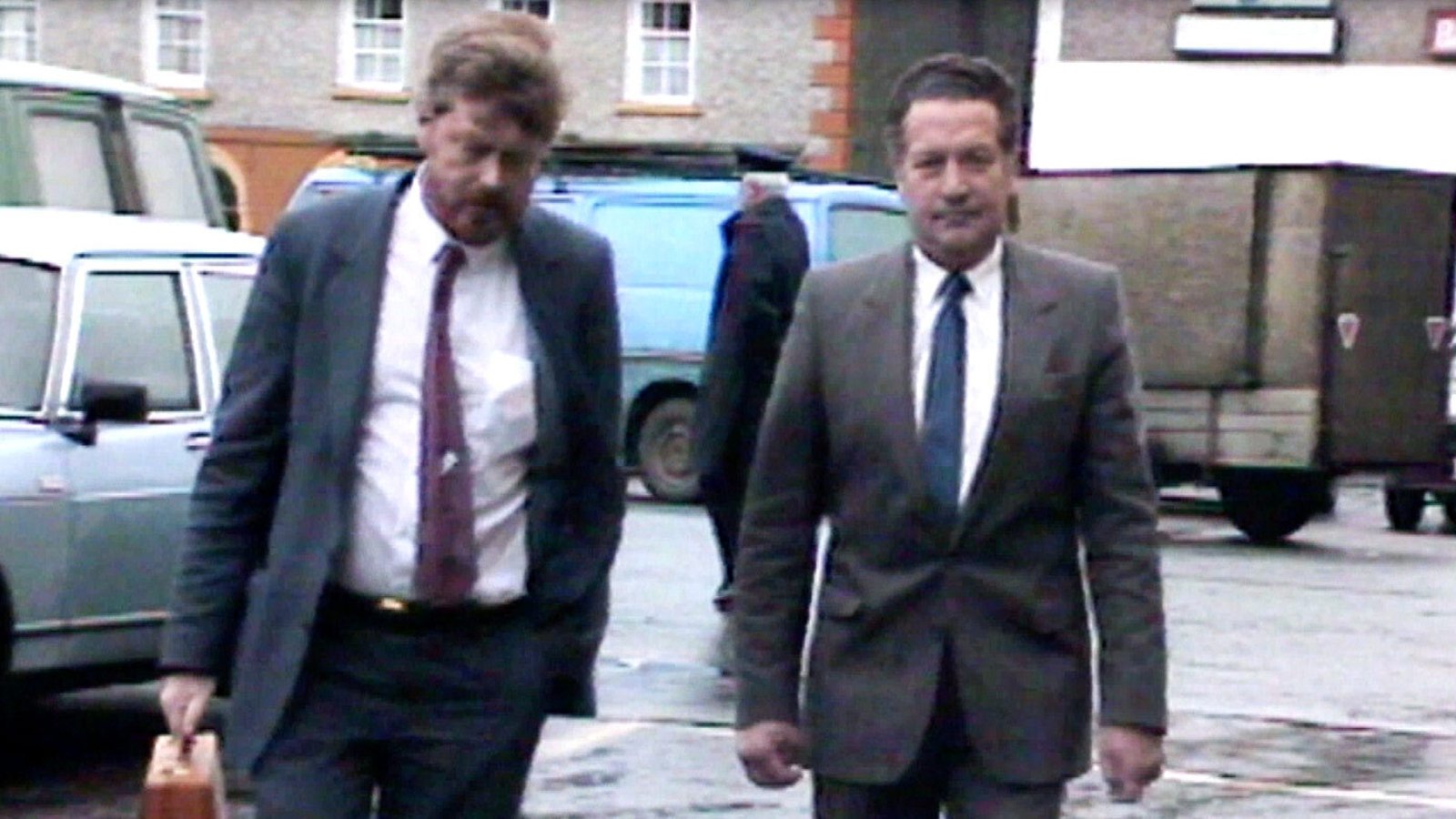 Add in blackouts and an admission that he must have "hammered" Fr Molloy, and these accounts by Richard Flynn appear to tally with the findings of Prof John Harbison, who listed six head injuries in his report and estimated that Fr Molloy was the recipient of at least five or six blows.
However, the claim by Richard Flynn that he had struck only two or three blows was key to his acquittal.
In directing the jury to return verdicts of not guilty, Judge Frank Roe said that the possibility of self-defence was "undoubtedly brought into the picture".
Ben O'Rafferty, who represented the family of Fr Molloy at the inquest into his death, believes that, if the new evidence were available, it "would have completely undermined the defence of any form of self-defence".
In Flynn's statement to gardaí just after the attack, he said that the row with Fr Molloy arose from "a stupid argument" between Flynn, his wife and Fr Molloy over who should go downstairs to get drinks from the couple's bedroom, where they had been chatting.
However, the documentation obtained by RTÉ Investigates suggests that a long-held, suppressed resentment of his wife's relationship with Fr Molloy may have motivated the assault and explained its severity.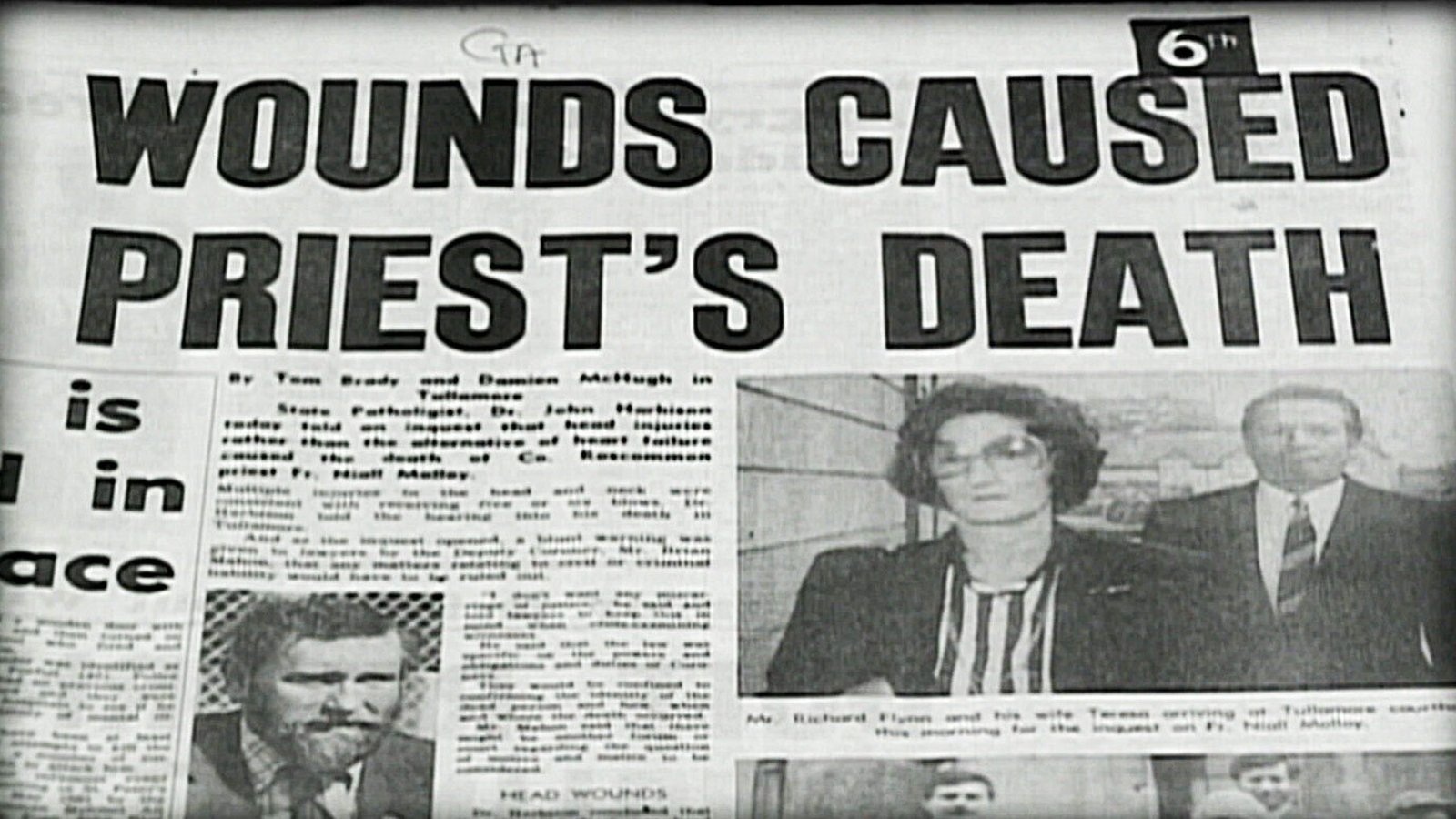 During Flynn's criminal trial, Judge Frank Roe was emphatic that, despite rumours, there was nothing improper in the relationship between Fr Molloy and his wife, Thérèse, that may have explained the assault.
"It is perfectly clear from all the evidence that the friendship between Father Molloy and Mrs Flynn was a perfectly proper one. They were great friends for nearly 30 years and there is not an iota of evidence that there was anything improper in their relationship," he said.
The new documents show that, in Richard Flynn's view, there was much more to the relationship between Fr Molloy and Thérèse Flynn than Judge Frank Roe was aware of.
In a third key document obtained by RTÉ Investigates – a 14 page summary of his married life – Flynn wrote that, from about 1961, six years after he married, Fr Molloy began to stay regularly at the Flynn family home.
"In 1961 Fr Molloy was transferred to Athlone which is quite near us, then he would visit us about two or three times a week. Sometimes he would stay overnight and leave early in the morning to be on time for his parochial duties," he wrote.
As Fr Molloy's friendship with the Flynns deepened and his business relationship with Thérèse Flynn, with whom he bought and sold horses, blossomed, Fr Molloy was provided with his own bedroom at the Flynn family home and split his time between there and his parish house.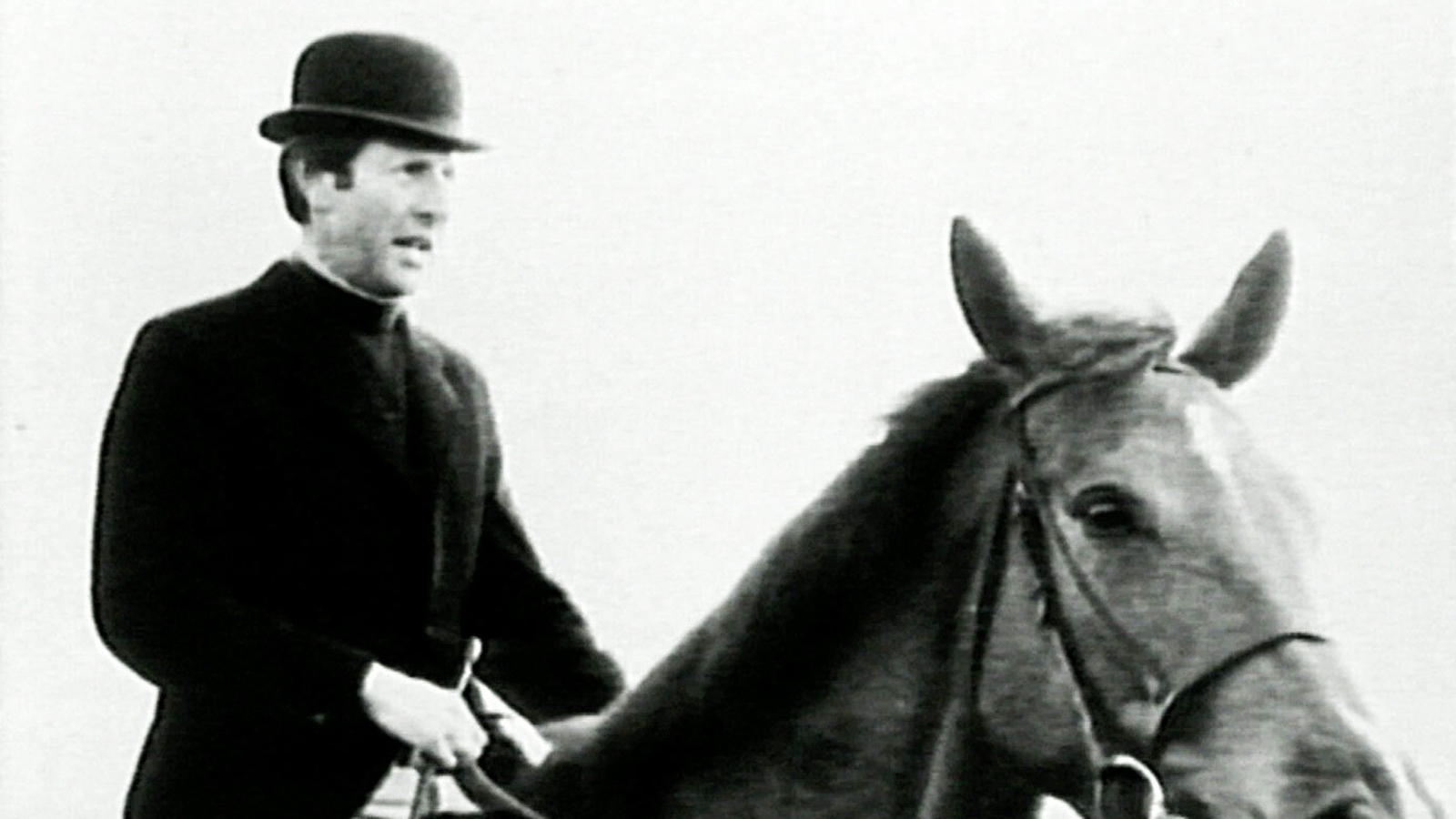 Richard Flynn wrote that his wife's growing bond with Fr Molloy sparked concern among his family.
He said: "My father, my brothers and sister were very concerned over Thérèse's developing relationship with Fr Molloy, they went everywhere together; shows, hunting etc so much so that on a visit to our home my father when he saw Fr Molloy there in the yard actually told me to 'kick him out.' "
According to the psychiatric report obtained by RTÉ Investigates, Richard Flynn told his psychiatrist that he believed "there was nothing physical in his wife's liaison but two episodes disturbed him".
Flynn details those episodes in the 14-page summary, which he wrote as a book proposal for a UK publisher.
"One night on my return...I could see her leaving Father's bedroom and going into her own, when I got to the bedroom, she pretended to be asleep – I woke her up and confronted her with what I saw and she denied it completely," he wrote.
"Approx three weeks later, I again was returning...and I went to the bedroom to find Thérèse not there - I went to Father's bedroom to find them both fast asleep in bed in their night attire. I stood at the doorway and I steadied myself – and I said to myself 'now take it easy Richard' – then I walked over to her and tapped her on the shoulder, she woke up and ran to our bedroom," he wrote.

The relationship between Fr Molloy and Thérèse Flynn was almost akin to a marriage inside of another more correct marriage. It was a tough situation
He went on: "I kept my silence until morning. During the night I made the decision that I would sell my dairy herd of 120 cows, pay off my bank loan and rent the land and devote my life to looking after the children. In the morning I asked Thérèse to leave and go and live with Fr Molloy and I would take care of the children. This she refused to do. I wrote off my marriage at this stage."
During Flynn's criminal trial, there was no suggestion of any relationship entanglement that may have provoked an attack.
As he was directing the jury to find Richard Flynn not guilty, trial judge Frank Roe gave his view that what happened was nothing more than a drink-fuelled row between long-time friends.
"These were very close friends," Judge Roe said.
"They all had probably a little more drink than they would normally take... One word borrowed another. This is not the first time that friends have struck each other blows, but, in this case, all parties were very unlucky in that the blows led to death."
He went on: "l have not the slightest doubt that Mr Flynn had not the remotest intention of killing Father Molloy or of causing him any harm whatever and, as far as Mr Flynn is concerned, must have suffered appalling mental agony since this unfortunate matter; it will live with him for the rest of his life."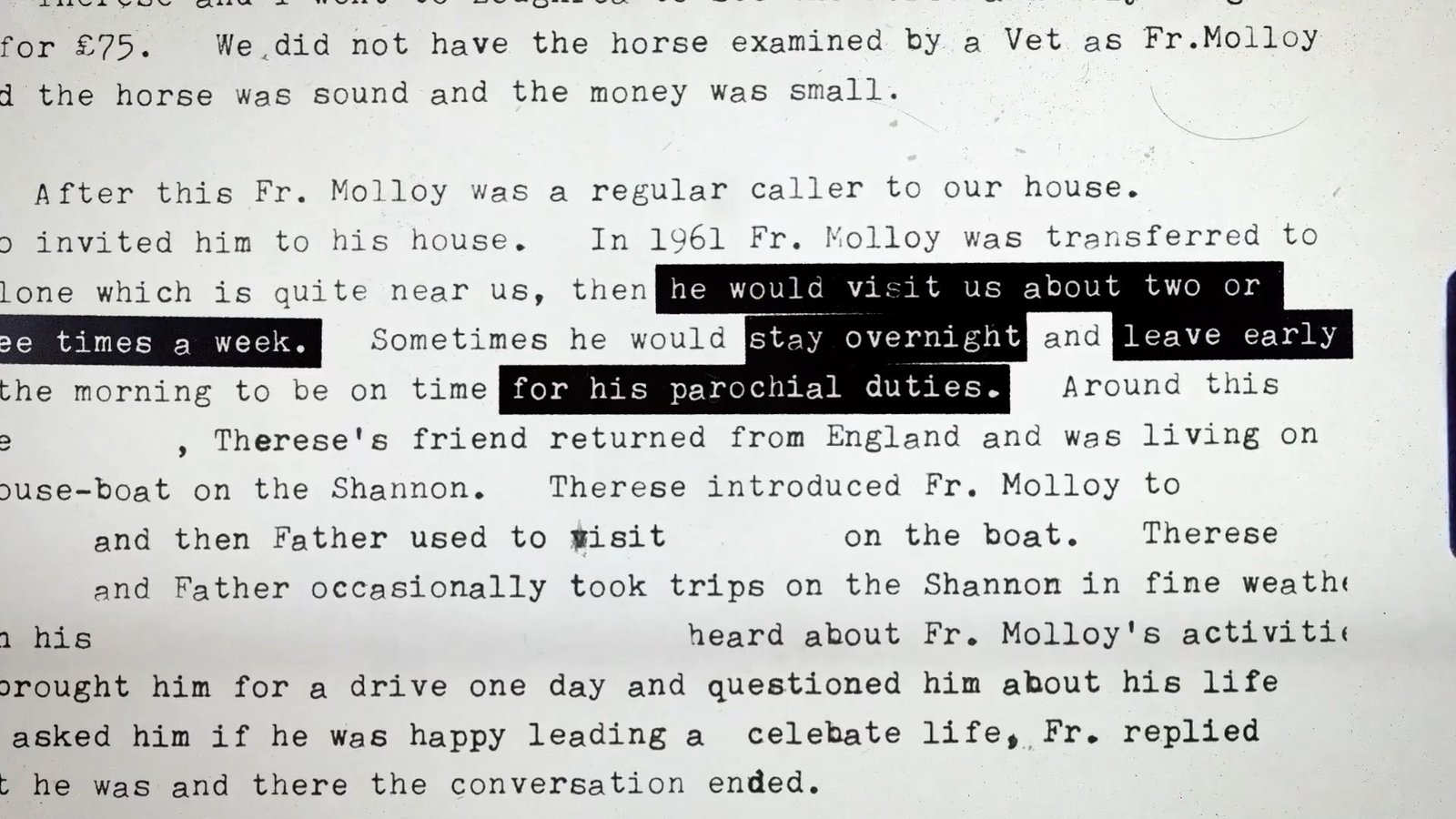 However, in Dr Hanniffy's written assessment of Richard Flynn, he concluded that the resentment against Fr Molloy explained the fury of an attack.
According to the assessment, Thérèse Flynn began to verbally abuse Richard Flynn first.
Then Fr Molloy joined in the row – the first time an angry word had passed between him and Richard Flynn in over 20 years of family friendship.
That, believed Dr Hanniffy, "was the trigger mechanism that unleashed uncontrollable fury on Richard Flynn's part resulting in his making a frenzied attack mainly on Fr Molloy which resulted in such a terrible tragedy".
Dr Hanniffy concluded that the "frenzied attack" was due to the "sudden release of subconscious anger on Mr Flynn's part".
This "anger, resentment and frustration", he wrote, "had been repressed by him consciously or unconsciously for the greater part of his married life- and which, again in my view, constituted prolonged, sustained and intense provocation".
Although the psychiatric report was sympathetic in tone to Richard Flynn, it could have proved damning had the prosecution been aware of its existence.
It, along with the other documents obtained by RTÉ Investigates, put Mr Flynn's assault in a significantly different light to that which was portrayed at his trial.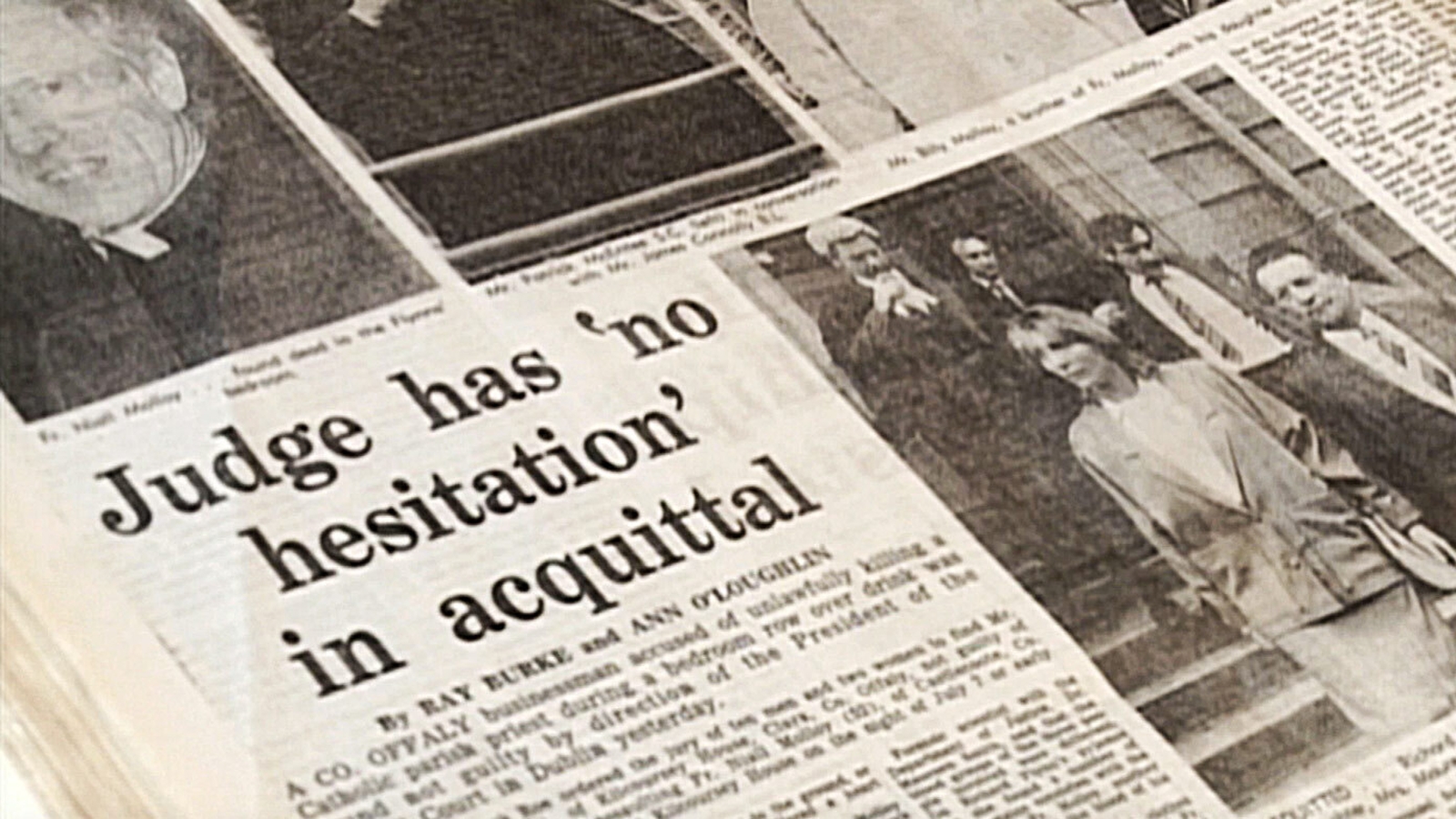 The documents suggest Flynn may have had a motive to hurt or to harm Fr Molloy because of Fr Molloy's close relationship with his wife, said Dr Maguire, referencing "the annoyance and the anger and the jealousy of watching another man live in your home and be that close to your wife".
Psychiatrist Liam Hanniffy spoke to RTÉ Investigates before his own death earlier this year.
"The relationship between Fr Molloy and Thérèse Flynn was almost akin to a marriage inside of another more correct marriage. It was a tough situation," Dr Hanniffy said in that interview.
"I saw both of them having a problem. She for not seeing she had a problem in trying to sustain a marriage at the same time as she was trying to sustain a boyfriend, a serious boyfriend," Dr Hanniffy said.
Until now, the question of what motivated Richard Flynn to beat Fr Molloy has been a matter of speculation.
Flynn's original contention to gardaí and the court – that the incident was caused purely by a row over getting a drink for Fr Molloy – has always seemed unlikely.
Members of Fr Molloy's family have suggested, without compelling evidence, that the priest may have been killed in a row relating to a failed attempt by Thérèse Flynn and Fr Molloy to purchase land from Richard Flynn.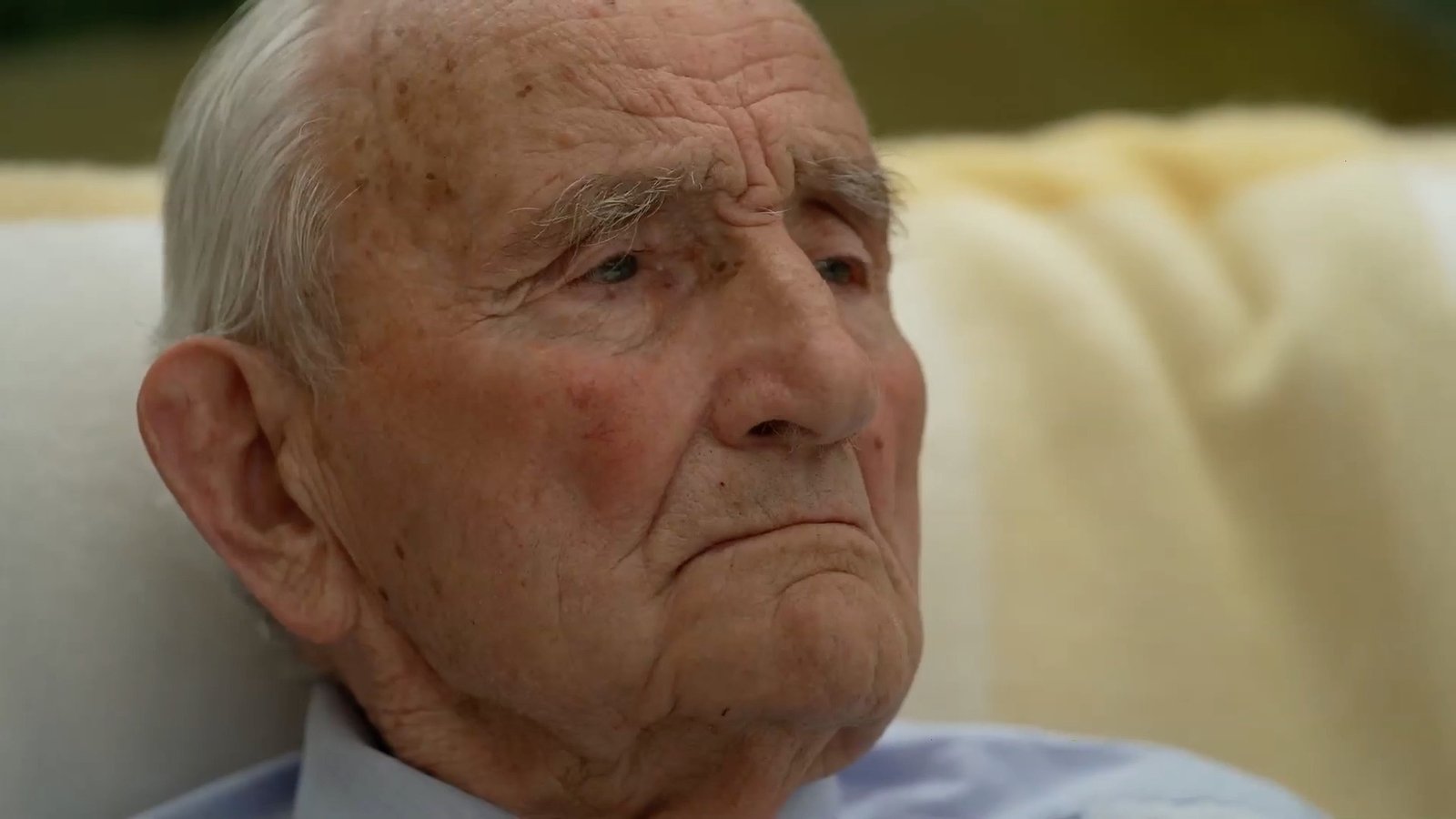 Richard Flynn also stated in the 14-page summary that, four or five years before Fr Molloy's death, he consulted a solicitor about getting a legal separation from his wife because of her close relationship with Fr Molloy, but he didn't proceed because of concerns that a separation would have an adverse effect on the children.
The lengthy account of his marriage contains strong criticism of Fr Molloy and details considerable resentment towards his wife.
Referring to the detrimental effect that the events of 8 July 1985 had on the Flynn family, Richard Flynn wrote that he had told his wife that "all this trouble would have been avoided" had she chosen to move out and live with Fr Molloy.
"She replied that she was not sorry for anything she had done and would do the whole thing all over again. This definitely was the most shattering experience I have had to endure," he wrote.
But, even though the State's prosecution team did not see any of the new documentation obtained by RTÉ Investigates, they had what seemed like a strong case – an admission by Richard Flynn that he was responsible; comprehensive forensic evidence; the absence of defensive or offensive injuries on Fr Molloy; and the absence of any notable injury to Richard Flynn.
And, importantly, they had the finding by the then-State Pathologist, John Harbison, that Fr Molloy "died of acute brain swelling and acute sub-dural haemorrhage [bleeding around the brain] ...consistent with the deceased being the recipient of five, six or more blows".
I think it's the loudest short intake of breath I've ever heard
But the case was chipped away in cross-examination by Richard Flynn's barrister, Paddy MacEntee, during which Dr Harbison accepted that it was possible that, because Niall Molloy had a pre-existing heart condition, he could have died of a heart attack while attacking Richard Flynn.
"Suddenly, Paddy MacEntee just seized on one word, which was heart," said Séamus Dooley, who attended the trial while a journalist for the Tullamore Tribune.
"So he could have died of a heart attack. And all of a sudden the thing went in a completely different direction," Mr Dooley told RTÉ Investigates.
Mr MacEntee also successfully argued that as few as two or three of Fr Molloy's injuries may have been caused by Richard Flynn, and that he had defended himself from attack by Fr Molloy in a proportionate manner. In other words, it was reasonable self-defence.
After less than one day of evidence, Mr MacEntee made a successful application that the judge direct the jury to find Flynn not guilty on the manslaughter and assault charges.
The judge then told the jury that "there [was] no evidence as to what happened except the statement made by Mr Flynn, and on his own statement it would not be proper to convict him on either count".
Judge Roe added that Dr Harbison had agreed that there was a possibility that Fr Molloy died from a heart attack.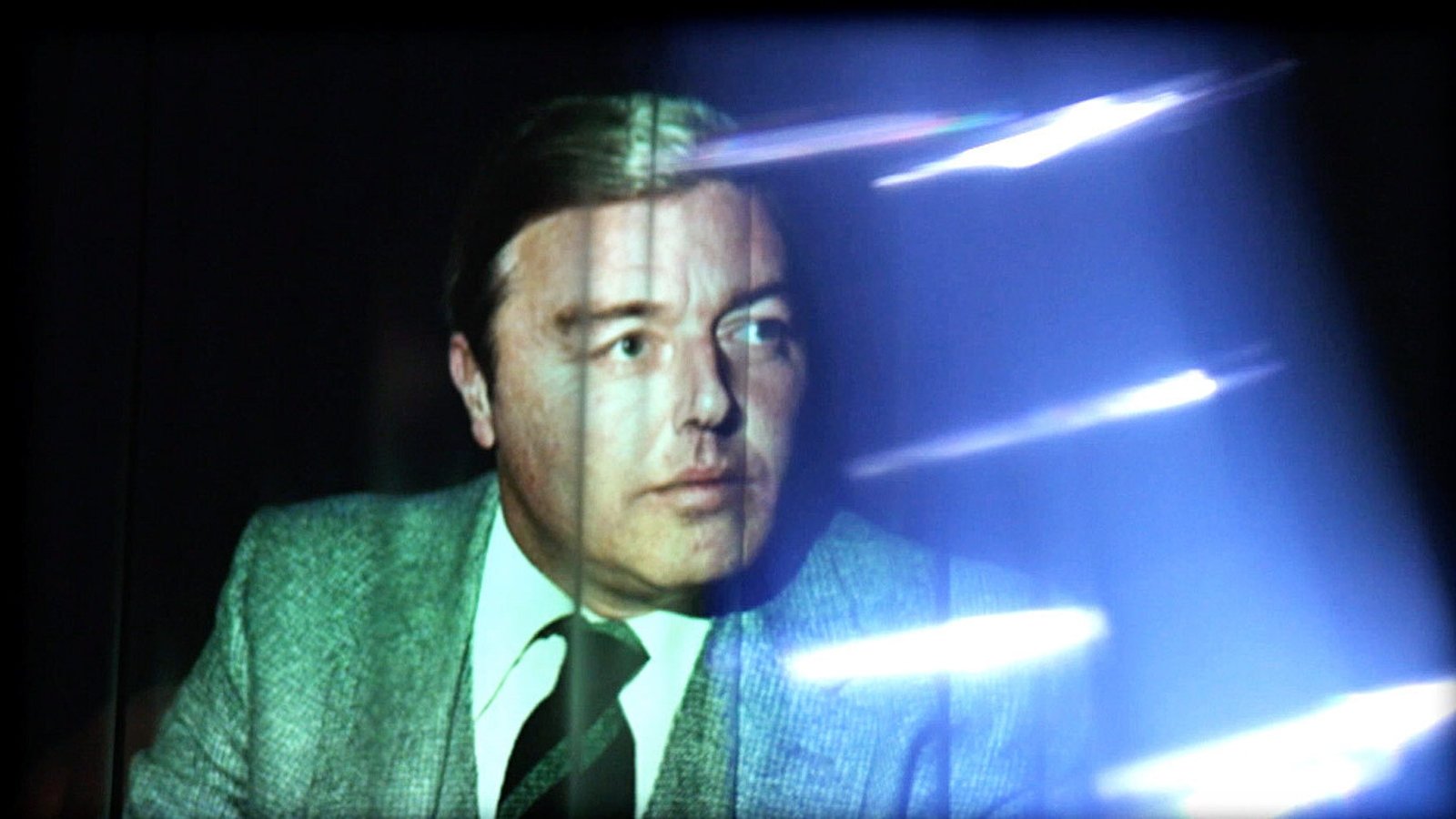 "Once that possibility is there," he said, "the law does not allow you to speculate and to say that he died as a result of head injuries caused by an assault."
And, on the second count of assault causing harm, he said that Dr Harbison's evidence made it "impossible" for the jury to convict Flynn, noting that the pathologist agreed that only two or three blows may have been struck.
"The possibility of self-defence is undoubtedly brought into the picture by the evidence and, if only two or three blows were struck, it would be impossible to say that more force was used than was necessary," the judge said.
"So, for these reasons, ladies and gentlemen, I have had no hesitation in directing you to return a verdict of not guilty."
Those in court were shocked as the judge made his decision.
"I think it's the loudest short intake of breath I've ever heard," Mr Dooley said.
And so, Richard Flynn walked free.
An inquest jury the following month found that Fr Molloy died as a result of head injuries. But, as with all inquests, which make findings on cause, time and circumstances of death and identity of the deceased, there was no finding regarding who was responsible for inflicting those injuries.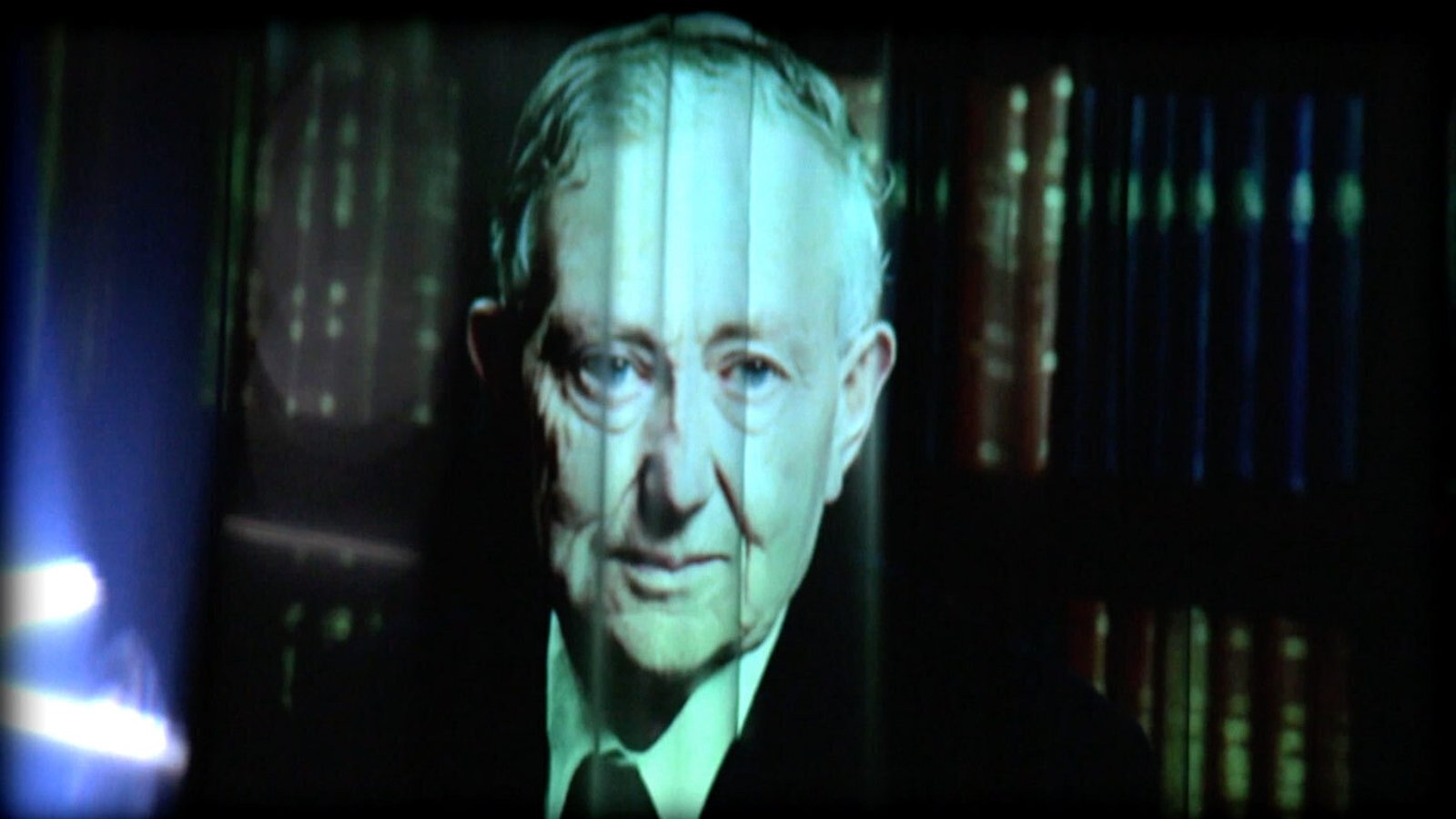 In 2014, a barrister appointed by the Department of Justice recommended against further investigation by the State.
"It is unlikely given the passage of time, the death of many of the pertinent witnesses and the reluctance of others voluntarily to give evidence, that any further inquiry would have a reasonable prospect of establishing the truth," Dominic McGinn wrote.
Richard Flynn's wife, Thérèse, died in 1993. He remarried and died in 2017. Flynn was the only person charged in relation to the death of Fr Niall Molloy.
The new documents revealed in this report contain admissions and evidence in Flynn's own words that suggest a motive to harm.
Had the prosecution known that he may have been motivated by resentment to strike Fr Molloy more than the three times he admitted to, he may have been convicted of assault and possibly manslaughter. Instead, in the eyes of the criminal justice system, he died an innocent man.

Watch RTÉ Investigates: Father Molloy – New Evidence tonight on Prime Time at 9:35pm on RTÉ One and RTÉ Player.