Catriona Carey made a strong impression when she met Sharon O'Riordan in a midlands hotel to collect her money. It was the handshake.
"Such a firm handshake – you wouldn't get that from a builder," Sharon told RTÉ Investigates.
Catriona Carey is no builder. She is a company director, an accountant and a former national sports star – she played hockey for Ireland and camogie for her native Kilkenny.
Sharon O'Riordan is a chef for the HSE. She is deep under water with her mortgage payments and her lender has secured a possession order on her house in Castletown, Co Cork.
A barrister she had come across while fighting the repossession introduced her to Catriona Carey, who offered her a path out of her financial rut.
Ms Carey owns a company called Careysfort Asset Estates, not to be confused with any other firm of a similar name, that, she told prospective clients, was in the business of buying distressed mortgages cheaply from banks. It was like a vulture fund, but a "friendly" vulture fund.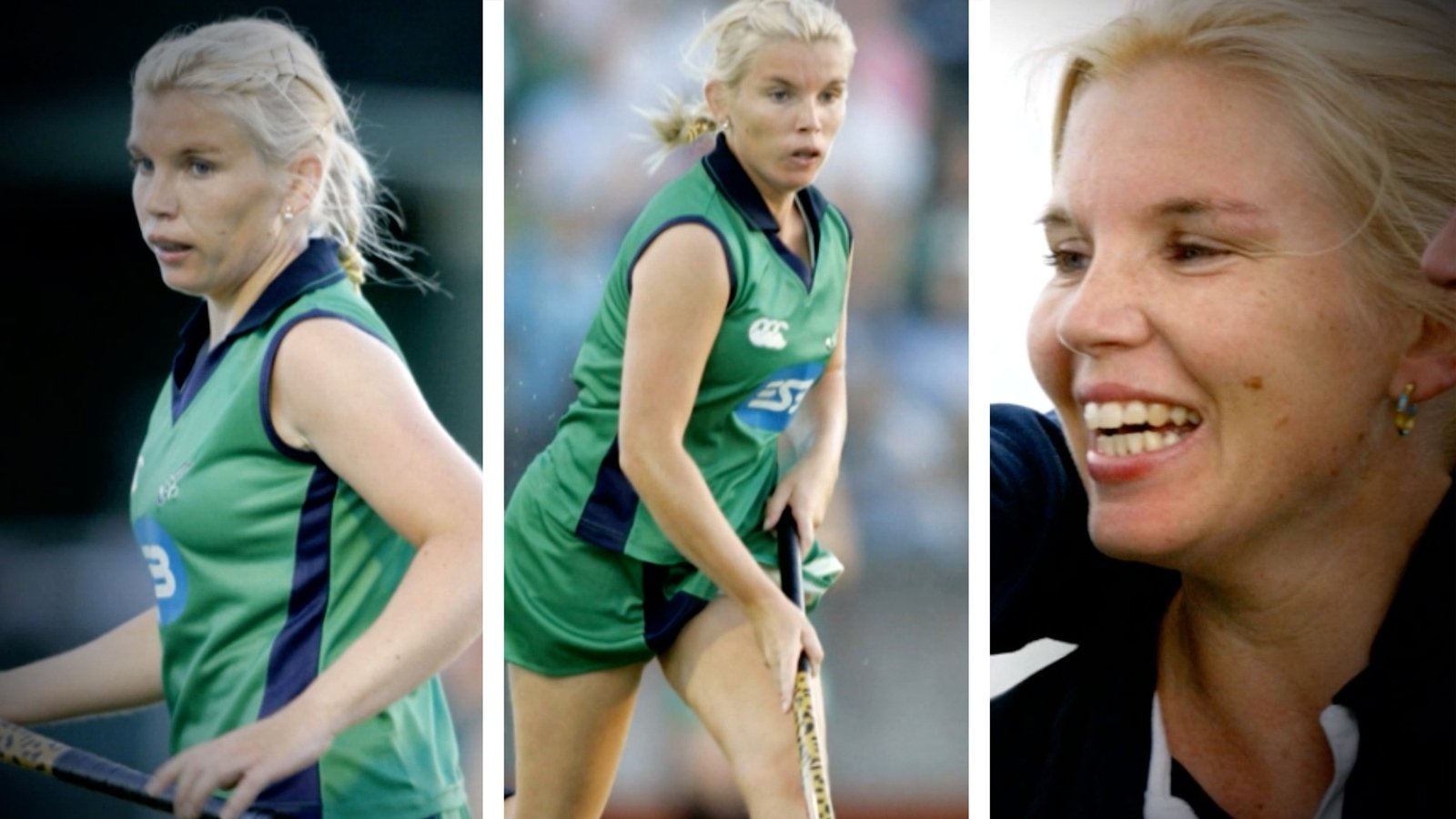 The company was offering to sell the mortgages back to the original borrower for the same discounted price it had paid. On top of this, Careysfort Asset Estates would give people a new loan, usually at a rate of 5.5%, to allow them to buy back their mortgage.
It was an apparent win-win. Careysfort Asset Estates would make money on the interest payments on the new loan and the borrower would have a sustainable mortgage and a much better chance of staying in their home.
Sharon was impressed with the proposal and the woman who was selling it. Catriona Carey "was very likeable," she said. And flexible too. She initially asked for a deposit of €25,000 from Sharon to secure the deal, but when she learned that Sharon had no way of getting €25,000, she settled for €5,000.
Already in severe financial difficulty, Sharon went to relations and borrowed. "It was soul destroying to have to ask my family for money," she said, but the opportunity was too good to pass up, and her family were supportive.

I drove down that road the happiest person in the world. I thought I finally got there. What could possibly go wrong?
So, in November 2019, she drove to the midlands hotel, where she met Ms Carey and got the "builder's handshake". After the meeting, Sharon felt as if she had just met the solution to the mortgage problems that had given her anxiety for years.
"I drove down that road the happiest person in the world. I thought I finally got there. What could possibly go wrong?"
Around the same time, in Dublin's Clondalkin, Philip Conway and Miriam Tormey were in a similar position. Philip had lost his job after the crash of the Celtic Tiger and had fallen into arrears on his mortgage.
By 2019, the couple were facing the loss of their home. The housing debt "was on my mind constantly, just this constant weight," Philip said.
And they too were introduced by the same barrister to Ms Carey. Philip told RTÉ Investigates that he "totally" fell for Ms Carey's proposal. "Hook, line and sinker – I couldn't believe what I was hearing," he said.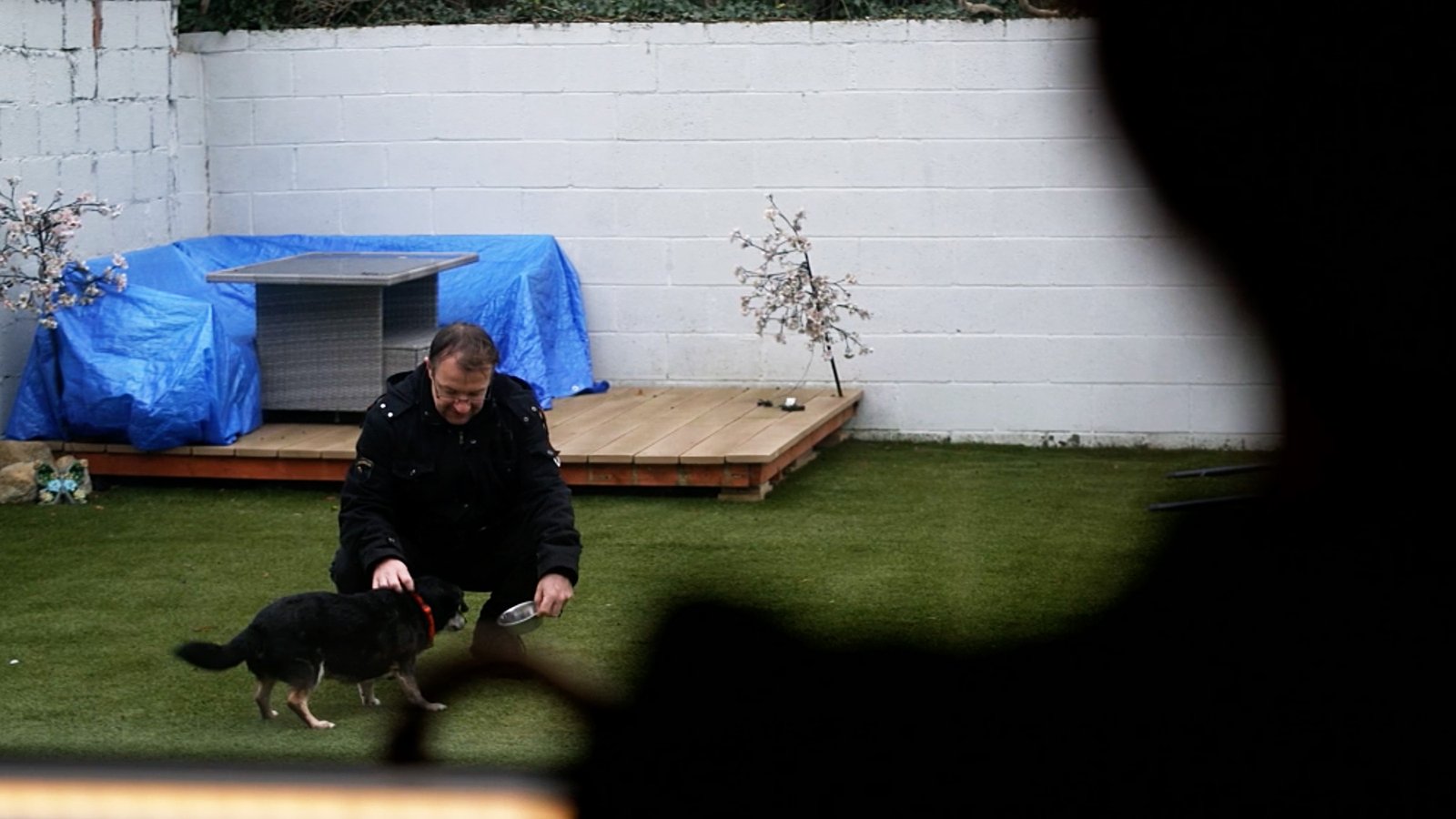 Careysfort Asset Estates asked for a €20,000 up-front deposit. Getting the €20,000 was a problem, but Philip's partner Miriam, whose name was not on the mortgage, borrowed from the credit union.
"I never had a loan for that amount of money ever in my life. I was fearful. I didn't know [Careysfort Asset Estates], but I trusted Phil. I've seen the hard work Phil has put in to try and save this house."
Like Sharon O'Riordan's contract, it was stated clearly that Philip and Miriam's deposit was refundable. The money would be repaid within 30 days according to the contract, if Careysfort Asset Estates did not perform "to the satisfaction" of the client. Philip was given a German account with Careysfort Asset Estates' name on it and told to wire the €20,000.
Once the deposit was paid, Careysfort Asset Estates was supposed to get to work. They were to engage with the holder of Philip's mortgage to negotiate the purchase of his loan.
Like others sucked in by Careysfort Asset Estates, his loan was non-performing and could in theory be purchased for a large discount. Clients were advised that the deals could take anywhere between several weeks to six months to complete.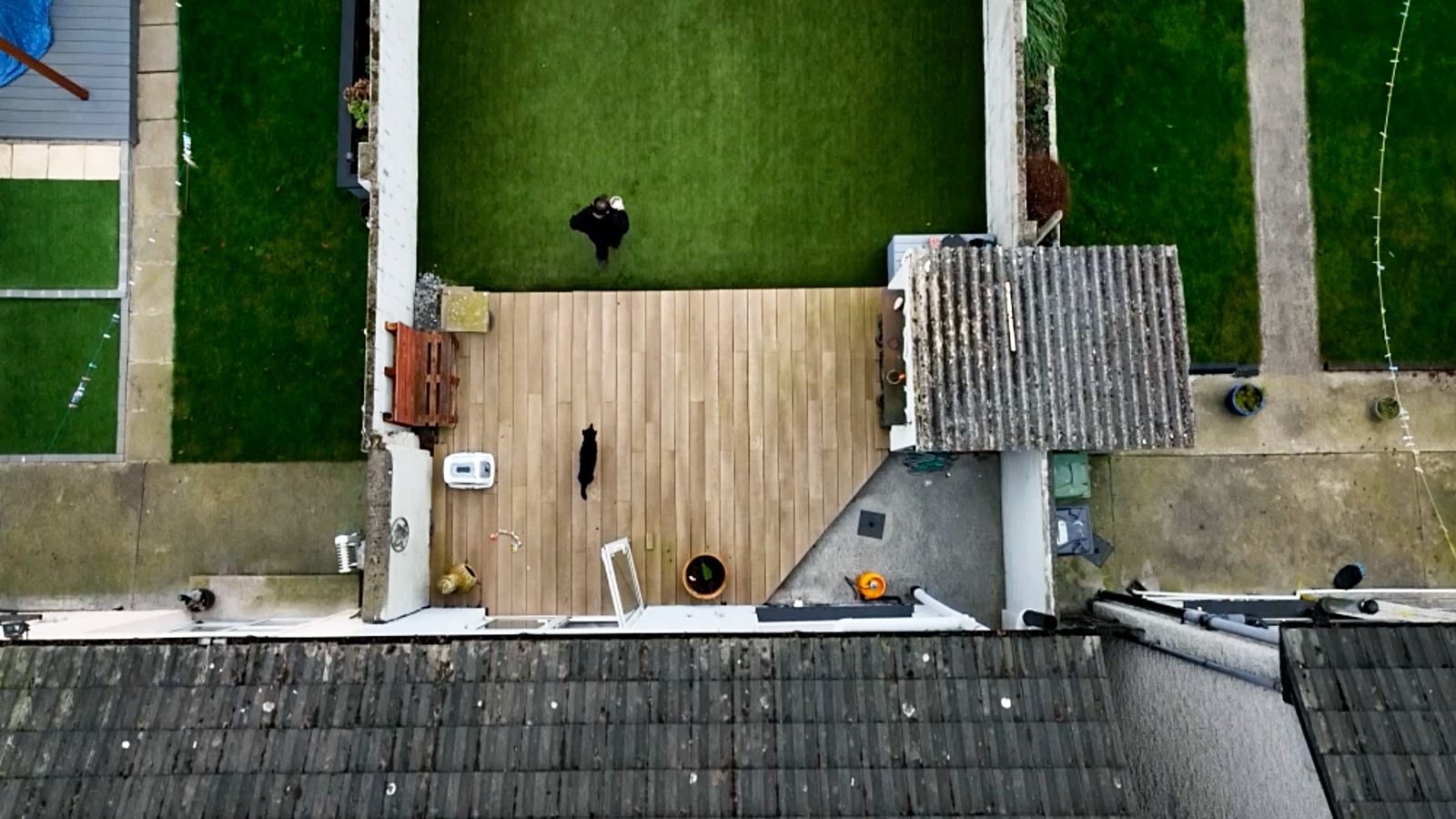 However, things didn't progress, at all. At the beginning, clients were generally not suspicious. The pandemic had begun and Covid was a credible catch-all excuse.
Besides, Catriona Carey was always quick to answer her phone and respond to texts and emails. That gave people comfort. After all, why would she respond so eagerly to people if she had anything to hide? Whenever people had questions or concerns, she reassured them that the deal that would make them secure in their home was nearly done.

Then, in late 2020, clients received what appeared to be very good news.
"We have concluded our contracts with banking institutions/courts and are now preparing to reissue contracts," Catriona Carey said in an email.
The email affirmed her "commitment to close all contracts within the month of January 2021".
"It was my Christmas miracle," said Sharon. "It was just a very light feeling to have to have all of this finally concluded and behind you."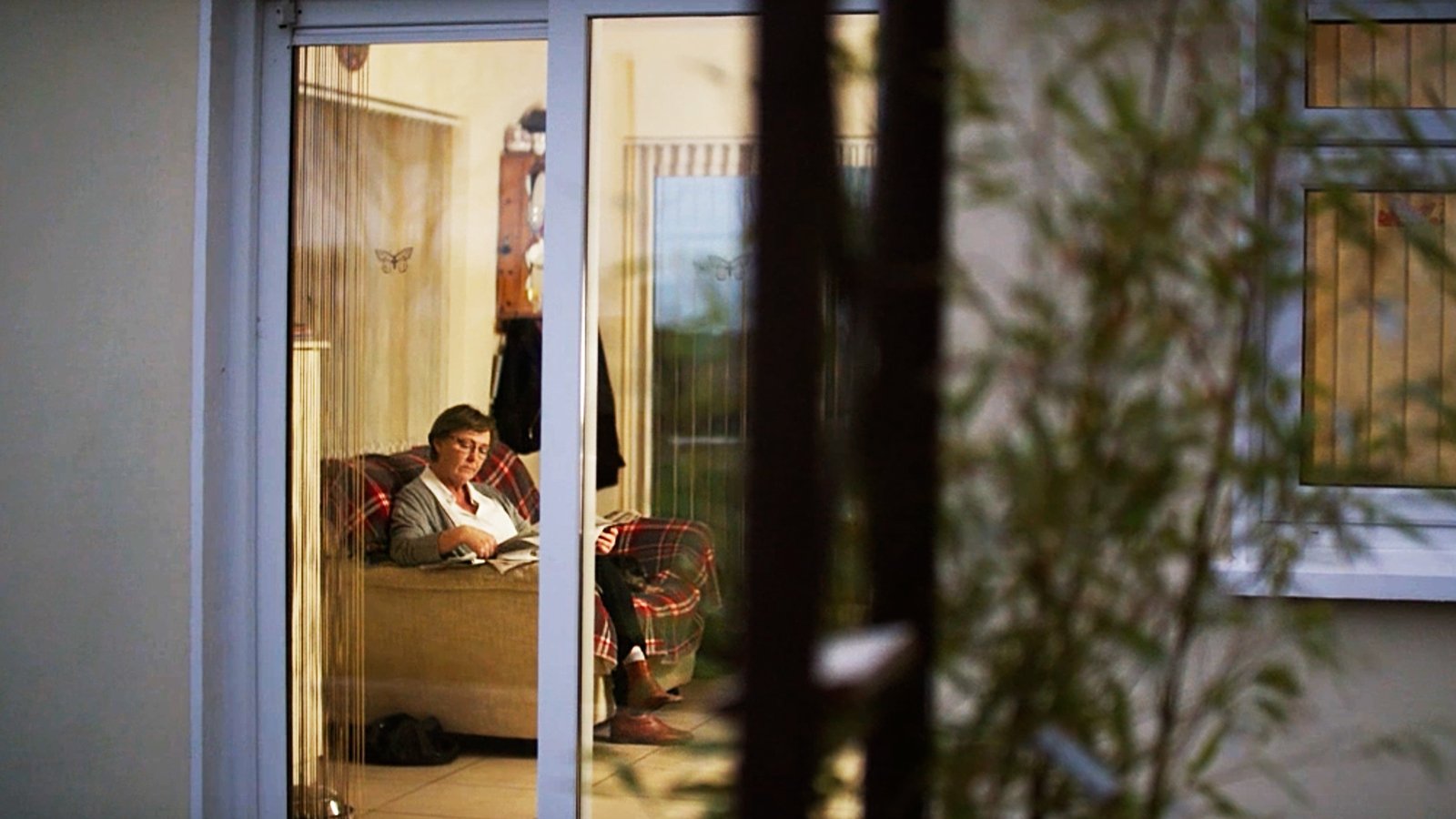 But January came and went and nothing happened for Sharon. And nothing happened either for Miriam and Philip. Then, two months later, Ms Carey texted: "Philip, our company owns your house."
It seemed like the deal was done, but the final contracts weren't coming. Every week there was a delay and an excuse.
"[It was] a delay with An Post, 'you'll have it by courier', 'you'll have it this evening'. 'Somebody had a brain haemorrhage', 'somebody had a car crash'. It was always tragic excuses," Miriam said.
When Catriona Carey's company took Philip and Miriam's deposit, she told them the deal would take six weeks. But, two years on, there was still no progress.
"It was just this constant, constant let-down. It started to affect our relationship, because it was Miriam who got the money and she was saying there is something really wrong here Phil and I don't know what to do," Philip said.
"We almost fell out totally because of them," Miriam said.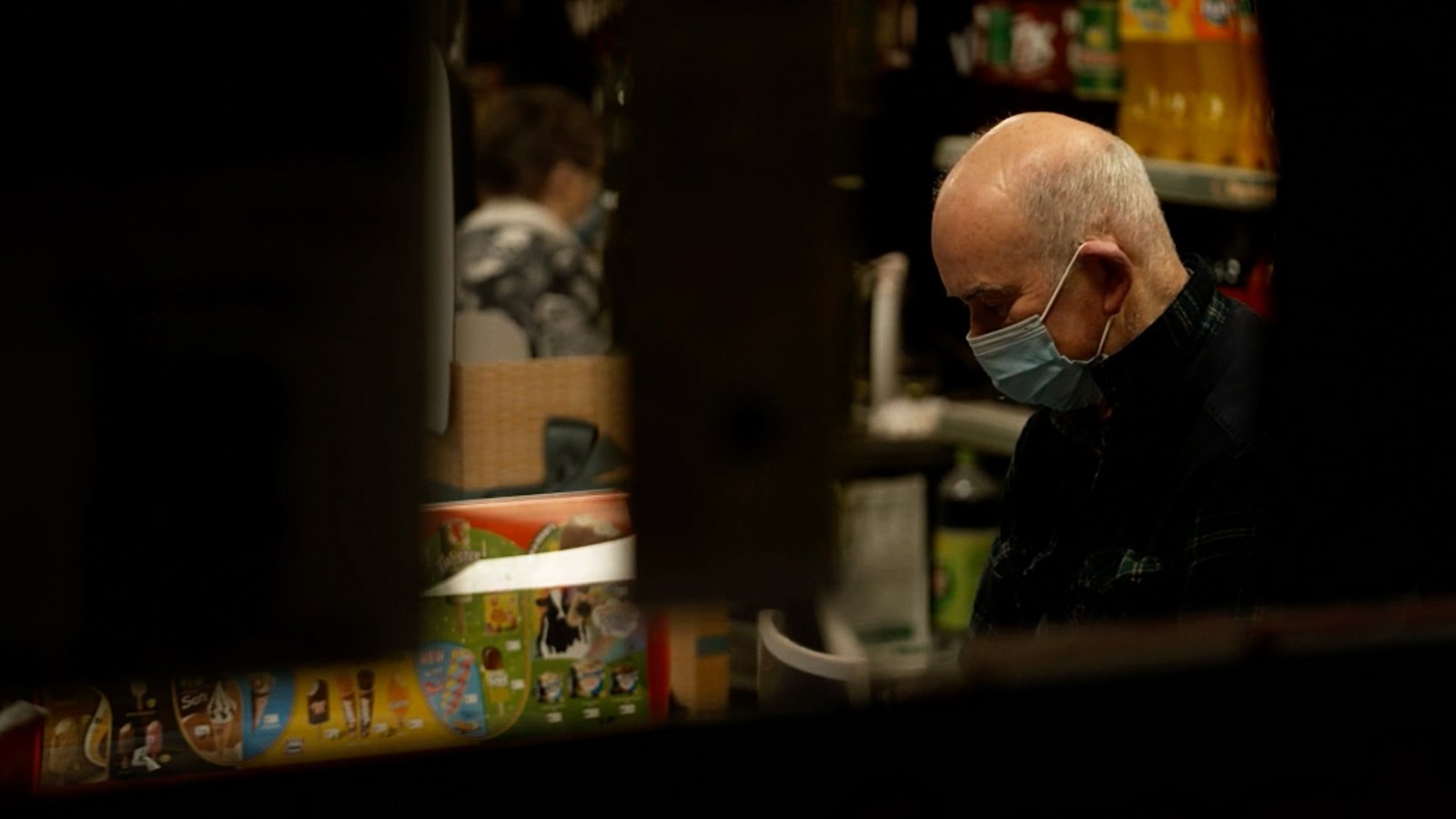 In Co Louth, Colin Finnegan was getting the same treatment from Catriona Carey. He had paid €15,000 as a deposit to Careysfort Asset Estates for it to negotiate to buy the mortgage on the property where his parents live and work.
Patsy and Mary Finnegan run the Louth Village post office and shop. Colin had bought the property in 2006, but was unable to keep up loan repayments after he lost his haulage business.
Repossession was only a matter of time and Colin was fearful that his parents could be left homeless.
"You are clutching at straws – you don't want to see your parents thrown out on the road, so you are hoping against hope," he said.
The Careysfort Asset Estates proposal to buy the loan, resell it to him and give him back a manageable mortgage was like winning the lotto, Colin said.
Despite the delays, he believed that the company was in the process of doing what was promised, because that is what Catriona Carey frequently reassured him would happen.
Then, one day in February 2021, over 18 months after Colin had paid Careysfort Asset Estates, a man walked into his parents' shop.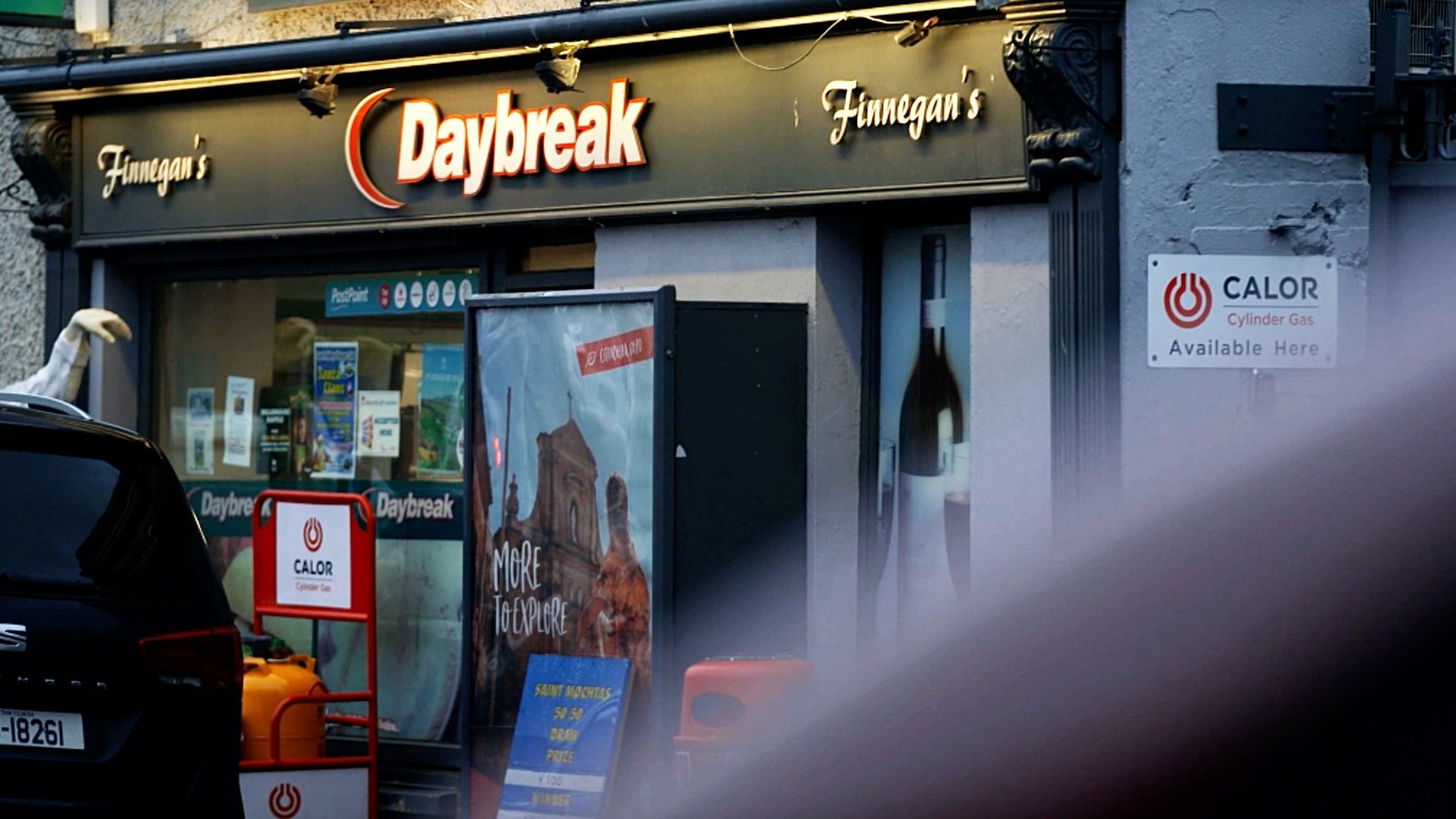 "I see you're for sale," the man told his father, Pasty. "I see it's on Bidx."
Bidx1 is a property auction site, which includes distressed properties where the loans are in default. The Finnegan family's home and business was up for auction, without their knowledge.
Colin texted Catriona Carey, who responded to calm him.
"Our team put this up as part of our strategy. Please keep this to yourself and we do not want others to know how we work. We have this already bought as explained many times," she wrote.
Weeks later, she texted again to say that Careysfort Asset Estates had "purchased it well in advance. I'll be in touch very shortly with contracts for signing...regards Catriona".
That was a lie. A third party bought the property at auction in March. The new owner has assured the Finnegans that they can stay in their home, but the sale clearly exposed Catriona Carey's deceit.
By now, Colin knew he had been scammed – but he wasn't aware of others. That would soon change. Last July, a group text message sent, apparently accidentally, to clients of Careysfort by a person connected to Catriona Carey revealed phone numbers of a number of Careysfort clients.

Carlow man Andrew Hickey, who had paid Careysfort Asset Estates €15,000 as a deposit to carry out a property transaction that never happened, was one of them. He created a WhatsApp group with up to 18 people, who it turned out had strikingly similar experiences.
All had paid Careysfort Asset Estates deposits for a service they had never received. The amounts varied between €5,000 and €60,000, but most had paid €15,000 to €35,000.
The Finnegans weren't the only family who had been told by Catriona Carey that her company had bought their mortgage. She had told Philip Conway, too, that her company had bought his property.
Yet, in October, he was informed by the holder of his loan that it had been bought by a financial company that has no connection to Careysfort Asset Estates.
And it was the same for Sharon O'Riordan. Her lender, Start Mortgages, told her in January that neither Catriona Carey nor her company are authorised to act on her behalf in relation to her debt.

And it has "not located any correspondence on file" from Catriona Carey or Careysfort Asset Estates, Start said.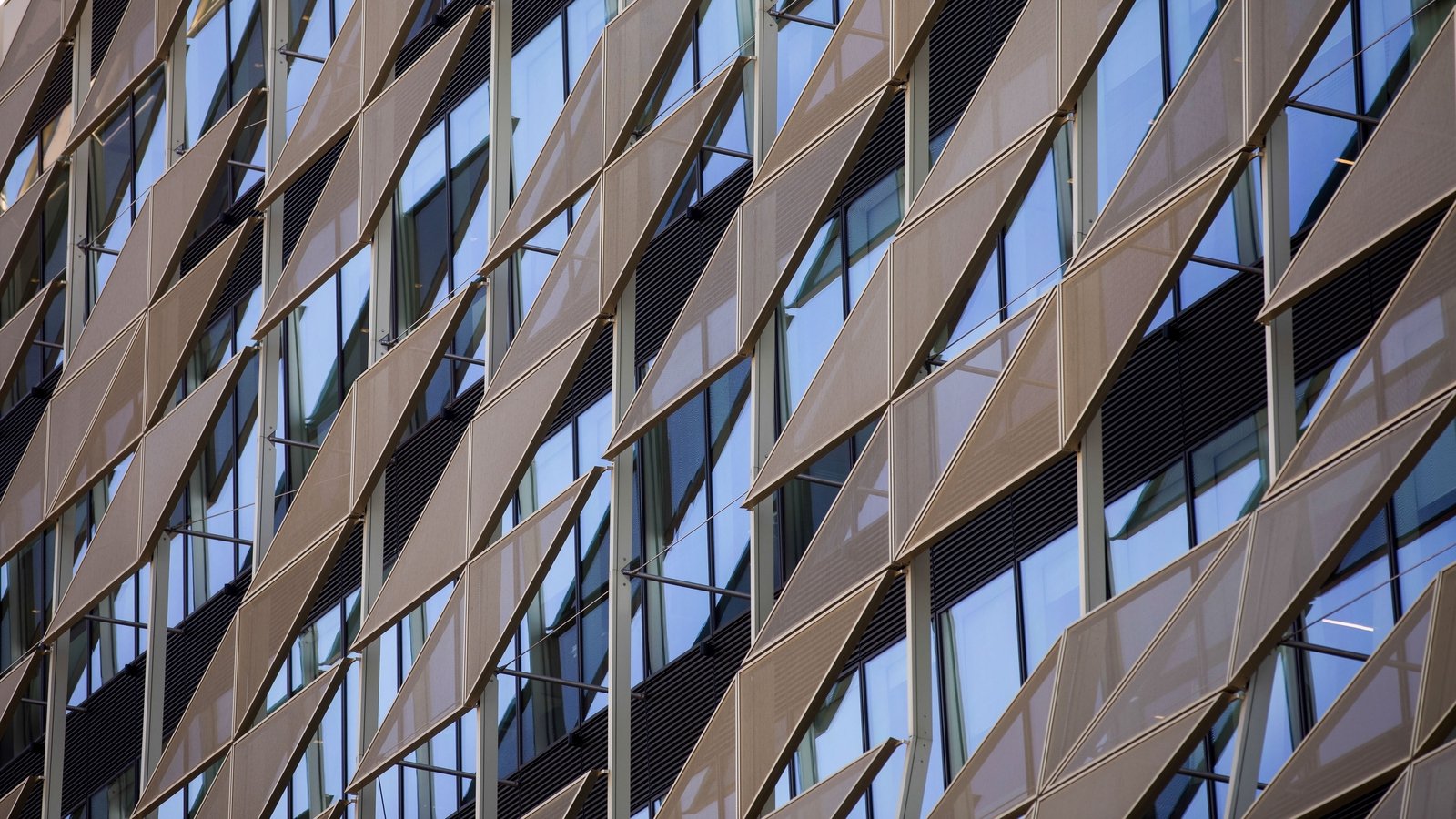 In fact, what Catriona Carey was offering – to buy mortgage loans and sell them back – wasn't even legal. Careysfort Asset Estates is not authorised by the Central Bank and, the Central Bank told RTÉ Investigates, it is a criminal offence for an unauthorised firm to buy such loans.
Throughout the course of our investigation, we spoke with 18 people who said they had been defrauded by Catriona Carey's company.
Combined, they paid around a half a million euro. Aside from those already mentioned, Rory Adamson, for example, paid €35,000. Sayed Yazdani paid €30,000. Liam Power paid €25,000. Two others who do not wish to be named paid €60,000 each.
"They're trying to ruin people who are doing their best to get on in life and they don't care. They targeted hard-working people that needed an out to get themselves back on the straight and narrow, and they took advantage of that," Miriam Tormey said.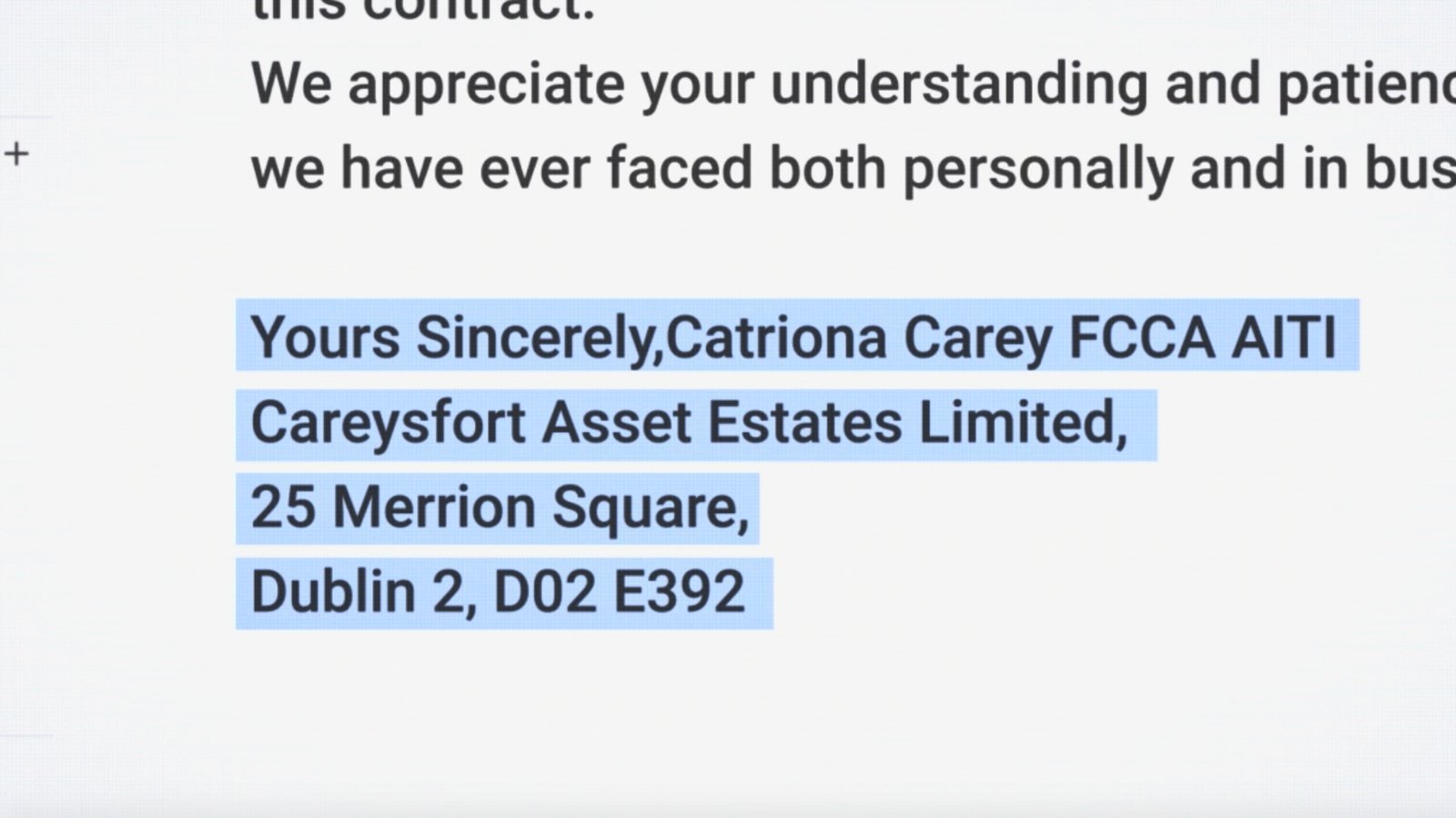 Yet nobody received their final contracts, and Careysfort Asset Estates still had all of the client deposits which, according to the initial agreement, were refundable.
In secretly recorded conversations with a client who had paid €35,000, Catriona Carey said her company was flush with cash and that its recently filed accounts included a reference to €8m in pending property transactions.
However, RTÉ Investigates checked the filed accounts of Careysfort Asset Estates, which is registered in England. There is no reference to €8m of property transactions.
And the company's current assets, which include cash, show a net balance of the sterling equivalent of €34,000 – not even enough to repay this one client.
It wasn't just the claim about a phantom €8m that didn't stack up. There was more to the Careysfort Asset Estates deception.
Catriona Carey signed her emails using the title "FCCA", or Fellow of the Association of Chartered Certified Accountants, a respected title.
But the Association of Chartered Certified Accountants confirmed to RTÉ Investigates that she is not a member.
She also signed emails using the acronym AITI, suggesting she is an Associate of the Irish Tax Institute, another respected title. The Irish Tax Institute also told RTÉ Investigates that it has no such record of her.
Catriona Carey also signed off emails saying her company office was at 25 Merrion Square in Dublin, a prestigious address. We asked the owners of the property if she or Careysfort Asset Estates are tenants, or were ever tenants. They were not.
During the course of the investigation, RTÉ Investigates learned that Catriona Carey has a conviction under the Theft and Fraud Offences Act, 2001.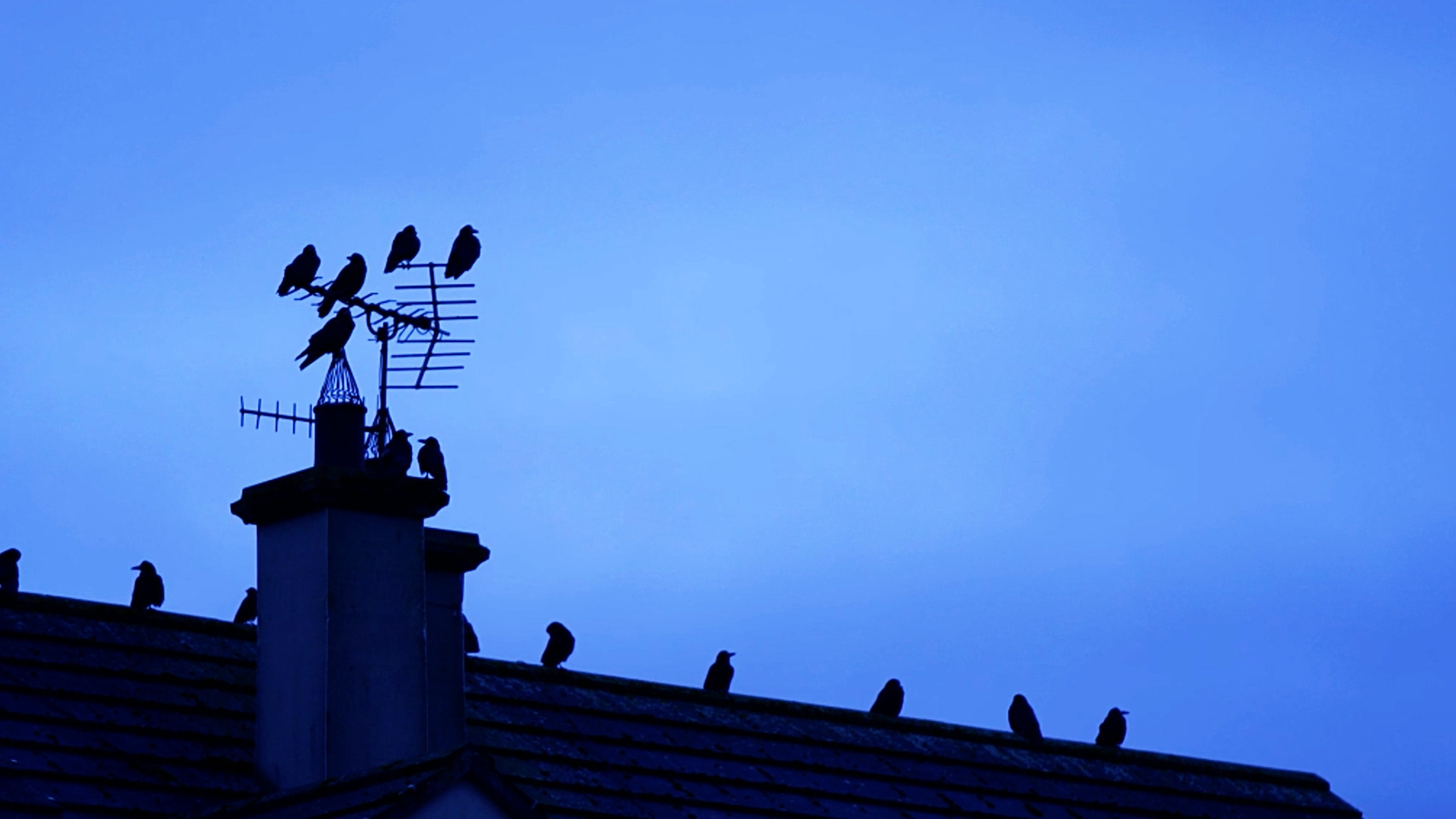 She was convicted in February 2020 for the theft of €6,948 and for forging a cheque from a Kilkenny hairdresser who had hired her as his accountant. She pleaded guilty and was given an eight-month suspended prison sentence.

RTÉ Investigates asked Ms Carey for an interview, but she did not respond. She also failed to answer questions put to her in a doorstep interview.
In response to a detailed list of questions from RTÉ Investigates, she said that she could not speak about any client due to "strict confidentiality clauses".
She denied that her company had falsely used the name of a solicitor. She also said her company had funds to "cover all clients deposits", but said "We are not advised to refund clients at this point".
We're just trying to get our lives back on track. It's not only money for us. It's more than money. It's our lives.
All of those defrauded by Catriona Carey and Careysfort Asset Estates say the impact on their lives goes beyond money.
"I do suffer from depression anyway, and they put it under a magnifying glass times 100. It's the stress coming out with me. Just came out every single different way," Miriam said.
"That has been hard really, really hard. They treated us like fools and we aren't. We're just trying to get our lives back on track, working hard. It's not only money for us. It's more than money. It's our lives."
All the Careysfort Asset Estates clients named in this article have complained to gardaí about Catriona Carey and her company. In total, RTÉ Investigates is aware of 15 people who have reported her and her company to gardaí.
In a statement to RTÉ, the Central Bank pointed out that it has "a dedicated unit which investigates alleged unauthorised activity or potential scams carried out by individuals or entities that are not authorised or regulated by the Central Bank".
It encouraged members of the public to report alleged unauthorised activity or potential scams.