This story is part of an RTÉ Investigates series: Covid - Future Health Care
"I was lying in bed asleep and I woke up with my heart on fire basically - it was pumping right out of my chest."
We first meet Kelly Talty at the triage area outside the Emergency Department at St James's Hospital in late May.
The 27-year-old nurse had been resting at home having contracted Covid-19. But three weeks into her recovery, Kelly, a previously fit and healthy individual with no underlying conditions, has deteriorated to the point where she needs medical assistance again.
Kelly explains to her nurse colleague that she is struggling for breath and has heart palpitations.
"You can feel it racing sometimes," she says, while a friend who has accompanied her tells the nurse on duty Kelly's heart rate is beating at 147 – three times the normal rate.
"She's not great, she's about to collapse," Kelly's friend explains.
As a suspect Covid-19 case, Kelly is placed in an isolation room in the Emergency Department where she is assessed.
"A lot of people who have had it have been back to work after two weeks," she says. "So it's nearly a month now and I'm not going back to work any time soon. I can't go to the bathroom without my heart rate going up to 140."
Kelly lies on a bed as she is hooked up to a heart monitor - she looks visibly unwell and tells the nurse she feels "a little bit light-headed".
"I didn't think I would be here. I thought it would be a little bit of a flu and then I'd be grand after two weeks. I've had my Covid nearly 20 days now so I think this is just my body's after effects of it. Hopefully anyway," Kelly says.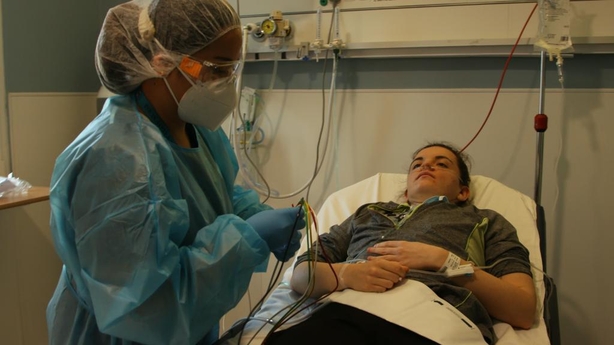 Concerned for her welfare, staff admit Kelly to the hospital. Days later, we meet her again in one of the wards where she is still connected to a heart monitor.
"In the middle of the day yesterday, she just simply walked to the toilet and her heart rate went up to 250 beats per minute where her normal would be 50," explains Dr Eileen Sweeney, Registrar in Infectious Diseases.
With her heartbeat now running at five times the normal rate, Kelly's condition remains a cause for concern.
'I've never had anything like this before'
"My tests are good but then you're saying why is this still happening? So, you do have that worry," Kelly says.
"I suppose because I've never had anything like this before. It's been absolutely fine. I've never had any issues with my heart or my lungs. Like I'm fit, healthy and it's absolutely floored me."
However, it appears Kelly is not alone. Just this week a survey by the Irish Nurses and Midwives Organisation (INMO) revealed that of some 545 nurses here who have recovered from Covid-19, over 90% continue to experience symptoms including fatigue, headaches and breathing problems.
Other nurses reported struggling to overcome issues with loss of concentration, light headedness, recurring fever and palpitations.
"It's annoying," Kelly says. "I know restrictions are being lifted but when you can see everyone out and you just feel, please just adhere to it and stay in a little bit longer because they think they're going to be fine, it's like a flu, they'll never even know they have it and then this is a month later and I'm here in a hospital bed when I should be at work."
Two months after first meeting her, Kelly Talty continues to recover. She has yet to return to work.
RTÉ Investigates: Covid - Future Health Care will be broadcast on Wednesday 22 July on RTÉ One at 9.35pm and on RTÉ Player.