This story is part of a series: Inside Ireland's Covid Battle
"When Covid was happening we could have six to seven remains a day. It's swings and roundabouts.You could have a day when you come in and you'd have two or three."
The peak of the Covid crisis meant hospitals here witnessed a significant increase in deaths - a sad reality that Paul Byrne, Mortuary Manager at St James's Hospital, had to deal with on a daily basis.
"The undertaker normally contacts us. They'd be aware that we have to wait for the Covid result.
"It could take 12 hours - it could take 14 hours. If it's positive, unfortunately then we have to treat them the way we always remove the Covid cases," Mr Byrne explained.
"They're brought in, the lads would bring up the coffin, place him in the coffin, we'd check the ID with them and unfortunately that's the last time somebody would see them."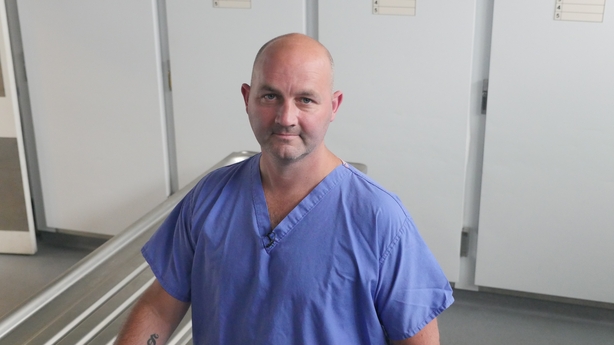 Covid guidelines also mean bereaved families cannot be accommodated in the typical way - something Paul finds particularly difficult.
"Unfortunately, while this was all going on, there were no viewings in the mortuary. We couldn't do viewings for families and that's one of our main things here.
"We did a lot of viewings. We could do five or six viewings a day. We used to do funerals. We have removals. All this had to stop unfortunately because of Covid and especially with social distancing we couldn't have anyone coming in.
"It was hard on us telling families they couldn't come in but unfortunately in the current circumstances that's what we had to do."
---
Stories from the series
Inside Ireland's Covid Battle
Behind the Mask
Inside One Dublin Hospital's Covid Battle
The last line of defence: Inside St James's ICU
A mirror to society: The ED during Covid
'The burden of death': Covid Inpatients
The 'terrifying' reality of ICU
---
RTÉ Investigates: Inside Ireland's Covid Battle
This story accompanies new documentaries from RTÉ Investigates going behind the scenes at St James's Hospital as it fights against Covid-19.

'Inside Ireland's Covid Battle' watch now on the RTÉ Player