This story is part of a series: Inside Ireland's Covid Battle
The evolution of a new strain of virus has seen medics here, just like their colleagues around the world, presented with the most unpredictable challenges when treating Covid-19 patients.
Doctors and nurses working on the frontline have described how patients who, for all intents and purposes, appear to be on the road to recovery, suddenly and without warning, deteriorate before their very eyes.
Like Dublin man Joe Smith. He went to St James's Hospital on Easter Monday having experienced kidney pain at home. During his stay he was diagnosed with Covid-19 and was admitted to the hospital's Covid Intensive Care Unit.
When we first meet Joe, he is making slow but steady progress and has, for the first time, managed to move with help from his bed to the bedside chair.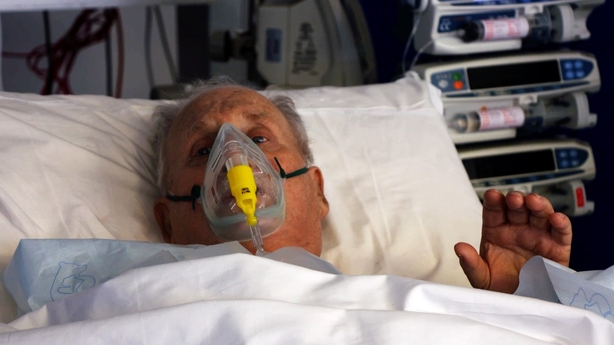 "This is luxury," he says. "It's a good start. Every day I seem to be getting stronger with breathing and movement... I just want to go home. It's been five weeks here. Four weeks with this Covid and a week with the kidneys… I'm looking forward to getting back to what I used to do. Out having my walks with the wife, because you can take life for granted."
However, within days, Joe's condition suddenly deteriorates and it's decided he needs to be sedated and ventilated. The decision is tough to accept for staff like ICU Nurse Kate Stephens, who was hopeful Joe was improving.
"Unfortunately Joe's respiratory status has deteriorated," Kate says.
"His oxygen requirements have really increased throughout the morning. We put him onto dialysis to see if we can take some extra fluid away from the lungs through filtering his blood. But we've given him a few hours, we've given him a chance to see if he can recover a little bit but unfortunately we made a decision that he's actually going to have to go onto the ventilator. We're going to have to take over his breathing for a few days.
"I suppose it's very emotional and very difficult for everyone because obviously throughout the news media and everything you can see that some people haven't survived Covid when they go on the ventilator. That's really the only treatment that we have for it. So, I suppose that's why it's really scary."
In an effort to give Joe a further fighting chance, he is put in the prone position. It involves turning a patient on to their stomach to allow more oxygen into the lungs.
"It's terrifying and very difficult for us to have to speak to his wife and explain the fact that hopefully it's going to be a few days," Nurse Stephens adds.
"But the key word there is hopefully, because you don't actually know it's going to be a few days. It could be weeks or in the worst case scenario he might not make it and we've seen that across the last few weeks and it's not just Joe that it's affected, it's his whole family. We don't know what's going to happen and I think that's the scariest part."
For Joe's wife, Marie, it's an incredibly anxious time.
"It's just heartbreaking. Everything is going through your head, you don't know what to think really, what's going to happen – you're just praying and hoping that it doesn't come to anything bad."
Joe Smith continues to recover in hospital.
---
Stories from the series
Inside Ireland's Covid Battle
Behind the Mask
Inside One Dublin Hospital's Covid Battle
The last line of defence: Inside St James's ICU
A mirror to society: The ED during Covid
'The burden of death': Covid Inpatients
Mortuary witnessed 'major increase' in bodies
---
RTÉ Investigates: Inside Ireland's Covid Battle
This story accompanies new documentaries from RTÉ Investigates going behind the scenes at St James's Hospital as it fights against Covid-19.
'Inside Ireland's Covid Battle' watch now on the RTÉ Player