This story is part of a series: Inside Ireland's Covid Battle
"I'm after contracting Covid, I'm after bringing it into the household. Now, I'm after putting my whole family at risk."
Latest figures show that almost 8,160 cases of Covid-19 here are associated with healthcare workers. Working in the middle of a pandemic has taken its toll on those on the frontline. Frontline workers like Ian Fitzgerald.
He is a healthcare assistant and student nurse at St James's Hospital. While at work, Ian cared for a patient with Covid-19 and after experiencing symptoms, he tested positive for the virus.
We followed his journey as he began 14 days of self-isolation - confined to his bedroom in the home he shares with his partner, mother and stepfather.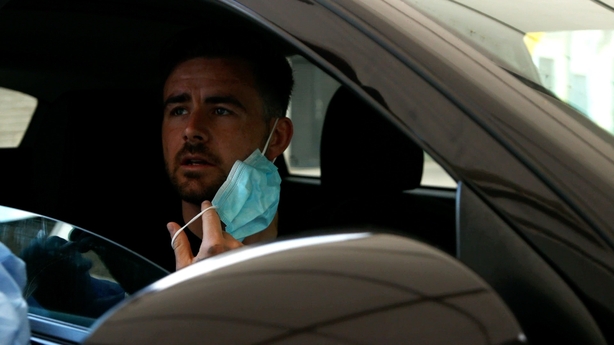 "At the moment, I have a dry cough, I have a headache and I have a sore throat," Ian said.
"I only came to the realisation that I had it when I started getting chills, my temperature rose to about 37.7, and then I was like 'right I have this'. I had a pain in my back, aches and pains.
"I'm a fit, healthy lad, I will be ok but I'm worried about other people in my household, other than myself. I'd be worried to bring it home to them."
For healthcare workers who spend every day working in an environment where the virus is present, the fear of infecting family and colleagues is a burden that plays heavy on the mind.
"I woke up a couple of times the first night really anxious and panicky, gasping for air," Ian added.
"When I woke up, I heard my mother coughing and I hoped she hadn't got it and then early in the morning I heard my stepfather walking down the stairs and he already does be out of breath but I could hear him out of breath walking down the stairs and I was like 'oh I hope he hasn't got it'. And I was more anxious then - if they had it, I'd have that on my head, I have it on my head already that I've brought it into the house."
Days later, Ian learned his stepfather had tested positive for the virus.
"He has underlying issues so if it hit him, he will struggle with it. He's been up the walls the last few days, he's been stressing about it and he hasn't been sleeping well at all. He looks stressed out to be honest with you."
While Ian's recovery continued, the psychological strain of worrying about his family remained.
"I'm able to leave my room, I'm out of isolation and I got the green light to go back to work so there's some light at the end of the tunnel now for me. I'm still checking on my stepfather, that worry is still there for me. Until everyone in the house gets the green light, I feel like I won't be over Covid."
Ian returned to work in St James's at the end of May. Despite having tested positive, his stepfather didn't develop any symptoms of the coronavirus.
"It was more worry than anything else; it did more damage on my mental health than on my physical health. It was more the stress of worrying about others. Relief would be the word I'd use, I'm happy to be back in work and back to some kind of normality."
---
Stories from the series
Inside Ireland's Covid Battle
Behind the Mask
Inside One Dublin Hospital's Covid Battle
The last line of defence: Inside St James's ICU
A mirror to society: The ED during Covid
'The burden of death': Covid Inpatients
Mortuary witnessed 'major increase' in bodies
The 'terrifying' reality of ICU
---
RTÉ Investigates: Inside Ireland's Covid Battle
This story accompanies new documentaries from RTÉ Investigates going behind the scenes at St James's Hospital as it fights against Covid-19.
'Inside Ireland's Covid Battle' watch now on the RTÉ Player