This story is part of a series: Inside Ireland's Covid Battle
"We had a wonderful life, it just ended disastrously." The haunting words of 94-year-old Maura Byrne.
2020 should have seen Maura celebrating 70 years of marriage to her beloved husband and lifelong partner Stephen, 93.
Instead, Maura lost Stephen unexpectedly in April when he died having contracted Covid-19.
"He was a wonderful husband," Maura says. "And I'm not just saying that because he's gone. He really was. He was the plumbing supervisor in Guinness."
In fact, Stephen Byrne had worked at the Guinness Brewery for almost 40 years. In later years, he suffered with dementia and was cared for by Maura until moving to a nursing home last year.
When Stephen passed away in April, Maura was also battling Covid-19 in hospital, and was unable to attend her husband's funeral.
"I couldn't get near him, because I was locked in here," Maura recalls, tears streaming down her face.
"A very nice girl sat beside me and showed me his funeral on her phone. Now she couldn't be nicer, but she wasn't one of my family and that is where the heartache comes in."
'I came in here and he vanished'
"You spend years of your life looking after somebody and loving them and having a great time with them, and they're buried, and you don't know anything about it. So, to me it has left me like I came in here and he vanished.
"I hope when I get out, that talking to my children I will get the feeling of the funeral. I'm hoping if I get talking to them, I'll feel more of an end. But at the moment, he's out there somewhere. And that is an awful way."
Determined to get that closure, Maura saw the Physiotherapy Department at St James's Hospital as her "only hope of getting home" and she worked hard to recover from the toll left on her body by the coronavirus.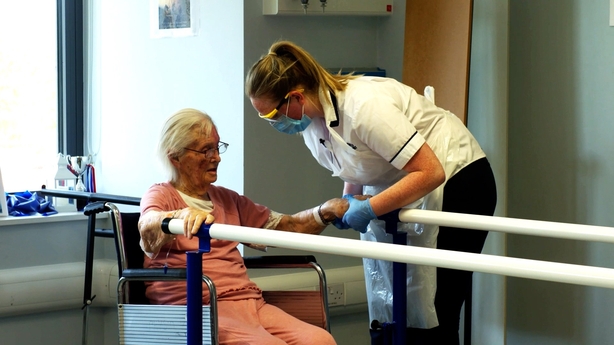 "It was a very difficult situation for her," explains Jennifer Downey, a physiotherapist as St James's Hospital.
"To be away from her family and also not being able to see her husband before he passed. A lot of patients, the half an hour or 45 minutes that they come down to the gym, it might be the only time that they leave their room during the day so it's really important that we do try and lift their mood."
Even amid her own grief, Maura is acutely aware she is just one of thousands of people grieving the loss of a loved one to Covid-19, many of whom have also been cruelly robbed of the opportunity to say a proper goodbye.
"I'm not on my own. There are a lot of people who have lost someone so I must accept that, but it will take time."
Maura Byrne was discharged from hospital on 15 June and returned home to her family.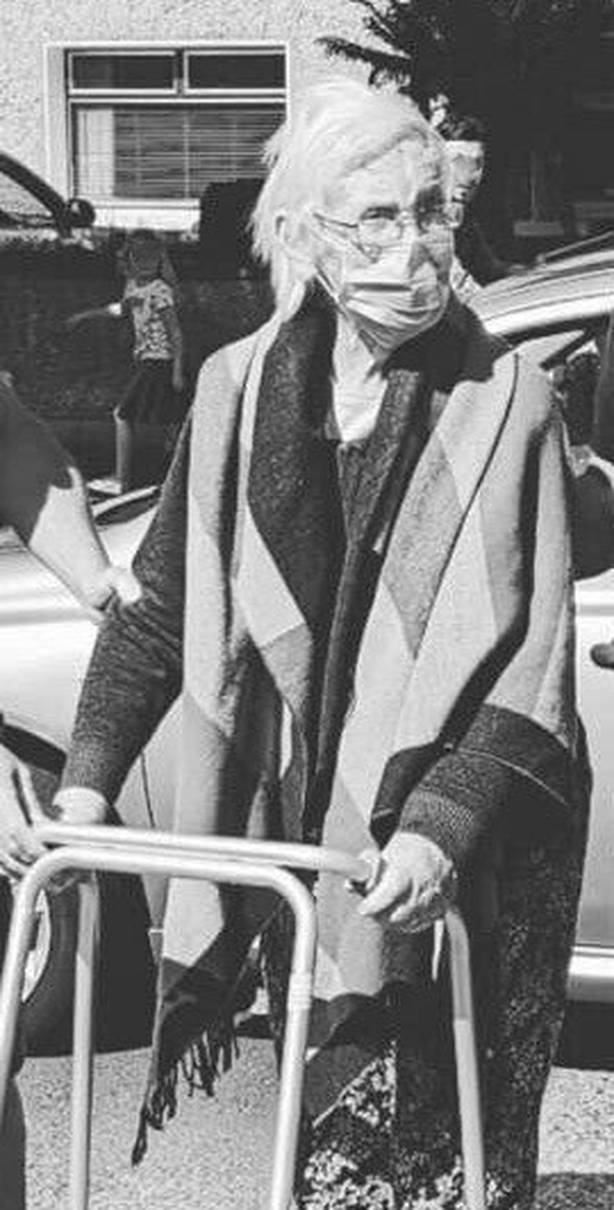 ---
Stories from the series
Inside Ireland's Covid Battle
Behind the Mask
Inside One Dublin Hospital's Covid Battle
The last line of defence: Inside St James's ICU
A mirror to society: The ED during Covid
'The burden of death': Covid Inpatients
Mortuary witnessed 'major increase' in bodies
The 'terrifying' reality of ICU
---
RTÉ Investigates: Inside Ireland's Covid Battle
This story accompanies new documentaries from RTÉ Investigates going behind the scenes at St James's Hospital as it fights against Covid-19.
'Inside Ireland's Covid Battle' watch now on the RTÉ Player