This story is part of a series: Inside Ireland's Covid Battle
"I really genuinely didn't think I'd ever see her again."
June Donlon shakes as she recalls the fear that her mother, Betty, might not survive Covid-19.
Betty tested positive for the virus in April.
"The nightmare began when mum went into hospital on the 14th of April with something totally unrelated and unfortunately picked up the virus while in hospital. She was diagnosed positive and that's when this hell began," June describes.
For many, a Covid diagnosis is equally worrying for the family as it is for the patient.
"I did get an awful shock, and my mum in hospital got an awful shock and didn't deal too well with it, but as the days went by she was coping quite well, things got a little bit easier. Myself and my daughter were Face Timing her and we were laughing and joking. She was only on a small bit of oxygen, and I thought she's got this, this is brilliant and then my life fell apart two hours later."
Betty took a turn for the worse, her condition deteriorated significantly, and she was moved to intensive care where 12 hours later it was decided to put her on a ventilator to help her breathe.
"I fell apart," June says. "I got an opportunity to talk to my mum for 30 seconds on the phone; she was fighting for her breath and I thought, what do I say to my mum, when I know I may never see her again."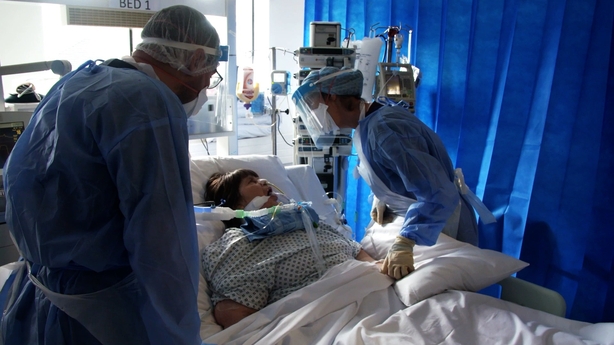 But Betty rallied and a fortnight after being placed on a ventilator doctors successfully removed her from the machine, allowing her to breathe independently.
"In the next hours we have to keep a close eye on her, just to see how she does," Dr Mubarak Aldoseri, Intensive Care Registrar told RTÉ. "Hopefully we don't have to put her to sleep again and on the breathing machine again."
The Covid crisis has meant families can no longer visit their loved ones in hospital. A phone call or FaceTime is now the only link to the outside world, while regular updates from medical staff have become more important than ever before.
On the day Betty is extubated, her daughter June waits nervously by the phone. News of its success brings an emotional release.
"Thank you so much, thanks for letting me know," June says, telling the nurse who has called her that she is crying "tears of happiness".
Seven weeks after being admitted to hospital, Betty was discharged. Having been close to death at one point, she is now free of Covid-19 and heading home.
It's been a long wait for June - a day she feared might never come.
"Today, I can't describe it. I think it's the happiest day of my life after the birth of my daughter because I really didn't think I'd ever see her again."
---
Stories from the series
Inside Ireland's Covid Battle
Behind the Mask
Inside One Dublin Hospital's Covid Battle
The last line of defence: Inside St James's ICU
A mirror to society: The ED during Covid
'The burden of death': Covid Inpatients
Mortuary witnessed 'major increase' in bodies
The 'terrifying' reality of ICU
---
RTÉ Investigates: Inside Ireland's Covid Battle
This story accompanies new documentaries from RTÉ Investigates going behind the scenes at St James's Hospital as it fights against Covid-19.
'Inside Ireland's Covid Battle' watch now on the RTÉ Player