A frequent compensation claim taken against a local authority involves a trip-and-fall on a footpath, perhaps due to a crack in the pavement, or damage to a car because of a pothole.
And while footpaths and potholes account for a substantial number of the claims local authorities receive, councils can be sued for any number of reasons.
Some of those reasons are contained in reports issued by the local authority insurer, IPB Insurance, known as Claims Quarterly Reports. Those reports are issued to nearly every council and contain a wealth of data relating to the claims environment for each local authority.
They include a list of the top five most frequent claims categories in the most recent three years, as well as the top five finalised claims categories, in terms of costs.
Below is a list of some of the claims contained within these reports from 2012 to the first half of 2017.
A series of claims attributed to "Malicious damage" totalled some €305,000 at Tipperary County Council between 2012 and 2015. This category was also the reason behind 11 claims that came to almost €260,000 at Clare County Council, settled between the second half of 2014 and the second half of 2017. Malicious damage relates to property damaged in public places caused by criminal acts, such as vandalism – for example, where a car is set on fire in a public area. This can mean that a local authority is obliged to compensate the owner of the damaged property.
A claims category referred to as "Lifting" cost €23,000 at Westmeath County Council in 2012 and, separately, €443,000 in 2015. This category relates to council employees injured through manual handling.
"Inadequate training" was the reason behind claims totalling €1.2m at Wicklow County Council, between 2015 and the first half of 2017. This relates to claims taken by council staff, who allegedly sustained injuries due to insufficient training.
A claim category called "Explosion" resulted in a single claim costing €35,000 at Cavan County Council, which concluded in 2015.
All of the councils referred to above refused to give any specific details concerning these claims.
One claim category in a report issued for Wexford County Council was described as "Assault/Abuse," which related to claims finalised in the second half of 2016.
RTÉ Investigates has established that this relates to High Court civil cases taken by four victims of a convicted paedophile in Wexford, Ger Doyle, who was once an employee of New Ross Town Council and a manager at the local swimming pool in the town.
Doyle, a former Olympic swimming coach, was convicted in 2012 of 35 sex-related offences, including sexual assault and indecent assault, which took place at New Ross swimming pool in the 1980s and early 1990s. He received a six and a half year prison sentence.
The four victims lodged civil proceedings against New Ross Town Council in 2011, which concluded in 2016.
The costs of those claims - which were taken over by Wexford County Council after town councils were abolished in 2014 - are not revealed in the Claims Quarterly Reports, although they are understood to come to approximately €600,000.
Because of the formatting of the Claims Quarterly Reports, it can be difficult to make comparisons in terms of claims causes, council-to-council.
And because Cork City Council is outside of IPB Insurance, while Fingal County Council and Dublin City Council are only partially covered by the insurer, we excluded those local authorities from this analysis.
It is, however, possible to compare other local authorities in terms of the costs and frequency of footpath claims, because this claims category frequently appears in the Claims Quarterly Reports.
Because more urbanised councils have more footpaths, in general, they tend to have higher footpath claims costs. But this is not always the case.
Footpath claims are a particular problem at Longford County Council, as the graphic below shows.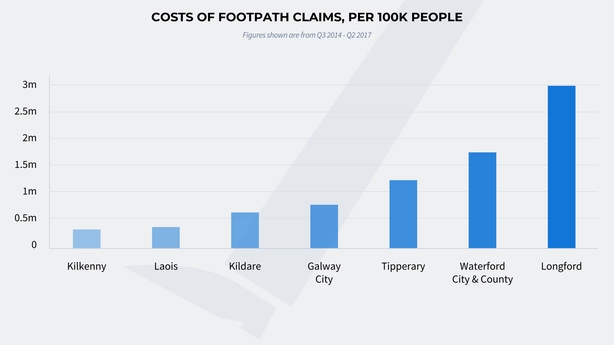 According to Central Statistics Office (CSO) figures for 2016, 34% of Longford inhabitants lived in a town, meaning that it is one of the more rural counties in the country.
But the cost of footpath claims in Longford County Council was proportionally higher than in a number of other city councils, as well some county councils that are more urban than Longford.
The cost of footpath claims in Longford from the second half of 2014 to the second half of 2017 (per 100,000 people), came to almost €3m.
At Galway City Council, for instance, the per capita costs of footpath claims came to only €750,000.
A spokesperson for Longford County Council said that the local authority expected to see "a significant reduction in the number of claims and the associated payouts over these years" because of capital investments in its footpaths.
Local authorities with lower per capita costs arising from footpath claims include Laois County Council (48% urban) where these came to just over €393,000, and Kilkenny County Council (39% urban) where costs came to €349,000.
There is a sharp contrast between Kilkenny County Council and its neighbouring local authority, Tipperary County Council, in terms of footpath claims.
Tipperary is only marginally more urban, with 41% of its population living in towns. But per capita claims costs for footpaths in Tipperary were more than three-and-half times those of Kilkenny.
To see the data to gathered on compensation claims in Ireland, click here.