When the Personal Injuries Assessment Board (PIAB) was established in 2004, the aim was a speedier, paper-based system for processing injury claims that would save money, by removing certain claims from the courts.

It came in the wake of a fractious debate involving the insurance industry, the business community, and the legal profession. The insurance industry and business groups complained about the costs of "compensation culture," while the legal profession opposed the Injuries Board, claiming it would disadvantage accident victims at the expense of the "defence side" - i.e. insurers and businesses.
And while PIAB is now a well-established part of legal machinery in this area, which has helped reduce the costs of personal injury claims, that debate has recently resurfaced.
The personal injury blame game
Insurers continue to blame the legal profession for facilitating the alleged growth in personal injury claims and say that insurance fraud has become a real problem. The legal profession counter that insurers use personal injury as an excuse to hike up premiums and say that the frequency of claims is overstated.

Business groups point the finger at insurers and lawyers. They blame the latter for apparently facilitating claims culture and for encouraging allegedly spurious claims; the former, for hiking insurance premiums and for being too ready to settle questionable claims.
An insurance industry myth?
The Injuries Board was set up to deal with cases where liability was conceded, with contested cases left for the courts. Applications to PIAB have increased steadily since it was established, with a small drop of 2.8% last year the first time in the organisation's history that year-on-year applications fell.

However, despite the increase in PIAB applications, personal injury litigation in the courts has not experienced a corresponding decline.
In fact, Court Service statistics show the opposite, with a sharp increase in personal injury litigation over the last 10 years.
And while the legal profession argues that that "compensation culture" is an insurance industry-driven myth, an RTÉ Investigates analysis shows that the frequency of personal injury awards received at the Injuries Board varies sharply county-to-county.

We found that the inhabitants of certain counties are more than three times as likely to receive an award at PIAB as people in other counties.
"Compo culture is back with a vengeance"
"Independent shopkeepers are under no illusion that the 'compo culture' is back with a vengeance," said Tara Buckley, the director general of RGDATA, the trade association for independent retailers.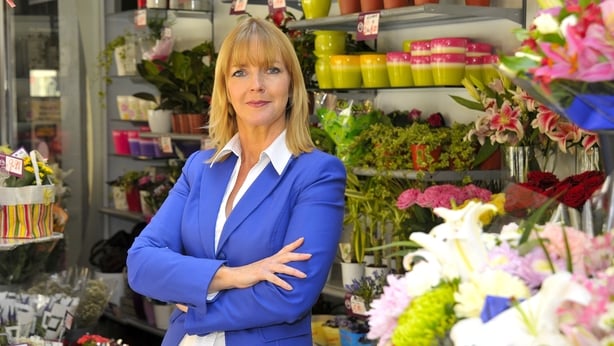 This is disputed by the Law Society, the representative body for solicitors. Its director general, Ken Murphy, said that there "has been no significant increase in the number of claims being made," a point that is also made by the Bar Council, which represents barristers.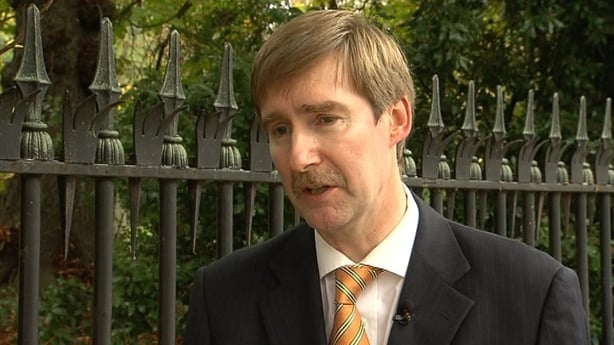 But the number of PIAB applications increased by 42% from 2007 to 2017, from 23,345 to 33,114. Even after adjusting for population growth over that period, this was an increase from 2007 to 2017 of 26%, in terms of applications per capita.
Big jump in personal injury litigation
Court statistics also show an upward trend in personal injury litigation.

In 2007, 13,854 personal injury cases were lodged in the High Court and Circuit Court. In 2016, there were 20,740, a 50% increase from 2007. Adjusting for population, the trend is still upwards, from 3,268 cases (per 1,000,000 people) in 2007, to 4,355 in 2016, a 33% increase.

Those figures don't take into account personal injury litigation in the District Court. Prior to 2014, this number was likely very small, as this court's jurisdiction was limited to awards of up to €6,384, which was increased to €15,000 that year. The number of personal injury cases lodged in the District Court is only recorded from 2014 onwards; in 2016, there were 1,158 such cases.
But even without adding figures from the District Court, statistics from the Circuit and High Court show that in 2016, more of us were suing for personal injury in the courts than at any time since the Injuries Board was established.
Limerick: The unluckiest county in Ireland?

RTÉ Investigates collated the number of PIAB awards offered per county, from 2007 to 2016, the latest year for which this information is available. The Injuries Board collect this data according to the address of the claimant, as opposed to the location of the alleged accident. For those years, some 60% of its awards were accepted.

In order to make meaningful comparisons, county-by-county, we then calculated a rate of awards offered over those years, per 10,000 people.

This information doesn't perfectly capture the incidence of personal injury across the country, given that many injury claims are settled through direct negotiations between the parties involved, without the intervention of either the Injuries Board or the courts.
Nevertheless, the information obtained from PIAB provides a good indicator of how the phenomenon of personal injury varies county to county.
By some distance, Limerick was at the top of the table with 388 awards at PIAB per 10,000 people. Longford was second highest with 352 awards, while Louth was third on 319.

In fourth place was Dublin, on 244 awards, followed by Tipperary, with 230.

The people of Kilkenny were least likely to receive an award at the Injuries Board, with just 122 per 10,000 people, around one-third the rate in Limerick. Wexford was next lowest, on 142 awards, followed by Wicklow on 158.

Why are some counties more accident-prone than others?

The Bar Council told RTÉ Investigates that while there was a 6% increase in the number of PIAB applications in 2015 from the previous year, the Injuries Board had explained that this uptick was due to an expansion in economic activity, with more traffic, footfall and people at work.
The link between more personal injury claims and an increase in traffic and footfall suggests that more urbanised counties should have more personal injury claims.

Such a link makes sense. After all, urbanised areas provide more opportunity for accidents, with more public amenities, traffic volumes, footfall, industry and so on.
It also makes sense that counties with poorer road safety records have more personal injury claims, given that from 2007 to 2016, around 60% of all applications to the Injuries Board related to motor liability.
Furthermore, Central Statistics Office (CSO) figures show there were 10% more cars on the road in 2016 than in 2007.

To be sure, there is some evidence, for some counties, of a correlation between urbanisation and road safety on the one hand, and personal injury, on the other. But there are also examples of counties that don't conform to these correlations.
More traffic, but safer roads
To compare road safety county-by-county, we looked at CSO data detailing fatalities and injuries sustained in road traffic accidents and calculated a fatality and injury rate by county, and per 100,000 people, from 2007 to 2015. (This was the latest year for which these records were available.) We then worked out an annual average rate per county, for those years.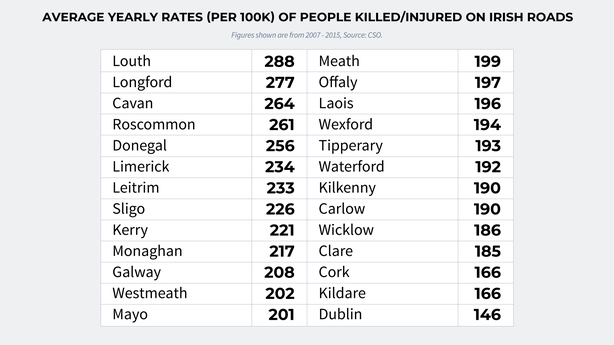 Louth had the worst road safety record, with an annual average of 288 deaths and injuries. Longford was second, on 277, while Limerick was in sixth place, on 234.
Those counties also received a disproportionately high number of awards at the Injuries Board.

Not all counties with poor road safety records received a high number of personal injury awards at PIAB, however.

For example, Cavan, Roscommon and Donegal all have poor road safety records, yet are also well down the list in terms of awards at the Injuries Board.

Dublin, meanwhile, had the best road safety record, at 146 deaths and injuries for that period, while Cork was joint second safest, on 166. Both of those counties featured close to the top of the table for awards at PIAB.
The Injuries Board referred to Ireland's better road safety record in its 2012 annual report, stating that the "steady but consistent increase in claims volumes over the past five years is at odds [with the fact] that Ireland's roads have never been safer."
Urbanisation
As with road safety, the level of urbanisation in a county only partially correlates with personal injury awards rates.

Dublin is an example of a county where is a correlation.

According to CSO data for 2016, Dublin is the most urbanised county in the country, with 98% of its population living in an urban area. Dublin also had a high number of awards at PIAB while Dublin City Council had the most per capita claims from 2012 to the first half of 2017.

Louth, the third most urbanised county, with 66% of its population living in a town, also received a relatively high number of awards at the Injuries Board.

But a number of counties upend this correlation.

The second most urbanised county is Kildare, with 68% of its population living in a town in 2016, and which was well below average in terms of awards at the Injuries Board. Likewise, Wicklow, the fourth most urbanised county, with 65% of its people living in a town, had one of the lowest numbers of awards at PIAB in the country.
Longford, meanwhile, is an example of a highly rural county – only 34% of its inhabitants lived in towns, the seventh least urban county in the country – but which is the second highest county in terms of awards at the Injuries Board.
Meanwhile, there is a broad level of consistency in terms of the counties that receive a high number of awards at the Injuries Board, and the local authorities in those counties that receive more claims. Click here to find out more.
Click here to see the graphics and maps we prepared on personal injury in Ireland.