By Ken Foxe (@kenfoxe)
View the full database of the special secretarial allowance
More than €1 million in special allowances – including €600,000 for public relations – has been paid out to government ministers and other TDs through the little-known special secretarial allowance since the general election in 2011.
The money is claimed primarily by government Ministers who are allowed to put it to a variety of uses including secretarial work, training, information technology, and public relations.
An analysis of the figures show that the majority of the money – €610,763 in total – went on public relations services, despite the fact that the Ministers involved have the use of Departmental press offices. Another €342,977 was spent on secretarial services, with IT services costing €9,000 and €22,097 spent on training. A smaller amount of around €32,000 was spent in other categories.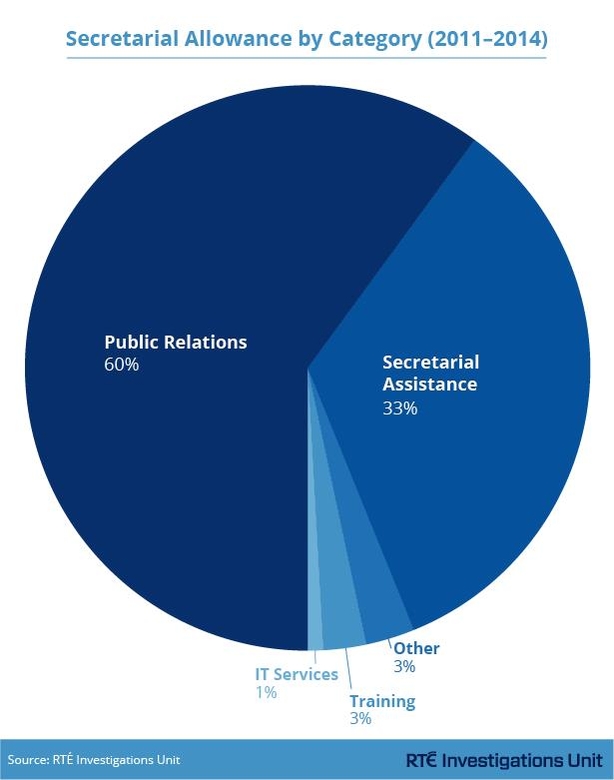 The company that fared best from the special secretarial allowance was the Communications Clinic, a well-known PR firm run by Today FM radio host Anton Savage, his mother Terry Prone, and her husband Tom Savage (a former chairman of RTÉ). In total, the company was paid €211,826 by a variety of government Ministers including Children's Minister James Reilly, Justice Minister Frances Fitzgerald, and the now-EU Commissioner Phil Hogan.
Ms Fitzgerald for instance has paid the firm a sum of between €1,815 and €1,845 per-month during her time both at the Department of Justice, and before that, at the Dept of Children. Dr James Reilly pays a monthly fee of 1,845, while the monthly fee for Phil Hogan – when he was Minister for the Environment – was €2,214. The government chief whip Paul Kehoe also paid a once-off fee of €18,500 to the Communications Clinic in 2012 for public relations.
According to the data analysis, the highest total value for invoices was submitted by the former Small Business Minister John Perry, for public relations services. He hired a PR firm called Fennell Communications and its owner Sinead Fennell over the course of four years, during which €156,525 was paid out, which included payments of €41,092 in 2014. 
A large number of invoices were also submitted by the Environment Minister Labour TD Alan Kelly.
In total, he claimed back almost €90,000, which had been paid out to more than twenty separate individuals for 'secretarial assistance', 'IT services', and 'training and public relations'. The MEP Brian Hayes sought repayment of €75,910 with firms including PR Social Media Services, Brigus Limited, and the well-known PR consultant Daniel Egan among the people hired by Mr Hayes.
A handful of TDs and Senators, including Fine Gael's Áine Collins and the Labour TD Michael McNamara, have also claimed it instead of employing a parliamentary secretary or assistant. However, it should be noted that this can actually work out cheaper for the taxpayer than employing a person to work in their office full time.
The special secretarial allowance can also be claimed by Senators though only three have made use of it. The chair of the Seanad Paddy Burke has paid for secretarial services through the scheme, according to the Oireachtas records. Senator Ronan Mullen has also claimed €39,000, the records show, more than €9,500 of which went to Compass Communications, run by Wendy Grace, a presenter with Spirit Radio.
The figures show that the vast majority of the money went to Fine Gael and Labour, because the scheme is almost exclusively used by Ministers and only very infrequently by individual TDs and Senators. In total, almost €950,000 was paid to members of the government.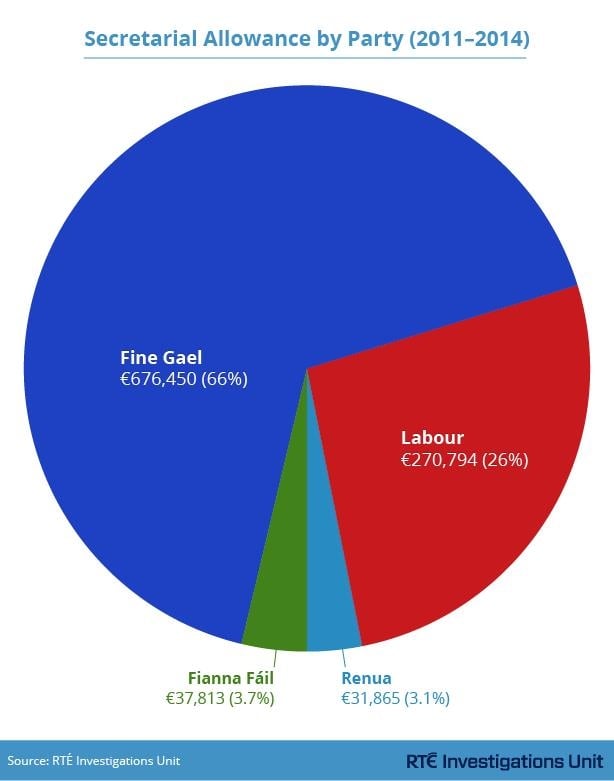 The Oireachtas said that the purpose of the scheme was for the purchase "of certain secretarial assistance, public relations, information technology ... and training services from a person employed under a contract of services or the purchase of such services".
"Purchase of equipment or expenses for which the Public Representation Allowance is intended, are not allowable under the Secretarial Allowance Scheme. Ministers can opt for an annual fully vouched allowance of €41,092."
They said the money can also be used to hire temporary vouched employees or for other "contracts for service". The Oireachtas said: "Contracting services are the responsibility of the member [TD or Senator] as the contractor."