By Ken Foxe (@kenfoxe)
View the full database of political pensions here
More than €65 million has been paid out in pensions to former politicians in the four years since the last general election.
A detailed analysis of all payments made by both the Houses of the Oireachtas and the Department of Public Expenditure and Reform by the RTÉ Investigations Unit shows that an average of €1.37 million has been paid out every month over the past four years
Some politicians choose not to accept certain payments, and that is reflected in this new database created by the RTÉ Investigations Unit. However, some may also have opted to gift a portion of their pension back to the State and in some cases that has not been included in the official figures that were obtained by RTÉ.
All of the records in the database were released by the Oireachtas and Department of Public Expenditure and Reform under Freedom of Information legislation. However, subsequent 'gifting' is considered personal information and is not included in these releases. Some politicians including President Michael D Higgins are known to return at least some – if not all – of their pensions.
The pensions are paid out to more than 350 individual politicians, including former Taoisigh, Ministers, TDs, Senators, and in a few cases the spouses of deceased former members. Sixteen people were paid in excess of half a million euro each during the period from 2011 to 2014.
A detailed breakdown of pension payments according to party has also emerged from the database, which shows that €37.1 million has gone to former Fianna Fáil politicians. That works out at 56.5% of the entire pension pot, in part because of the large number of very senior Fianna Fáil figures who retired before the 2011 election and also the party's status as historically the most popular in the state.
A further €16 million was paid out to Fine Gael politicians (24.4%), with Ministerial pensions being available to a small number who served in the Rainbow coalition and previous administrations. A total of €6.3 million was paid to former Labour politicians, €3.1 million to the now defunct Progressive Democrats, and €1.1 million to Green Party representatives.
A very small amount was paid out to former politicians from Sinn Féin, Democratic Left and the Socialist Party and they are categorised as 'other' below.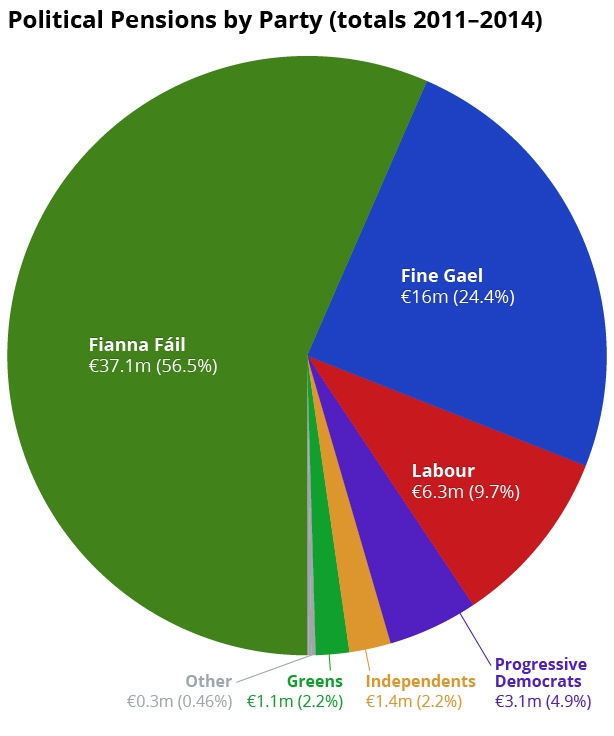 The annual bill has declined every year since 2011, when it was exceptionally high due to a large number of termination and lump sum payments. In that year, €21.8 million was paid out, which by 2012 had already dropped to €16.3 million. It has continued to fall in the two years since, reflecting both repeated cuts to pensions and also the deaths of former members. Last year it stood at just over €13.3 million.
The largest pension pot was paid to the former Taoiseach Bertie Ahern, who according to the figures has received €726,419 in the period between March 2011 and the end of 2014. That includes his annual TD pension, which is paid by the Oireachtas, his Ministerial pension, paid by the Department of Public Expenditure and Reform and also lump sum and termination payments, which were made in 2011.
In 2014 for instance, Mr Ahern was paid a ministerial pension of €81,140, on top of which he received an additional €53,291 from Leinster House, totalling €134,431. In 2011, he received significant farewell payments including a 'termination lump sum' of €16,404 and another 'lump sum' payment of €159,873.
Following Mr Ahern on the list is another former Taoiseach, Fianna Fáil's Brian Cowen who has been paid €726,367 according to the figures. His payments mirror almost exactly those of Mr Ahern and his pension – both ministerial and Oireachtas combined – is worth €134,379 annually.
Next on the list is the former Tanaiste Mary Harney, who according to the figures was paid €647,406. Her annual pension is currently worth €116,987, which is almost €13,000 less than she was being paid in 2012 due to a series of budgetary cuts, which have seen payments for all retired politicians reduced.
The fourth highest payments were made to former Minister Michael Woods, who received a total of €632,967 between March 2011 and December 2014. That reflects his long years both as a TD and also in a variety of ministerial roles over the course of more than twenty years.
Five more people were paid in excess of €600,000, according to the figures, all formerly senior figures and ministers in a succession of Fianna Fáil administrations. They include two former Justice Ministers, the Louth TD Dermot Ahern, and the Kerry TD John O'Donoghue, who was forced to resign as Ceann Comhairle amid controversy over the cost of overseas travel. Also included in that group were the former Ministers Mary O'Rourke, Noel Dempsey and the ex-minister and Ceann Comhairle Rory O'Hanlon.
Rounding out the top ten is the former Minister Frank Fahey, who has received a total of €584,991 since March 2011 in pension and lump sum payments, according to the figures.
The first non-Fianna Fáil politician on the list is the former Taoiseach John Bruton, who is in receipt of an annual pension of €126,832. Mr Bruton was paid a total of €549,912 during the four-year period from 2011 to 2014. Five other people – the late Albert Reynolds, Jim McDaid, Mary Hanafin, Liam Cosgrave Snr and Peter Barry – each were paid in excess of €500,000.
You can view the full database of political pensions here
Where politicians had already retired prior to the general election of 2011, the payments cover the entire four year period from 2011 to 2014. If they only stepped down ahead of the election of March 2011, the payments instead cover the forty six month period between then and December 2014.
Significant pensions have also been paid to a number of former politicians, who have received criminal convictions since stepping down from public office. The former TD Ivor Callely – jailed for five months for fraudulently claiming mobile phone expenses in 2014 – has been paid €392,898 and is currently in receipt of a pension of around €62,000 a year.
The former Minister Ray Burke who was imprisoned for six months in 2005 for tax offences is also in receipt of substantial pension payments. He got €406,998 between 2011 and 2014 and his annual pension for last year worked out at €95,799. Another former Minister convicted of offences related to claiming for the cost of mobile phones using false invoices is also on the pension list. Ned O'Keeffe, who was given a suspended sentence in 2014 after pleading guilty to wrongly claiming €3,700, received almost €403,000, and has an annual pension worth €62,286.
The Department of Public Expenditure and Reform said the figures they released to RTÉ may not always reflect the possibility of 'gifting'.
They said: "In certain cases, the pension amounts shown do not reflect the actual amount of pension in payment where an individual is 'gifting' all or part of their pension to the State, or where a pension is subject to certain provisions of the Family Law Acts, as it would not be appropriate to include such personal information."
In a follow-up statement, they said: "Following the last General Election, Members who are elected to the Oireachtas may not be paid what is termed an Officeholder pension (e.g. relating to past service as a Minister) while they are still a sitting Member. The pensions of all former Members of the Oireachtas who retired prior to 1 March 2012 have been reduced by the Public Service Pension Reduction (PSPR), while the pay reductions which have been applied to Members' salaries since 2010 impact on the pension benefits of those who retire after 1 March 2012.
"The Minister also provided for an increase in the rate of PSPR that applies to pensions in excess of €100,000 to 20% of the excess amount, effective from 1 January 2012. In addition, while previously the Members and Officeholders' pensions were treated separately for PSPR purposes, the Minister provided for these pensions to be aggregated for PSPR purposes with the effect that the relevant thresholds are reached at a lower aggregate level.   
"Reforms have also been introduced which affect the age at which politicians will receive a pension.  Under the Public Service Superannuation (Miscellaneous Provisions) Act 2004, pension entitlements are not payable to 'new entrant' Members of the Oireachtas (as defined in the Act) until age 65. Furthermore, the Public Service Pensions (Single Scheme and Other Provisions) Act 2012, introduced a new Single Public Service Pension Scheme with a new minimum pension age of 66, rising in due course with the age at which the State Pension (Contributory) will become payable.  This will apply to all new Members of the Oireachtas, including Ministers, as defined in the Act."
A statement from the Oireachtas said: "Pension payments are payable to former Members subject to certain terms and conditions. All new members of the Oireachtas from January 2013 pay 13% of their gross salary towards their pension. Members elected prior to that date pay 6%.
"In addition, members are paid a salary in line with public service pay and so they must also pay the pension levy. It should also be noted that they cannot benefit from the public sector pension for their service as a member of the Oireachtas. Finally, there are no special tax arrangements in relation to members pensions – normal tax arrangements apply."