The Irish College of GP's has called for urgent action to increase the number of doctors in general practice here.
The ICGP said Ireland is currently experiencing a severe GP workforce shortage and workload crisis that is negatively affecting the provision of timely, high-quality care to patients.
Ireland's population is ageing and the health reform policy Sláintecare will require a move towards primary healthcare.
It means Ireland will need more GPs, but there is already a shortage with some posts left unfilled for more than year.
GPs report finding it very hard to get cover for holidays or out of hours work, while hundreds of GPs are also approaching retirement age.
A new report by the ICGP and the Association of University Departments of General Practice in Ireland (AUDGPI) calls for funding for placements for medical students in general practice.
It says if more students see the valuable work done by GPs more will choose it as a career.
It is also calling for more links between GP practices and universities with opportunities for general practitioners to develop academic careers.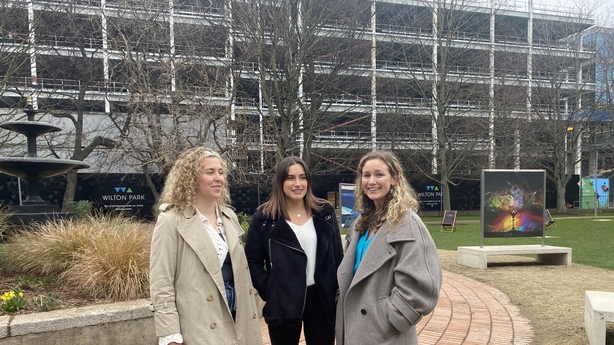 RTÉ News spoke to three medical students in Dublin and asked if they thought that would make a difference.
Ellen Ayerst, Bláithín Downey and Eleanor Power are in their fourth year of medicine at Trinity College Dublin.
This year they have all done four weeks with GPs as part of their course.
Ellen says a lot of medical students are geared towards careers as Hospital Consultants because they spend a lot of their course time in hospitals.
"In third year you do a whole year in hospital placement, and again in final year, so it might just be the fact that, that's what we see a lot in training."
She says she likes working in the hospital environment, but the GP placement did give her food for thought: "I came away from it realising just the big difference a GP can make in their patients' lives.....a GP might see their entire family and deal with different issues for each person."
Bláithín also says that after doing the placement she would consider general practice as an option: "There's the continuity of care and having a good relationship with your patients, you might know them from when they're very young if they have the same GP the whole way through."
She adds that the variety found in general practice would be attractive but that in terms of lifestyle both paths "have their pros".
Being a GP offers some flexibility, but you have the additional responsibility of running a business
Eleanor says she "really, really enjoyed" her GP placement and was impressed by how GP's "are so implicated in their patients' lives....they just have the opportunity to develop great relationships with their patients".
While the variety of general practice also appeals to her she notes that GP's can specialise: "One of the GP practices I was with, did a lot of women's health and that would be what I'm interested in as well."
None of the three has decided yet which path they will follow. They have one more year of study which will be followed by a year of internship at a hospital. They plan to work abroad for a few years after graduating before returning to settle down in Ireland.
Department responds to consultant contract concerns
The Department of Health has responded further to concerns expressed by hospital consultants about the proposed new public-work only Sláintecare contract.
It said that the Irish Hospital Consultants Association has expressed concern that it was unclear whether those who opted to work part-time under the new contract would be eligible for overtime.
The department said it is a well-established public service pay norm that people do not receive overtime pay rates, below the standard working week of 37 hours.
It has also rejected claims by consultants that the disciplinary code is flawed, insisting that the disciplinary code mirrors the disciplinary processes that are in place for all health service employees.
It also said that the new contract is very clear, that public consultants who sign it will be permitted to engage in off-site private practice.
It added that the rostering principles (in particular late evenings and Saturdays) are designed to be fair, while ensuring that there are sufficient and appropriately skilled staff rostered to work to provide appropriate high-quality patient care and to meet anticipated service needs.
Additional reporting: Fergal Bowers