Taoiseach Leo Varadkar has said resources are in place to allow for the use of overtime or private hospital capacity to help alleviate pressures on the health system.
Mr Varadkar was meeting Health Service Executive managers and Minister for Health Stephen Donnelly this afternoon.
He asked senior officials to utilise all available resources immediately.
The health service had seen significant increases in staff and bed capacity in recent years, he said, however, he acknowledged that it was facing a difficult winter, particularly over the months of January, February and March.
Mr Varadkar told reporters this morning that there were a number of factors behind the high attendance levels. These included an ageing population and the presence of three viruses; Covid, flu and RSV.
He rejected criticism that the Government had not prepared for this crisis.
Mr Varadkar said that there are currently no proposals to reintroduce a mask mandate, however, he said that Government is encouraging people to wear face masks in crowded settings, particularly on public transport.
He appealed to people with respiratory symptoms to remain at home and for people to avail of flu and Covid-19 vaccines.
The HSE has an increased budget for next year, which has not yet been spent, Mr Varadkar said.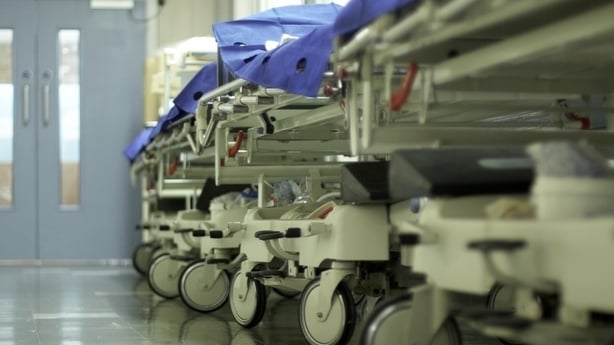 He added this could be used to deploy resources to alleviate pressure this winter to "minimise suffering and inconvenience for patients".
However, he added that people working in the health service know that it is "never just a matter of money", and that strong management, good clinical leadership and adequate resources need to be in place.
This afternoon's scheduled meeting is part of a series of engagements between the new Taoiseach and different sectors.
The Government said today's meeting will be a broad discussion on health topics, including winter pressures on the health service.
However, it coincides with the establishment of a National Crisis Management Team (NCMT) within the HSE to deal with the surge in winter virus infections.
Yesterday, the HSE warned that it expects a surge in winter virus infections in the weeks ahead that will bring the highest pressure on the State's health service it has ever seen.
HSE Chief Executive Stephen Mulvany said there are currently around 1,200 people hospitalised with Covid-19 and other respiratory conditions - a higher number than even the more pessimistic projections had anticipated.
The latest figures show 657 people in hospital with Covid-19, 26 of whom are in ICU.
The Government has been receiving daily updates from the HSE and the Department of Health in relation to pressures on the health system.
This week also saw Chief Medical Officer Professor Breda Smyth warn that Ireland is in the eye of a respiratory virus storm as Christmas approaches.
The National Crisis Management Team is in place to co-ordinate the HSE's response to the crisis and focus resources on areas under most pressure.
This team was also brought into action during the Covid-19 crisis and following the HSE cyberattack.
The surge in infections will seriously impact hospitals and emergency departments, the HSE warned. It also said primary care services such as GP and GP out-of-hours services will be under further pressure.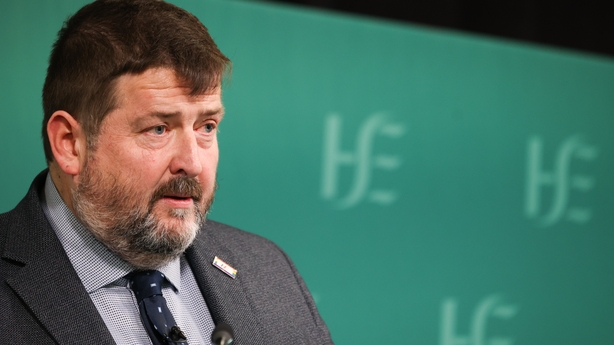 Mr Mulvany said: "It is therefore critical that we continue to prepare to the maximum level possible for the projected further surge in demand for services in late December and early January - over and above the current high level of demand.
"We are working to ensure that every available resource is mobilised and utilised to respond to the needs of our patients who are seeking urgent and emergency care.
"We would also urge all those eligible for and due to be vaccinated to do so as soon as possible."
'Entirely predictable'
Sinn Féin's health spokesperson has called on the Minister for Health to use private care capacity, in order to alleviate pressure on hospitals.
David Cullinane said that while the establishment of the HSE's National Crisis Management Team was welcome, it should not be required in the first instance.
The Waterford TD said that last year's budget should have seen greater investment in additional hospital beds and GP capacity.
He said that the crisis was "entirely predictable" given the trolley figures seen during the summer.
Irish Nurses and Midwives Organisation (INMO) General Secretary Phil Ní Sheaghdha criticised the HSE over its response to addressing extra pressures on hospitals this winter.
Speaking on RTÉ's Morning Ireland she said: "We predicted in July of this year that the trolley numbers were way higher than they have been any other year and this indicated to us very clearly that we were going to be in trouble much earlier and that has been the case."
Ms Ní Sheaghdha described conditions as "extremely bad" and said hospitals are "very overcrowded".
She urged the HSE to provide whatever essential resources needed to cope, including additional staff.
In a statement, the INMO said that the National Crisis Management Team should meet every day and not three times a week.
It said: "We are disappointed that the HSE has once again waited until the crisis, which was predicted in July, was in full flow to establish a crisis management team.
"The INMO has sought confirmation that managers will be available to frontline staff at all times over the Christmas and new year period to deal with the non-clinical issues that are associated with a crisis of this nature.
"Nurses, midwives and other essential healthcare workers should be supported in every possible way over what is going to be an incredibly difficult few weeks.
"The HSE must be prepared to provide them with whatever essential resources they need, including additional staff until the end of February at the very least."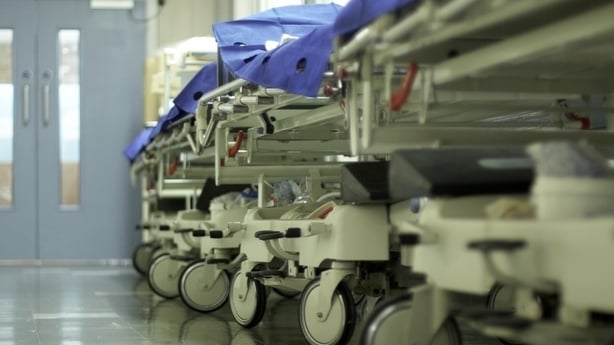 The National Crisis Management Team will continue to meet throughout the Christmas period.
HSE Chief Operating Officer Damien McCallion said that the executive set aside funding for private hospital usage to help with the current winter virus surge.
Speaking on RTÉ's Morning Ireland, Mr McCallion said: "Hospitals have arrangements locally to try and ease the pressures that they're under in terms of using private hospital capacity", adding that hospitals in urban areas have greater access to private facilities, in comparison to those in more rural areas.
While the HSE can predict the flu season each year, he said that Covid-19 is now much more difficult to predict compared to the situation the country faced during the worst of the pandemic.
Responding to Ms Ní Sheaghdha's criticism over the HSE's response to addressing extra pressures on hospitals this winter, Mr MCallion said that over 1,000 new beds have been added in recent years.
He also said that healthcare workers are in demand globally, and that recruitment is still a challenge despite hiring over 5,200 new nurses and over 1,500 new doctors.
Dr Máire Finn, a Clare-based GP said University Hospital Limerick is in a very difficult situation with trolley numbers and overcrowding in emergency departments.
Speaking on RTÉ's Today with Claire Byrne, she said: "Patients do not want to go and we don't want to send them."
She said they have the option of sending patients to University Hospital Galway too but they are still faced with the same issues.