The parents of two boys with a rare muscle-weakening condition are appealing for Spinal Muscular Atrophy (SMA) to be added to the newborn heel prick test, saying early diagnosis would be life-changing for those born with it.
Liz McMahon and David Ryan's second son leads a very different life to his older brother because he had the benefit of early diagnosis and treatment.
SMA is a degenerative condition and, if left untreated, 90% of children with the severest form do not live past two years old.
SMA Ireland said symptoms are not typically visible until a baby is three or four months old, by which time the damage to the nerves that develop muscle function is irreversible.
Liz and David's four-year-old son Luke was diagnosed at nine weeks old, which is considered late. He cannot walk and has to be tube-fed.
He also requires around-the-clock care, including a night nurse seven days a week.
His younger brother Seán, who is two, was tested for SMA before his birth and began receiving treatment at ten days old. He lives a largely normal life.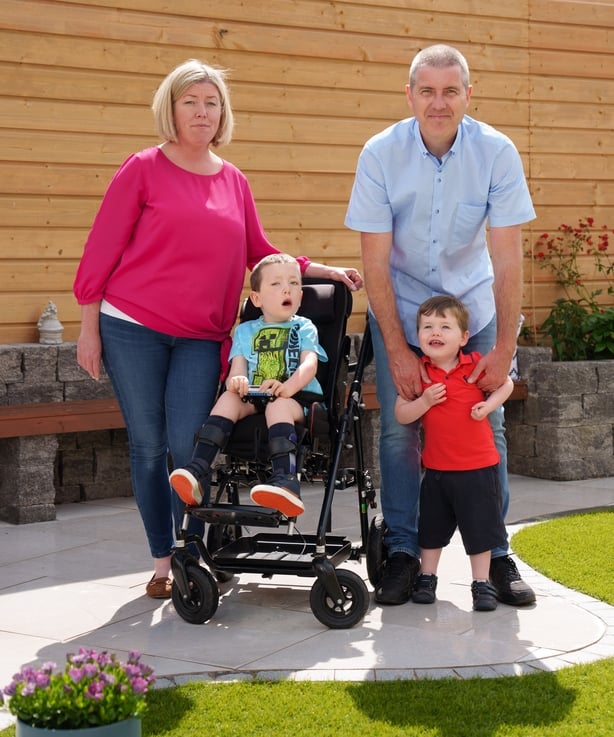 Consultant neurologist Dr Declan O Rourke said: "Children's Health Ireland strongly supports the addition of SMA to the newborn screening programme."
He said the earlier the treatment, in pre-symptomatic stage, the better the clinical outcome, adding: "Early treatment is game-changing and the effects on the quality of life are really incredible."
Heel prick tests are usually carried out on babies when they are between three and five days old.
A midwife or public health nurse administers it either in hospital or when the baby is at home.
They take a small sample of blood from the baby's heel, which is tested for nine rare conditions.
These include cystic fibrosis, congenital hypothyroidism, phenylketonuria, classical galactosaemia and glutaric aciduria type 1.
SMA Ireland director Jonathan O'Grady said: "There have been significant advances in drug treatments for SMA over the past five years and these medicines have the potential to dramatically alter the prognosis for those that receive them."
Dr O'Rourke said the treatments for SMA are some of the most expensive to be reimbursed by the HSE and there is a very clear cost saving in treating pre-symptomatic children as opposed to later.
He said the savings could be several million euro over the lifetime of that child.
SMA Ireland said it is possible to add SMA to the heel prick list for an additional cost of just €5 per test.
With around 60,000 children born in Ireland every year, the estimated cost is €300,000.
Mr O'Grady said: "SMA has touched my family personally.
"I want to make sure that the next child born with this disease is diagnosed promptly and treated immediately. Anything less is an unnecessary and cruel injustice."
The Department of Health said the expansion of the National Newborn Bloodspot (NBS) Programme is a priority for the Minister and the National Screening Advisory Committee (NSAC) is currently considering a number of newborn conditions.
It said adding a new condition, such as SMA "can be a lengthy and complex process and only possible after a full evidential assessment is completed against internationally accepted criteria and with scientific rigour".
In a statement, the Department said the NSAC's first call for proposals for new screening programmes or changes to existing programmes, received a significant response from various sources with a total of 53 submissions received, including some on newborn screening.
It said the NSAC intends to publish its full work programme later this year once it has considered all proposals submitted.