Senior HSE management have met consultants at University Hospital Kerry to discuss the contents of a letter sent by the consultants, in which they claim the hospital is in crisis and patient safety there is at risk.
The consultants are calling for an independent review of the operation of the hospital and of its staffing levels.
The Health Service Executive has denied that the hospital is in crisis.
UHK provides care for a population of more than 150,000 people in Kerry, north Cork and west Limerick. It has around 300 in-patient beds.
Today's meeting was convened after consultants at UHK sent a five-page letter to HSE management outlining a list of grievances.
The letter was signed by surgeon Dr Tom McCormack, a consultant of more than 30 years experience at the hospital. It was sent on behalf of all the consultants there.
In the letter, Dr McCormack says consultants at UHK have lost confidence in the ability of the HSE "locally, regionally and nationally, to provide safe, timely and effective care" for patients at the hospital.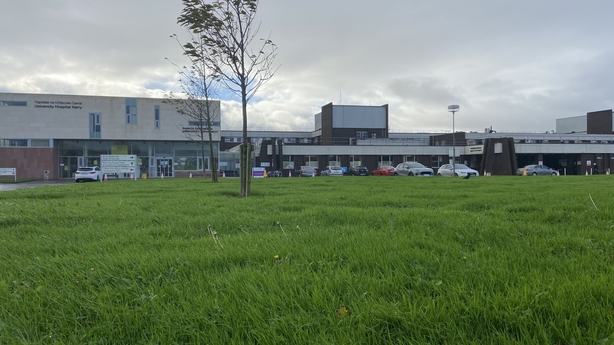 "We do not see evidence of strategic leadership to bring about the necessary changes to enable UHK to maintain and develop services for the population it serves," Dr McCormack says.
"We feel management processes have not progressed with each successive crisis. UHK and the people we serve deserve better."
The letter goes on to detail 12 separate areas where the consultants believe the hospital is deficient.
It says:
patient safety is at risk because of a shortage of beds and staff shortages;
the "totally inadequate" number of single rooms is increasing infection control risks;
elective surgery at UHK has been suspended since mid-September;
an upgrade of the emergency department is proceeding "incredibly slowly".
The letter offers hospital management the support of the consultant body to work collaboratively to deliver and develop services.
However it also asks for leadership, drive and intent from management in order to make progress.
"Our current trajectory threatens our ability to recruit and retain staff," Dr McCormack says.
"This will become the biggest risk to our ability to continue to function as a level three hospital. As a consultant body, we have been left no choice but to draw attention to the ongoing crisis that threatens the hospital."
HSE management were represented at the meeting by the National Director of the Acute Hospitals' Division, Liam Woods, along with other senior HSE managers from UHK and the South South-West Hospital Group, to which UHK belongs.
The HSE has denied a charge that UHK is being downgraded and says 150 new staff have been hired there over the past two years.