There has been an increase in the number of parents contacting the Scoliosis Advocacy Network over the past year, who feel their children are "languishing on wait lists", the organisation said.
On RTÉ's Today with Claire Byrne, co-founder of the Scoliosis Advocacy Network Claire Cahill said there has been no engagement with Minister for Health Stephen Donnelly, despite repeated requests.
Ms Cahill said children are "going to school in pain", and called on the country's leaders to take action on the issue.
"These children are also living with emotional distress while the experience also puts huge pressure on a family."
She said children and their families cannot plan for surgery if they are given a date because "anything could go wrong".
Ms Cahill cited the last-minute cancellation of surgeries, as well as the experience of some children whose surgeries have been cancelled three times.
"We know there's no benefit to waiting so once it's clinically indicated their child needs surgery, we know that surgery should happen within a timely manner," she said.
"In 2017 the Ombudsman for Children recognised the lack of access to scoliosis care as a children's rights issue. This is October 21 and we're still fighting our governments to vindicate the rights of our children."
Ms Cahill explained that the HSE have previously said it will "buy" surgeries in the private system but she said this facility does not cater for children who have complex needs.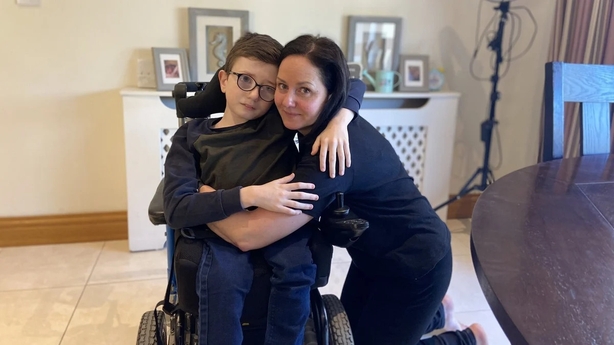 Meanwhile the Taoiseach has spoken to the mother of a ten-year-old boy who has been waiting over four years for urgent scoliosis surgery.
Earlier this week Micheál Martin said the Government is "going to do whatever we have to do" to help Adam Terry from Whitechurch in Co Cork, who featured in an RTÉ report on Tuesday.
Mr Martin said he had a "heartfelt" conversation with Adam's parents, Christine and Mark, yesterday.
"They've gone through a lot," he said.
"I'm very clear that we want him to have that operation as soon as possible. And there indications that will happen."
Mr Martin was responding after a direct plea for help from the young boy was read out in the Dáil by Labour Party leader Alan Kelly yesterday.
.@alankellylabour raises the case of 10-year-old Adam Terry who has scoliosis, saying people would forego any tax change to allow such children get treatment. @MichaelMartinTD says his office has contacted the HSE, and no child should have to wait so long |https://t.co/UCdKEufvZU pic.twitter.com/WPWKTwzTp7

— RTÉ News (@rtenews) October 13, 2021
It said: "Dear Taoiseach, I am from Cork like you. You know my story well by now. Will you please ensure I get the treatment and after care I so desperately need, so I can get back to school and play with my friends who I miss so much? I really, really need your help. Thanks, Adam."
Mr Martin said the delays in Adam's surgery are not because of a lack of resources, but rather reflect a "systemic failure" and he has spoken to Minister for Health Stephen Donnelly and the Health Service Executive on the matter.
Mr Kelly said Adam's story, told by him and his mother Christine on RTÉ's Today with Claire Byrne, was "horrific".
The Labour Party leader said there are 172 children waiting for scoliosis treatment and called on the Government to prioritise their needs.
Govt targets for scoliosis treatment questioned
Meanwhile the joint leader of the Social Democrats has asked the Tánaiste to clarify what is the Government's target for the treatment of children who have scoliosis and require surgery.
Speaking during Leaders' Questions in the Dáil, Róisín Shortall said that these children are "in agony".
She asked the Tánaiste to explain why there is such a delay in surgery for these children; "Is it theatre scheduling or theatre staff?
"Can you please shed some light on this and why is it that we have such an atrocious situation and that we're failing these children so badly?," she asked.
Social Democrats' Róisín Shortall says she was contacted by the family of six-year-old Rosie, who is awaiting surgery for over two years. She says children on waiting lists 'are enduring torture', and asks what that says about our society. | Read more: https://t.co/QsFT1pSfwI pic.twitter.com/CiAmzSIhqD

— RTÉ News (@rtenews) October 14, 2021
Ms Shortall said Adam Terry is "not the only child who is suffering", adding that she has been contacted by the mother of a six-year-old girl who was born with spina bifida and hydrocephalus and desperately needs treatment.
She met a consultant paediatric orthopedic surgeon at Temple Street in September 2019 and it was hoped that she would have had the operation by that Christmas, but she is still waiting for an update, Ms Shortall said.
Her condition has deteriorated to the point that both of her hips are now dislocated and she can no longer use her postural support equipment.
In response, Tánaiste Leo Varadkar said "the Government severely regrets that children experience long waiting times for scoliosis treatment, and we remain very conscious of the burden that is placed on them and their families."
He added that additional funding is commissioned as part of the Budget to reduce waiting lists and improve waiting times. This amounts to €250 million out of the total health budget of €22 billion.