A robot has been put to work on the corridors of University Hospital Galway, as part of new research looking at the use of technology in healthcare.
It is initially being deployed to promote hand hygiene, but will be used for a range of different projects in the coming months.
Described as the most advanced civilian robot available, it is fully programmable, with facial recognition, artificial intelligence and a series of lasers and radars to judge the environment it operates in.
Researchers have named the robot Droid Audio Visual Educator - or Dave for short.
It was developed by a Japanese company, Softbank Robotics, which specialises in the manufacture of robots for use in education and business.
The company says the model in question is the world's first humanoid fitted with an "emotion engine".
The 1.2 metre tall robot is easing into things at UHG. It has been situated at various locations around the hospital campus in recent days, to remind people to clean their hands.
The robot can detect movement and greets passers by, asking them if they want to use sanitiser or water to wash their hands.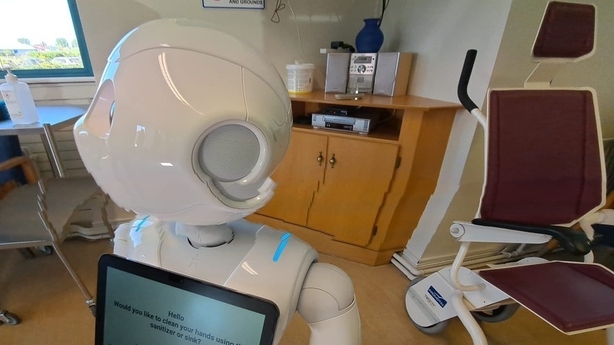 Dave can also show staff and patients an instruction video, on a tablet screen attached to its 'torso'.
In the coming months, researchers will look at how people interact with the robot as well as examining different settings in which it could be deployed.
During the summer, Professor Derek O'Keeffe will give patients the choice of having routine diabetes management information presented to them by the robot. The idea is that, ultimately, this could free doctors and nurses for other clinical tasks.
The Schools of Psychology and Education at NUI Galway will also be involved in carrying out the research.
Psychologist Dr Jane Walsh said that one of the key factors in human/robot interaction would be the issue of trust.
If patients are willing to place their trust the device, on the recommendation of medics, there is scope for it to play an important role in carrying out routine communication tasks.
Professor O'Keeffe says it is a cutting edge area of robotics. He estimates that only around 5% to 10% of the robot's full capability is being employed at present.
However he emphasises that Dave is unlikely to take the place of a doctor or nurse anytime soon.
"It's not robots or us. Robots are here to compliment us, not compete against us," he said.
"What we want to see with this first project about hand-washing is, can robots make us be better humans? Can they change our behaviour through a digital nudge?"