The battle against asthma is costing around €500m a year and the Asthma Society of Ireland has said it is being fought the wrong way.
The society said a system of self-management should be encouraged as currently managing the condition revolves entirely around the asthma patient in crisis.
ASI's Medical Director Professor Marcus Butler said children and adults are being treated in emergency departments and out-of-hours GP practices when they should be helped to get on with their lives with minimal intrusion.
Around 890,000 people in Ireland experience asthma at some stage of their lives and someone visits an emergency department every four minutes with asthma.
New research from the ASI - 'Easing the Economic Burden of Asthma' - shows that one in six people dies every six days as a result of their asthma and, compared to 14 other European countries, Ireland had the highest death rate from asthma in 2015.
ASI Chief Executive Sarah O'Connor said there must be a move towards pro-active care and to teaching patients how to understand what triggers their asthma, which will not only help them in terms of their health, but will also save them money.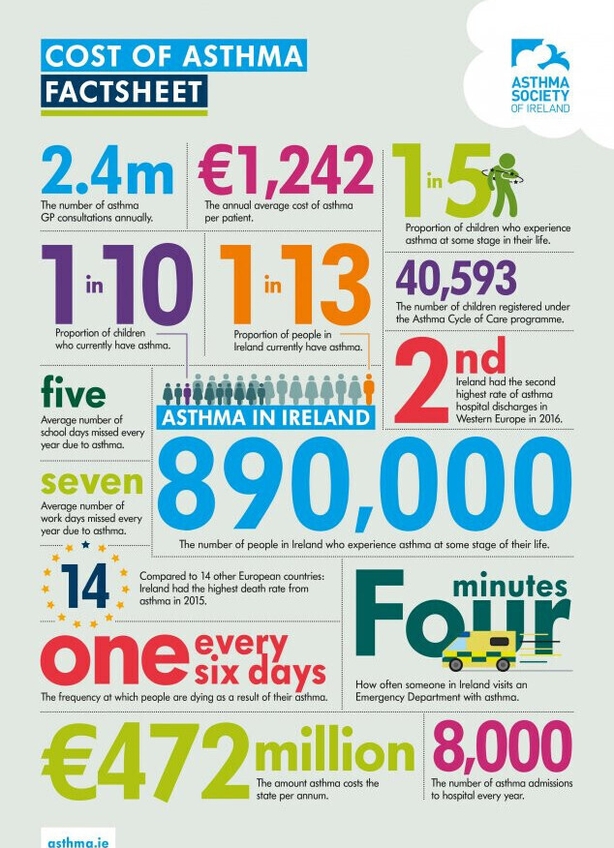 The annual average cost of asthma per person is €1,242, according to the society's research, and the average number of work days missed a year is seven, while five schools days are missed every year due to asthma.
Speaking on RTÉ's Morning Ireland, Ms O'Connor said: "We're getting it wrong and what we need to do is move from the whole patient piece - following the patient in crisis, the patient who is out of control, and move instead into the proactive piece where every patient in Ireland is supported, guided, advised, understands their triggers, understands their asthma."