Minister for Health Simon Harris has said he is encouraged by what he called a "significant reduction" in the number of patients on trolleys, despite the INMO's assessment that 2018 was the worst year on record for overcrowding.
In relation to speculation about a possible Cabinet reshuffle in the summer, Mr Harris said he was proud of his achievements and is very happy to continue in the health portfolio.
It comes as the Irish Nurses and Midwives Organisation claimed 2018 was the worst year on record for hospital overcrowding.
New analysis from the organisation said 108,227 patients went without hospital beds last year - a record high.
The figures are a 9% increase on 2017, which itself was a record high.
And it is nearly double the number in 2006 (55,720), when INMO records began.
The months with the highest figures last year were January (12,201), February (10,772) and March (10,511).
The worst-hit hospitals included:
Limerick University Hospital - 11,437
Cork University Hospital - 9,135
Galway University Hospital - 7,452
Midlands Regional Hospital, Tullamore - 5,831
Tallaght University Hospital, Dublin - 5,432
Smaller hospitals also saw record overcrowding, the INMO says. South Tipperary General Hospital had 5,201 patients on trolleys this year.
It blames overcrowding on low capacity and understaffing.
The organisation said it has asked the Government to work with it to try to resolve problems with recruitment and retention in nursing.
It says this has not happened, and that 95% of INMO nurses and midwives voted in favour of industrial action.
The INMO executive will meet next week to set dates for strikes.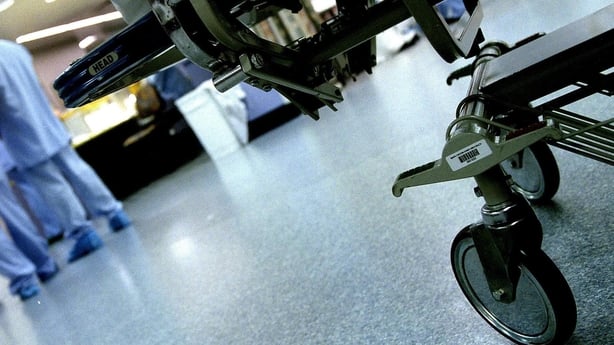 ---
Read more:
Trolley numbers down but demand for health services forecast to jump
HSE says fewer patients on hospital trolleys
---
INMO General Secretary Phil Ní Sheaghdha said: "Despite the Government spin, 2018 was the worst year on record for overcrowding.
"Negative records were set throughout the year, with over 100,000 admitted patients forced to wait on trolleys and chairs, without a proper bed. We know that this dramatically worsens outcomes for our patients.
"The health service does not have enough beds to support our population. More beds mean more nurses, but the HSE simply can't hire enough on these wages. It's beyond time for the Government to engage proactively with the INMO to resolve the crisis in Irish nursing and midwifery.
We need your consent to load this rte-player contentWe use rte-player to manage extra content that can set cookies on your device and collect data about your activity. Please review their details and accept them to load the content.Manage Preferences
"Patients should be focused on recovering, but instead have to worry about waiting times, understaffing and a lack of beds. 2019 must see real changes in policy and funding to resolve this once and for all."
The Department of Health said figures presented by the HSE earlier this week show 98,136 people were recorded as waiting on trolleys at 8am for admission to a bed in 2018.
In a statement, it said the first few months of 2018 were a particularly challenging time for emergency departments due to severe weather events and the spread of flu.
It added that "while figures are still too high, it is important to note trolley figures have fallen in seven of the 12 months of the year".
It said Mr Harris acknowledges the distress overcrowded EDs cause to patients, their families, and frontline staff working in very challenging working conditions in hospitals throughout the country.
Over the past 12 months, an additional 240 beds have been opened and a further 78 additional beds are planned for early 2019, the department said.
The HSE Service Plan commits to a further 202 beds opening in 2019. These beds will be in addition to the 75 beds identified under the Winter Plan 2018/2019.
A spokesman also said the Government is committed to the introduction of the Public Service Pay Commission's report, which makes a number of recommendations for nurses and midwives.
They include accelerated promotions and a 20% increase to a number of allowances targeted at nurses and midwives. If accepted, those measures would be implemented from March 2019.
The Government said it is also committed to addressing pay structure for new entrants.
HSE trolley figures for emergency departments
Separately, the HSE put the number of patients on trolleys in emergency departments today at 236.
The 'TrolleyGar' count taken at 8am shows there were 24 patients waiting over 24 hours and 94 patients waiting over nine hours for admission.
The HSE says the overall figures represent a 45% decrease on the same day last year.
Unlike the INMO data, the HSE figures do not include patients placed on wards waiting for admission to a bed.
Several factors are contributing to the current reduced levels of overcrowding. The level of flu circulating is low and the weather has been generally mild.
HSE initiatives including extra beds, more home care packages and access to diagnostics are also having an impact.
But a surge is expected over the coming weeks which will test the health system.
Speaking on RTÉ's Today with Miriam O'Callaghan, Ms Ní Sheaghdha said their figures put 366 people on trolleys today.
She said it is down from last year but that it is still not acceptable to have this number of people on trolleys so early in the year.
Ms Ní Sheaghdha added that "the HSE only count people who are actually in the emergency department and not in beds on trolleys but have been admitted to the hospital."
She claimed the INMO method is more accurate.
"We count those that are admitted to hospital throughout the hospital - on wards, on trolleys, but again not in beds - so our figure is more accurate because what we're demonstrating is that the hospitals are overcrowded now, not just the Emergency Departments, the entire hospital is overcrowded."