The Health Service Executive has spent almost €250 million on agency personnel in the first nine months of this year, according to figures supplied to Sinn Féin health spokesperson Louise O'Reilly.
Figures released last week showed the spend across the country's hospitals to September came to over €114m.
However Community Health Organisations, which deliver non-hospital care around the country, spent just short of another €120m.
The total agency bill came to €234m.
Short-term agency workers can be more expensive than direct employees, but do not enjoy the job security or pension benefits of the permanent public service staff.
The highest outlay on agency workers outside hospitals was a massive €23m spend in CHO Area 8 which covers Laois/Offaly, Longford/Westmeath and Louth/Meath.
In second place was the CHO Area 7 delivering services in Kildare, west Wicklow, Dublin west, Dublin south city and Dublin south west, where agency staff cost €18.8m.
In CHO Area 5 covering south Tipperary, Carlow/Kilkenny, Waterford and Wexford, €16.8m was spent on agency workers.
In CHO Area 2 covering Galway, Roscommon and Mayo, the agency spend was €14.25m.
CHO Area 1 which covers Donegal, Sligo, Leitrim, west Cavan and Cavan-Monaghan spent just under €12.9m on supplementary agency personnel.
CHO Area 6 which accounts for Wicklow, Dún Laoghaire and Dublin south east spent almost €11.3m.
CHO Area 3 dealing with Clare, Limerick, north Tipperary and east Limerick had an agency spend of almost €8.5m.
Finally CHO Area 9 which accounts for Dublin north, Dublin north central and Dublin north west spent almost €7.7m.
In the CHO Area 4 providing services to Kerry and Cork, the figure was just under €5.5m.
A further €1.25m was spent on national services.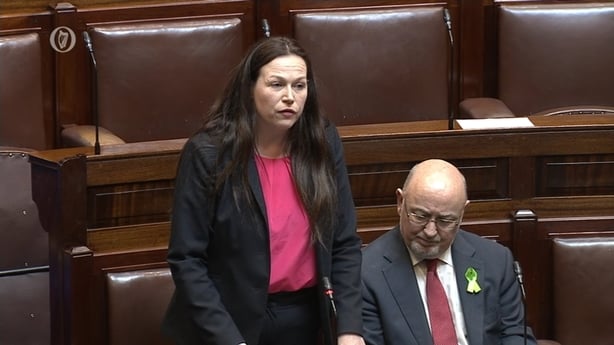 Commenting on the figures, Ms O'Reilly said the agency spend was out of control - and rising.
She said that costly agency staff were being used both to keep hospitals open and to staff community facilities.
She urged the Government to acknowledge the damage being done by what she called an over-reliance on agency staff, and to put in place a credible plan to resource and staff healthcare delivery.
Ms O'Reilly concluded by saying that direct labour was the best and most cost-effective way to ensure continuity of care and forward planning.
In its reply to Ms O'Reilly's parliamentary question, the HSE said the agency expenditure had to be considered in the overall context, which included increasing demand for services, the impact of earlier constraints on public service recruitment, ongoing challenges in recruitment and retention of clinical staff, and the requirement to implement the European Working Time Directive.
It stressed that agency pay cost is under constant review, and such workers are used where there is a difficulty recruiting hospital staff, or where there is a short-term critical service need.
In addition, the HSE noted that they are used for flexibility to allow for variation in activity, or as required to meet patient demand needs.