Before May this year, few people in Ireland were familiar with people like Vicky Phelan, Emma Mhic Mhathúna, Stephen Teap and Ruth Morrissey.
Then on Wednesday, Ben Lawless went public on RTÉ News, for the first time about his late wife Edel, aged just 45.
Widowed husband wants someone held to account over CervicalCheck | https://t.co/ASTjF2NJi3 pic.twitter.com/hvNpcWDY0a

— RTÉ News (@rtenews) August 1, 2018
Today these remarkable, brave and articulate people are household names sadly for all the wrong reasons, because of deep tragedy, which is still playing out in the courts, the media and in their personal lives.
Many promises were made by the State after the shocking details of the Vicky Phelan High Court action came to light.
That was four months ago.
This crisis has been marked by exceptional bravery and tenacity by several individuals, who have spoken truth to power, despite the devastating individual health implications they face.
Others, equally hurting, wish to be remain private and that must be respected throughout this process, which needs to find all the facts and ensure justice for those who had negative health outcomes.
In May, the Government promised that the Dr Gabriel Scally Review would be completed by the end of June.
It was a completely unrealistic timescale.
The delay in his report is not due to any failure on Dr Scally's part, but because of problems in getting documents from State health agencies and securing these papers in a manner that was usable for his inquiry.
The expectation now is his report will be completed around the end of August, or early September, and it will have to go through a process before publication.
The State also promised that the review of 3,000 smear tests by a team of British medical experts would be completed by the end of May and that did not happen either.
After RTÉ News revealed in early July that the physical review of slides had still not begun, the Taoiseach said he was "very dissatisfied" it had not started.
Last Wednesday, a Government statement confirmed the British clinical team had still to write to the 3,000 women to get consent to review their slides.
The first set of letters are due to be issued to the initial group of 221 women or families affected soon.
So this crucial review of 3,000 scans has still yet to begin in terms of actually re-examining slides.
The review will take four to six months so it could be around January 2019 before it is completed.
---
Read More:
Mediation hitting 'roadblocks' in CervicalCheck cases - Harris
Morrissey case over incorrect smear tests adjourned until September
Government attempts to avoid future court actions over CervicalCheck
€2.5m settlement for terminally-ill woman whose cancer was missed
Emma Mhic Mhathúna settles case for €7.5m
---
There was also commitment that women would no longer be dragged through the courts and that mediation would be used to settle cases.
Mediation has worked in a few cases.
In addition, there was also the commitment that the State would settle with women affected and then afterwards would pursue the laboratories for the costs.
That has not happened and perhaps it was a rash promise in the heat of this unprecedented crisis.
This issue is complex, because if this route was chosen, the State might expose itself and the taxpayer to significant upfront costs, that may or may not be recouped from laboratories, at some time in the future.
It is clear now that many things were overpromised and this has added to the upset among those affected.
The row which broke out recently, between Ruth Morrissey's lawyers and the State Claims Agency - outside of the court room - was very unusual.
Her lawyers described the State approach to mediation as a sham.
Mrs Morrissey's case against the State and two laboratories has been adjourned to September but the good news is that she has responded well to treatment and hopefully that will continue.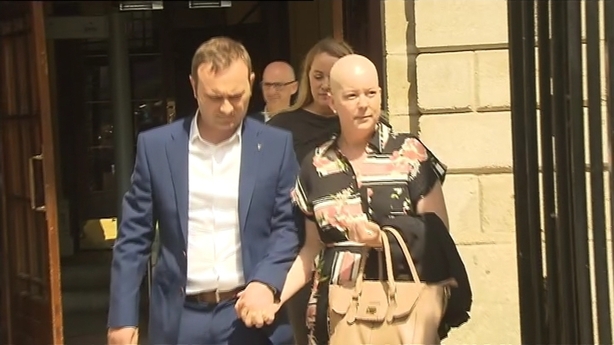 The overpromising has damaged faith in the political process to resolve one of the worst crises faced by the Irish health service.
This is a potentially very dangerous controversy for the Government and if badly handled, could have serious consequences.
There has been criticism by some of those affected that the Government has been too reactive in this controversy and women who are ill, have been pushed out by the State, to do the fighting for them.
There are some similarities, but differences also, to the Hepatitis C blood infection scandal in the early 1990s, which affected over 1,000 women and resulted in many deaths.
During the last week, the Taoiseach said he regretted not being clearer that CervicalCheck cases would not go to court and that mediation may not be the answer, certainly in all cases.
In May, the Government promised a Commission of Investigation, potentially with a public element.
That promise was repeated by the Taoiseach last week and it now appears the inquiry will be in public.
There will be provision for women to give evidence in private, if they wish, to respect their right to privacy.
The Government previously promised a redress or compensation scheme but this has not been introduced.
There have been such schemes in the past for the blood scandal, symphysiotomy and the victims of Dr Michael Neary and so there are models to draw on.
A judge is now also to look at alternatives to court action and report back in two months.
But given that he must take account of the Scally Review and the UK review, that timescale may be very optimistic.
The journey for truth and justice in this distressing affair will take time and sadly it will come too late for some women who have died.
Given that there is to be a Commission of Investigation, it could take some years for full answers - time which other women do not have.
Full facts still not known
We do not yet know all the facts in this controversy.
Currently we know that at least 221 women are affected in some way and that 18 have died.
But we do not know the exact cause of death in each case or whether it was due to negligence.
Some cervical smear check errors will be within what is deemed the margin of acceptable error, while others will be well outside of it.
One would expect that cases that are clearly outside of it would settle, or be mediated early.
The most urgent cases where women may be dying must be prioritised.
The highest known settlement to date has been €7.5 million.
According to Cian O'Carroll, a solicitor for a number of women, the initial 221 women are a special group, selected by CervicalCheck because of the degree of the error that was picked up following a review of their case.
However, the Department of Health has challenged this view and says negligence can only be determined by the courts.
As of now, no case has been determined by the courts.
The Government commitment to avoid court proceedings was made without being clear that there are other parties to these court cases - principally the laboratories.
The laboratories and their insurers have their own views on whether to settle or fight cases.
It was never in the State's gift to say the courts could be avoided.
Some people may feel this was a move by the Government to calm matters and push the issues down the road.
Confidence damaged but screening must continue
Confidence in cervical check screening has been badly damaged.
While anger over what has occurred is understandable, it is vital that women continue to use CervicalCheck as it saves lives.
It is not a diagnostic service but it is a screening system and that difference is important.
If screening were to collapse that would be a disaster.
There has been criticism, by some of those affected, over what they feel had been as an attempt by some people to blame women affected, for damaging the screening service.
That is wrong and completely misses the seriousness of these issues.
Vicky Phelan says she has decided to withdraw for a time from social media and direct public campaigns due to certain criticisms.
Those of us long enough around know that while social media is important, it does not convey the full picture of what people feel about any issue.
When you travel the country and meet those affected, face to face and talk issues there is a deeper understanding of the impact of these events.
The CervicalCheck controversy has resulted in trauma for families, in some cases broken relationships and placed some women, with very little money, into desperate circumstances.
I have been doing this in health since 1988.
I have dealt with every health minister and Government since 1988.
The big scandal back then was how the State - the government - dealt with women, who through no fault of their own, were infected with Hepatitis C.
I also covered the infection of people with haemophilia, with HIV and Hepatitis C, through no fault of their own, the organ retention controversy where organs from deceased babies were removed without the knowledge of parents, the Dr Neary scandal and the Symphysiotomy redress scheme.
How governments deal with these things is important and the battles are complex.
The explanations do not fit into a short tweet.
Painful story is far from over
So to understand where we are now, it is worth taking the time to look into what happened then in those events when the State was challenged.
The central point in the CervicalCheck controversy is the accuracy of the inspection of smears, accepting that there are limitations.
The inquiries ahead should provide real statistics on this.
There is an understandable concern that some of the same laboratories involved in cases continue to be used.
No doubt the Scally Review will have a view on that and whether the original choice of laboratories was a good one.
Dr Scally's report will be a crucial one and will answer some of the facts and set the scene for the Commission of Investigation.
As of now, it appears likely that urgent cases will still continue to go to court.
Ultimately, women will decide to accept a settlement or mediation deal, if it is right for their circumstances.
The laboratories may wish to fight on, as to do otherwise with so many cases, could put them out of business, or make them uninsurable.
That is the cold calculation they will have to make.
Many women are also reporting major hurdles in securing their past cervical slides, preventing them from assessing and pursing their cases quickly.
This is a painful story for the women and families affected.
It is far from over.
Along with fair compensation for wrong done, people mostly want accountability.
The health system also deserves nothing less, if it is to learn lessons for the future.