A two-year research programme into a common cause of blindness has found a link between vision improvement and food supplements.
The research was conducted by a team from the Nutrition Research Centre Ireland at the Waterford Institute of Technology.
Age-related macular degeneration (AMD) affects more than 7% of Irish adults over the age of 50.
The condition affects the macula, a specialised area of the eye that helps central and colour vision and can lead to blindness if it degenerates.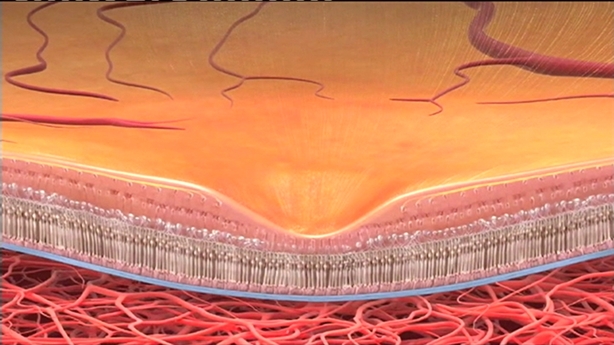 For 18 years, WIT has been carrying out research into AMD and for the past two years, 100 people diagnosed with early stages of AMD took part in a European Research Council funded trial.
The findings for the trial, which is the first of its kind in the world, showed an improvement in the vision of all of those taking a dietary supplement of what are known as carotenoids, with 40 of the 100 people diagnosed with AMD showing significant and clinical improvements.
Carotenoids are naturally-occurring pigments that give many fruit and vegetables their colour.
Those living with AMD would usually have been expected to experience a continued deterioration in their vision over the two years of the clinical trial.
Professor John Nolan, who is leading the research, says tens of millions of euros could be saved each year over the next decade if the Government takes on board the research findings and recommendations.
Speaking to RTÉ News, Prof Nolan said: "These are hugely exciting findings and build on previous work that has been done at our Centre and elsewhere. AMD and the impaired vision that comes with are a huge burden for patients and their families.
"The disease also brings a considerable economic burden, especially in its later stages. So, there's a huge prize in finding an early intervention that can avert the need for expensive therapies and supports."