French judges have charged five military personnel for failing to come to the rescue of dozens of migrants abroad a stricken boat crossing the English Channel in November 2021.
The sinking of the small vessel off the northern port city of Calais left 27 people dead - mainly Iraqi Kurds aged between seven and 46 - in the worst such disaster in recent times.
Nine people were placed in custody as part of the investigation, but only five were formally charged with failing to assist people in danger, a judicial source said.
It is reported that those charged include three women and two men on duty at the Channel rescue centre at the time.
In the wake of the tragedy, France and Britain traded blame.
A French migrant charity filed a complaint shortly after it happened, saying the migrants called both French and British authorities but were only sent help when a French fisherman raised the alert, more than ten hours later.
It is reported that among those in custody are personnel from the French rescue service Cross Gris Nez, in charge of rescues in the English Channel.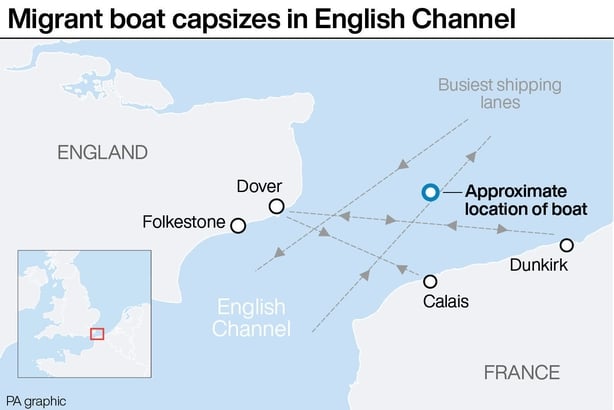 Le Monde newspaper in November published revelations based on documents contained in the French legal investigation, saying passengers first contacted France's Channel rescue centre at 1.48 am on 24 November to say their vessel was deflating and its engine had stopped.
They sent their locations via WhatsApp around 15 minutes later.
"We can only welcome the fact that things are progressing from a criminal point of view, that we are finally shedding light on this case and that the words of the victims and the relatives of the victims can finally be heard at a judicial level," responded Flore Judet, spokesperson for Utopia 56, an association helping migrants.
According to one transcript of a telephone conversation, a migrant told the French coastguard on the phone: "Please help! (...) I'm in the water!" "Yes - but you are in English waters," replied the coastguard.
"No, not English waters! French waters! Please can you come quickly!" the voice insisted, before the conversation was cut off.
France has already charged ten suspected people-smugglers, mainly Afghans, over the tragedy.