EU leaders have debated how to fight poverty and inequality as the continent emerges from the Covid-19 pandemic, divided about the limits of Brussels' role in rebuilding a fair economy.
Most of the EU's 27 leaders made the trip to the banks of the Douro river for the two-day summit in the Portuguese city of Porto, where activists were also gathered to argue that social issues should be a European priority.
A handful of leaders, notably German Chancellor Angela Merkel and Dutch Prime Minister Mark Rutte, attended only by video conference, still concerned over spreading the coronavirus.
Taoiseach Micheál Martin attended the summit and, in a post on Twitter, said there was "lots to discuss, including the global #CovidVaccine effort and social solidarity as we emerge from the pandemic".
Some countries distanced themselves from the idea of waiving patent rights on coronavirus vaccines, backed by US President Joe Biden, saying the key to ending the pandemic was making more vaccines quickly.
Experts say waivers could take years to negotiate, and would not address the immediate need to manufacture more doses fast.
"What is the current issue? It is not really about intellectual property. Can you give intellectual property to laboratories that do not know how to produce and will not produce tomorrow?" French President Emmanuel Macron said on entering the talks.
"The main issue for solidarity is the distribution of doses," he said, adding that France was working hand in hand with Germany on the issue. Berlin expressed its opposition to the idea yesterday.
We need your consent to load this rte-player contentWe use rte-player to manage extra content that can set cookies on your device and collect data about your activity. Please review their details and accept them to load the content.Manage Preferences
As part of what has been dubbed the "social summit", the meeting began with conferences bringing together representatives of civil society and trade unionists, with political leaders attending workshops.
This "very important social summit comes at the absolutely right time, we've been through a very tough year," said European Commission chief Ursula von der Leyen as she arrived for the talks in Porto's imposing old customs house.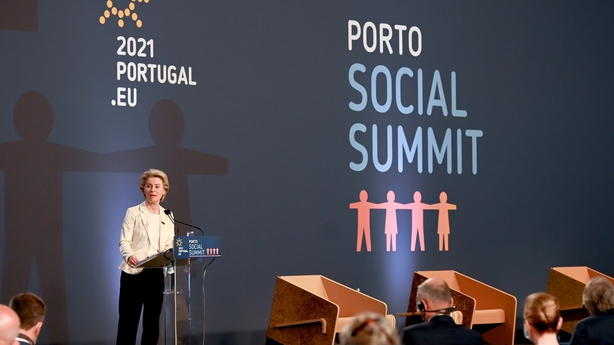 Social issues such as jobs, training and combating poverty need to be an "absolute priority" and show that "Europe can deliver", she added.
The events are being held just days after Portugal, with one of the lowest coronavirus incidence rates in Europe, entered the final phase of lifting Covid restrictions.
For Fernanda Martins, who runs a small family cafe nearby with her husband, today's meeting meant above all the return, however briefly, of a clientele that has been missing since the pandemic hit.
"The summit has brought the area back to life and finally given us some work. That's all we want, I hope there will be more," said the 60-year-old woman who reopened her establishment a month ago but has had few customers since then.
Today it was revealed that Portugal is among the country's on England's new travel 'Green List'.
The host of the summit, Portuguese Prime Minister Antonio Costa, said the pandemic "highlighted the cost of precarious working conditions and gender inequalities."
It also underlines the "need to regulate new forms of work, such as telework and digital platforms."
The social summit will be followed by a more formal dinner, where leaders will discuss the latest developments in fighting the pandemic.
They will discuss social affairs again tomorrow, ahead of a video summit with Indian Prime Minister Narendra Modi.
At the heart of the economic discussion will be a non-binding proposal by the EU executive to get countries to target an employment rate of 78% by 2030, train at least 60% of adults each year and reduce the number of people at risk of poverty by 15 million.
The EU's social action plan "clearly lacks ambition", said Olivier De Schutter, UN special rapporteur on human rights.
He said that 700,000 people in Europe sleep rough every night and more than 20 million workers are living in poverty due to the increase in precarious work contracts used by digital platforms for food delivery and taxis.