The President of the European Commission Ursula von der Leyen has said the EU will "never backtrack" on the Brexit Withdrawal Agreement.
In a strong intervention during her State of the Union speech, Ms von der Leyen told the European Parliament: "This Withdrawal Agreement took three years to negotiate and we worked relentlessly on it, line by line, word by word.
"And together we succeeded. And the result guarantees our citizens' rights, financial interests, the integrity of the Single Market, and crucially the Good Friday Agreement.
"The EU and UK jointly agreed it was the best and only way for ensuring peace on the island of Ireland. We will never backtrack on that. This agreement has been ratified by this House and by the House of Commons.
"It cannot be unilaterally changed, disregarded or disapplied. This is a matter of law and trust and good faith."
The Brexit Withdrawal Agreement 'cannot be unilaterally changed, disregarded or disapplied', the President of the European Commission has said.

'This is a matter of law and trust and good faith,' Ursula von der Leyen said  | Read more: https://t.co/JOIoKUqcYa pic.twitter.com/R0jQlgH83B

— RTÉ News (@rtenews) September 16, 2020
Ms von der Leyen quoted the former British prime minister Margaret Thatcher: "Britain does not break treaties. It would be bad for Britain, bad for relations with the rest of the world, and bad for any future treaty on trade."
She added: "This was true then, and this is true today. Trust is the foundation of any strong partnership."
She also urged EU members to build a stronger health union, promising a biomedical research agency and a global summit.
Ms von der Leyen said the Covid-19 pandemic had underlined the need for closer cooperation. "The people of Europe are still suffering," she said.
"For me, it is crystal clear - we need to build a stronger European Health Union ... and we need to strengthen our crisis preparedness and management of cross-border health threats."
Minister for Foreign Affairs Simon Coveney praised the Commission President for "speaking the truth" and said he "hoped the UK Government is listening".
Clear statement from @vonderleyen today - speaking the truth - I hope the UK Government is listening. #Brexit 🇪🇺🇮🇪🇬🇧 pic.twitter.com/UfX3CJjiYG

— Simon Coveney (@simoncoveney) September 16, 2020
Ms von der Leyen said her commission would try to reinforce the European Medicines Agency and European Centre for Disease Prevention and Control.
And she announced the creation of a new agency for biomedical advanced research and development - dubbed BARDA.
Then next year, she will work with Italy's Prime Minister Giuseppe Conte and the Italian G20 presidency to convene a global health summit to learn and share the lessons of the coronavirus crisis.
"This will show Europeans that our union is there to protect all," she said.
Health policy remains the responsibility of EU member states and, while Brussels has tried to coordinate the bloc's response to the epidemic, national lockdowns and border rules have varied widely.
Ms von der Leyen, a doctor by training, also warned countries not to act selfishly when on vaccines, which are widely seen as the solution to end the crisis.
"Vaccine nationalism puts lives at risk. Vaccine cooperation saves them," she said.
She also called for a reformed and strengthened World Health Organization "so that we can better prepare" for future pandemics.
Ms von der Leyen also said the European Commission will propose cutting emissions in Europe by 55% by 2030 in response to the climate emergency.
"I recognise that this increase from 40% to 55% is too much for some, and not enough for others," she said.
"For us, the 2030 target is ambitious, achievable, and beneficial for Europe."
'While much of the world's activity froze during lockdowns and shutdowns, the planet continued to get dangerously hotter,' EC President Ursula von der Leyen warned, as she said the Commission is proposing to increase emission reduction targets | Read more: https://t.co/S7BzFbFFSd pic.twitter.com/Fs5NpsLvNk

— RTÉ News (@rtenews) September 16, 2020
She warned Turkey against attempts to intimidate Greece and Cyprus as tensions grow in the eastern Mediterranean.
Ms von der Leyen said Ankara was a key partner doing important work hosting refugees, but warned "none of this is justification for attempts to intimidate its neighbours".
Commission presidents normally use the speech to set out their priorities for the year ahead, but Ms von der Leyen's first ten months have been beset by unprecedented challenges, not least the Covid-19 pandemic.
In a broadside aimed at Poland's populist government, Ms von der Leyen warned that so-called LGBT-free zones have "no place in our union."
"I will not rest when it comes to building a union of equality," she said.
She called for "a union where you can be who you are and love who you want - without fear of recrimination or discrimination.
"Because being yourself is not your ideology. It's your identity. And no one can ever take it away. So I want to be crystal clear - LGBTQI-free zones are humanity free zones. And they have no place in our Union."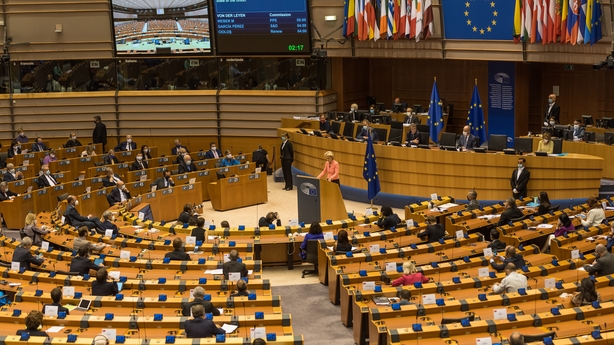 Ms von der Leyen took over as Commission President just weeks after the EU and UK successfully concluded the Brexit Withdrawal Agreement.
Her big signature policy was announced just a month later, a European Green Deal, aimed at making Europe the first carbon neutral continent by 2050.
Then calamity struck. Europe was hardest hit in the first wave of the pandemic as it spread from China. Member states threw up borders and some refused to help others in need.
The Commission struggled to maintain a united European front.
Eventually, after months of wrangling, Ms von der Leyen helped to lead the EU towards a €750bn recovery fund.
Additional reporting AFP/Reuters