Once again, Spain hit a new record with 849 coronavirus deaths in 24 hours today, although health chiefs said the rate of new infections was continuing its downward trend. 
After Italy, Spain has suffered the world's second most deadly outbreak, which has now claimed 8,189 lives there.
The latest figures came a day after the death toll fell slightly, raising hopes the epidemic could be peaking.
Confirmed cases of the virus rose by about 11% to 94,417.
That figure was seen as a setback after a week in which the rate had been steadily failing, with Monday's figures having shown a rise of just over 8%.
In percentage terms, however, the pace of increases in both contagion and deaths has slowed somewhat in the past few days, health officials said.
"It's true that today we have a slight increase in the number of cases," said Maria Jose Sierra, from the health ministry's emergencies coordination unit. But the downward trend "is continuing", she added.
Health emergency chief Fernando Simon, who tested positive for the virus on Monday, said in a video news conference that Spain was unlikely to need further restrictive measures, besides those already announced, while that data was being analysed.
This time last week, the rate of new infections stood at around 20%.
Now on day 18 of an unprecedented four-week national lockdown to slow the spread of the virus, Spain has sought to dramatically ramp up testing. It is sourcing kits from around the world in order to test some 50,000 people per day, up from the current 20,000. 
It has also ordered millions of euros worth of supplies to support its health care system, on the brink of collapse following the massive influx of seriously ill patients and a growing number of medical staff falling sick with the virus. 
Madrid is the worst-hit area, counting 3,609 deaths and 27,509 infections. The regional authorities there are using a massive exhibition centre and a string of hotels to house the sick, and setting up two temporary morgues for the dead, one inside an Olympic-sized ice skating rink.
Spain has already surpassed China, where the disease originated in late 2019, in the number of deaths and infections and has the world's second-highest death toll after Italy.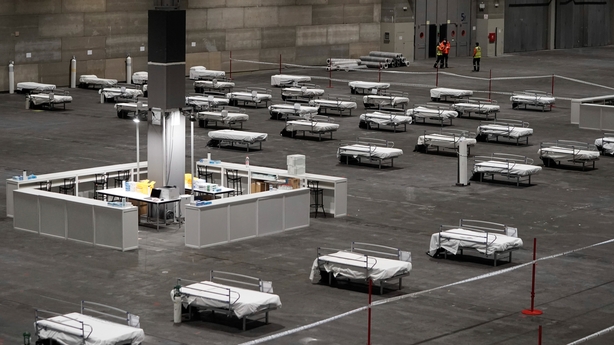 Spain's government is preparing new measures to help households and exempt small firms from social security payments after business leaders bristled at a tightening of the coronavirus lockdown in Europe's second worst-hit country.
A government source said that as part of a €700m aid package likely to be approved during a cabinet meeting, the government wants to suspend evictions of vulnerable households for the six months after the state of emergency is lifted.
This would cover the unemployed, workers who have been temporarily laid off or had their hours cut, and self-employed people on low earnings. Previous aid packages, such as a moratorium on mortgage payments, had stricter criteria to qualify.
Investment funds and other large landlords would have to accept a 50% loss on debt incurred by their tenants, or restructure that debt within two to three years. Rental contracts expiring in the next six months would automatically be renewed for a further six months.
The government is also studying a six-month holiday on social security payments for small businesses and the self-employed.
Health officials said yesterday that Spain's lockdown measures, among the strictest in Europe, have begun to take effect, with the daily infection increase slowing.
However, business leaders criticised the recent tightening of the restrictions, which prevent non-essential workers from leaving their homes, and complained that a lack of consultation with the private sector left companies unprepared.
"Spain is a country where 95% of companies are tiny, with just one or two workers. They can't stay stuck at home, they need to get out and work," deputy chief of business group CEOE Inigo Fernandez de Mesa said.