The first chink that appeared in the Iron Curtain happened in Hungary 30 years ago today.
This iconic photograph from 27 June 1989 was carried around the world - depicting the former Hungarian leader Gyula Horn and the Austrian foreign minister Alois Mock, tearing through barbed wire with bolt cutters - severing the once electrified barbed wire that had separated their two countries.
But the weakening of the Iron Curtain that separated Eastern Europe from the West had already begun weeks beforehand.
According to an account by Imre Pozgay, a leading reformer in Hungary's Communist Party, he helped persuade the country's top brass to open up the border. In an account given to the BBC's former diplomatic editor, Brian Hanrahan, he said much of this power was given up voluntarily, rather than through force. He helped convince the party's general secretary that a military coup could not succeed there and as the summer months began, the first East Germans began crossing the border- an act that would have once been illegal.
The removal of the border fence in Hungary also happened for financial reasons. Parts of the electrified wire had become rusty and it is reported that the head of the border patrols at the time complained that the replacement stainless steel could only be purchased from the West "for hard currency." It was no longer being supplied by the Soviet Union.
By late 1988 there was no further budget for maintaining the signalling system that triggered an alarm when people attempted to cross. By early May 1989, some of the wire was already being taken down.
When word got through to Soviet leader Mikhail Gorbachev, official records show his response as being: "To be honest, I don't see a problem with it."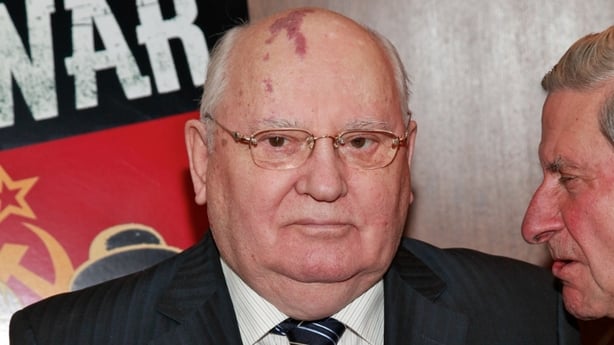 A new generation
András Tóth-Czifra, a Hungarian political scientist was just three years old in 1989 and says the events of 1989 forever changed his life and shaped his entire generation: "I can't remember the events themselves... but I think the events mean to all of us that we were very lucky."
"We got to grow up in the 1990s where the whole of Hungarian society seemed to have one common goal, which does not occur very often, and that was transforming our country to what I think definitely the majority of us thought was our spiritual home, and that was Western Europe."
These new opportunities allowed him to complete part of his studies here in Ireland at Dublin City University and he went on to work as a policy adviser for a group of members in the European Parliament. He also worked as an analyst with the European Stability Initiative in Berlin. He now lives in the US.
We need your consent to load this rte-player contentWe use rte-player to manage extra content that can set cookies on your device and collect data about your activity. Please review their details and accept them to load the content.Manage Preferences
He says a massive transformation took place in his home country, but added: "Not everything turned out the way most people wanted it to turn out."
He said the 1990s were an era of growing uncertainty with many people losing their jobs and their financial security. Following accession to the European Union in 2004, hundreds of thousands of people left the country.
However he adds: "Taking a look at the big picture during that period, the country took enormous strides towards building a functional democracy.
"If you look at Hungary today, of course you can see that this process stopped somewhere and started to go backwards.
"I'm afraid that the luck that my generation had, the sense of a common purpose, that we grew up in, a time where things were visibly getting better and better, is lost for the generation that grows up in these years."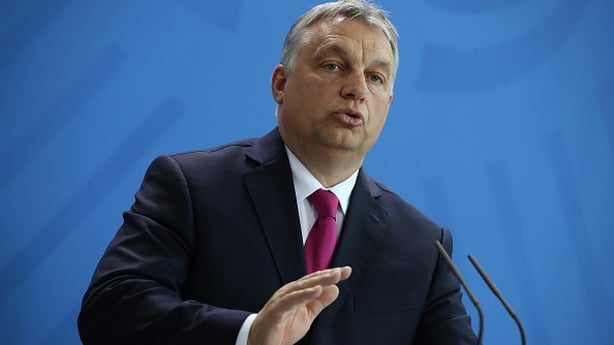 A year of commemorations
This month Hungary began to look back on the events of the last three decades. The government there has declared the 30th anniversary of the regime change to be a one-year commemorative programme.
On Sunday 16 June the current Prime Minister, Viktor Orbán, visited the grave of Imre Nagy, the former prime minister who was executed on that day in 1958.
Nagy had been the leader of the ultimately unsuccessful 1956 Hungarian Revolution against the Soviet-backed government. The reburial of Nagy in 1989 was a symbol of the beginning of democratic change in Hungary.
Mr Orbán first rose to national prominence by delivering a speech on that occasion.
His Fidesz party was first founded in 1988 as a liberal youth party opposed to Communist rule and has since dominated Hungarian politics.
A 'Concert of Freedom' held in Heroes' Square on 16 June opened with a rendition of Roxette's hit 'Listen to Your Heart', used in the 1990 Fidesz campaign.
Mr Tóth-Czifra says the official commemorations going on now "are more or less used to exhalt Orbán and to amplify his role in the transition", although he admits Mr Orbán was definitely a frontline figure in that transition.
"I'd say that the political imagery of 1989 that the government wants to show people and wants to show the world is skewed. It's biased towards the governing Fidesz party and if today's young generation just relied on those images, they wouldn't get an accurate picture."
Hungary now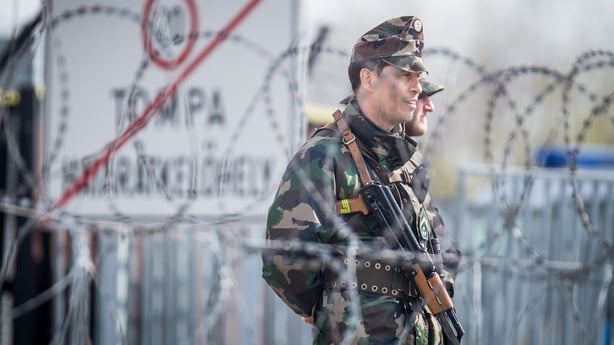 The border is still a big issue in Hungary today, with Mr Orbán frequently vocalising his opposition to an EU policy that requires all states in the Union to take in its share of migrants seeking asylum in Europe.
Back in 2016 Mr Orbán addressed members of the Bavarian parliament in Germany as part of an event to commemorate the 60th anniversary of the 1956 Hungarian uprising against the Soviet-imposed policies of the Hungarian People's Republic.
He said: "We had to open the borders in 1989, and now in 2015 and 2016 we have had to close the borders - to stop the threat of migration from the south."
He added: "The border opening of 1989 and the protection of those borders today are two sides of the same coin. In 1989 we were fighting for the freedom of Europe and now we are protecting this freedom."
But Mr Tóth-Czifra disagrees with this analysis. He says: "This is of course a false parallel."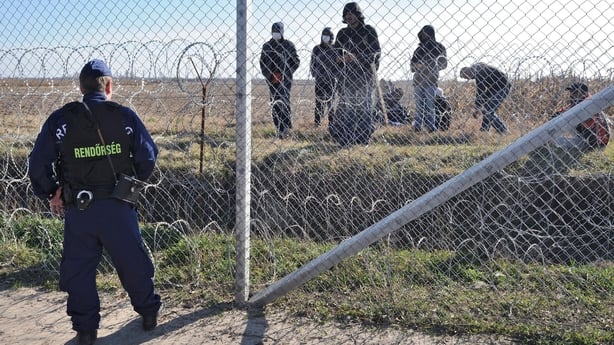 "If there is a parallel between the Iron Curtain and the southern border today it is that both rely on violence and not just the presence of a barbed wire obstacle."
Mr Tóth-Czifra says few people are aware today of Hungary's key role in the initial opening of the Iron Curtain, but he prefers to think of it as a "team effort" by many countries in Eastern Europe.
"In Europe especially in Germany, given the significance of the event to German family re-unification, people tend to be aware of what happened in 1989. But personally I would say it was more of a team effort. If you think of the Solidarity movement in Poland and the Velvet Revolution in Czechoslovakia, then the first semi-free elections were held in Poland in 1989.
What happened in Hungary was definitely significant and I do hope that this has registered with people all over Europe."