Spain's first trial linked to thousands of suspected cases of babies stolen from their mothers during the Franco dictatorship wrapped up with prosecutors seeking 11 years in prison for the elderly former gynaecologist in the dock.
Eduardo Vela, 85, was a former gynaecologist at the now-defunct San Ramon clinic in Madrid.
It is alleged that in 1969 he took Ines Madrigal from her biological mother and gave her to another woman who then raised her and was falsely certified as her birth mother.
"In this country, a person who played God - changing people's parentage, faking birth certificates like in my case and negating the right to know one's origins - cannot remain unpunished," the 49-year-old said.
She said she hoped the trial, whose verdict could come within a month, would help open "thousands of cases that are closed" even if she would never know who her real mother was.
Activists say around 2,000 similar cases dating back to General Francisco Franco's dictatorship of 1939 to 1975 have failed to make it to court in Spain because of a lack of evidence or because the time limit to file charges has passed.
In a dark and often overlooked chapter of the right-wing dictatorship, the newborns of some left-wing opponents of the regime, as well as of unmarried or poor couples, were removed from their mothers and adopted.
New mothers were frequently told their babies had died suddenly within hours of birth and the hospital had taken care of their burials, but in fact they were given or sold to another family.
Baby stealing began after Franco came to power following the 1936-39 civil war pitting left-wing Republicans against conservative Nationalists loyal to the general.
It was part of an effort to purge Spain of Marxist influence.
It was expanded to take newborns from poor families as well as illegitimate babies, and went on as an illegal trafficking network during democracy until at least 1987 when a new law was introduced to better regulate adoption.
During questioning in the opening session of the trial on 26 June, Mr Vela said he could not remember details of how the clinic, which he ran for 20 years up to 1982 and is believed to have been a centre for baby trafficking, operated.
He said that the signature on Ms Madrigal's birth certificate was not his.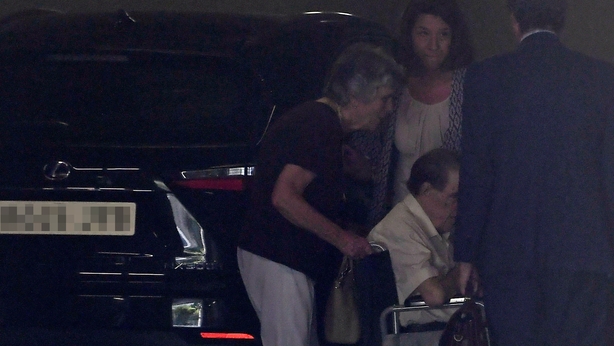 Mr Vela was the first person prosecuted over the "stolen babies" scandal, which broke in the media in the 1980s.
He was due to return to the witness stand the following day but instead he went to hospital after falling ill.
He is accused of falsifying official documents, illegal adoption, unlawful detention and certifying a non-existent birth.
The probe into the case was not without its difficulties, with a policeman declaring in court that Mr Vela burnt his clinic's archives.
But the agent insisted that "there was a plot to which Mr Vela probably belonged" that consisted in taking babies from single mothers who were in shelters that were often run by religious orders.
Emilie Helmbacher, a French journalist, also testified by video conference.
In an investigation in Madrid in December 2013, she used a hidden camera to record Mr Vela as he appeared to confess to having given Ms Madrigal away as a "gift" in June 1969.
In the recording, he said "Ines Madrigal's mother did not pay" for her.
Mr Vela's lawyer Rafael Casas criticised the hidden camera recording and said his client had "nothing to do" with what he is accused of.
Another witness, Paz Gordon, who stepped in as godmother for Mr Madrigal's baptism, told the court that the actual mediator in her case was a Jesuit priest.
The cases echo events that took place during Argentina's 1976-1983 military dictatorship.
Courts there have since handed down lengthy jail terms for the systematic theft of babies from political prisoners.