Climate change campaigners kicked off a wave of protests for Earth Day today, pushing demands such as an end to building fossil fuel infrastructure.
In Dublin, secondary school students led a rally outside the Dáil, calling on the Government to deliver free, expanded and green public transport.
One of the organisers, fifth year student Maya O'Keeffe, said they want to see "no barriers to anyone getting public transport".
They said it needed to be accessible and free as "we are in a cost of living crisis". It also needed to be green because "without that, what is the point?"
The Government is due to launch a public information campaign next week about what people can do to save energy and money.
Many pupils attending this afternoon's demonstration were sceptical.
"They are saying things like take shorter showers and drive less without any alternative for people," Maya O'Keeffe said.
"Individual action can make a difference but it genuinely is systematic change that is going to make a fundamental difference in terms of climate change."
A group of doctors also attended the demonstration, under the banner Irish Doctors for the Environment.
Consultant surgeon Derek Cawley said 413 doctors had signed a petition calling for Government action on climate change as a matter of urgency.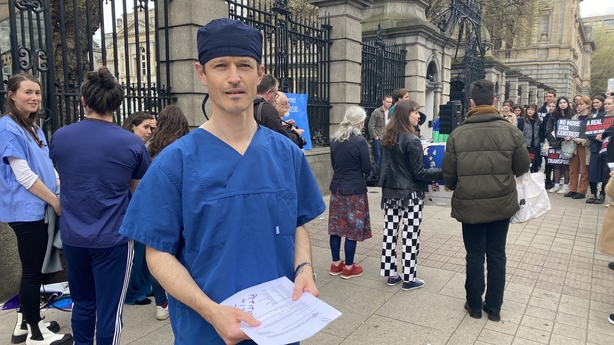 The group wants to see climate change and sustainability included in all policy-making decisions.
It is calling for sectors such as healthcare, transport, agriculture and industry to measure and reduce their carbon footprint, and to safeguard clean air and water for all citizens.
"We know that at least 1,300 people die in Ireland from poor air quality every single year. That is far more than die on our roads for example, where there is a much greater media awareness," the medic said.
"So it is really important that we tackle these things that are directly connected to our environmental problems."
---
Read more climate change stories
---
US President Joe Biden was marking Earth Day by ordering protections for the United States' ancient forests, seen as a crucial weapon in the fight against climate change, during a trip to Seattle.
The Democrat has campaigned heavily for environmental protections and US leadership in the response to global warming, but has regularly run up against lack of support in Congress.
His executive order, signed in the heavily wooded and often spectacularly wild Washington state, will recognise the importance of America's old-growth forests in regulating climate change - but also their vulnerability in an era of ever more intense wildfires.
In Europe, activists in Berlin, Warsaw, Brussels and elsewhere were set for rallies outside German government or embassy buildings, where they will hand out red-stained roubles.
It is to symbolise blood covering a currency that they say is fuelling both climate change and Russia's invasion of Ukraine.
Germany is one of the European Union countries opposed to an embargo on Russian oil and gas for fear of damage to their economies.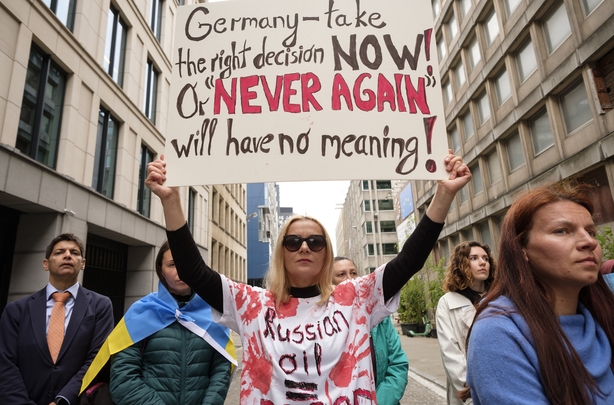 About a dozen activists in the western Ukrainian city of Lviv also planned a protest. Parts of Lviv were hit this week by Russian missile strikes that killed seven people.
"When Germany continues buying gas and oil from Russia, it means that they are paying their money to construct new military machines, new bombs, which are killing Ukrainians," Natalia Gozak, head of the EcoAction civil society group, said from Lviv.
Ms Gozak said European politicians need to choose between an embargo's economic "inconveniences" and the deaths of Ukrainians.
In the United States, activists from the Extinction Rebellion group blockaded a New York newspaper printing facility, where they called for more media coverage of climate change.
Youth protesters also gathered in locations including Bangkok and Stockholm, where Swedish activist Greta Thunberg joined the school strike - a weekly protest she began as a solitary student in 2018 to call for urgent action to address climate change.
The protests aim to amplify demands for climate action on Earth Day, when people worldwide celebrate and mobilise in support of protecting the environment.