The Environmental Protection Agency has said that Ireland will not meet its 2020 greenhouse gas emissions reductions targets and action is now needed to meet the existing target for 2030.
In its annual report about Ireland's greenhouse gas projections, it said that if all the plans outlined in the 2019 Climate Action Plan were fully implemented then emissions could fall by 2% per annum to 2030.
However, it warned that additional measures also need to be identified and implemented across all sectors to achieve the 51% reduction in emissions outlined in the Climate Bill last week.
Despite a sharp fall in greenhouse gas emissions last year due to the impact of Covid-19 Ireland has exceeded its cumulative 2020 greenhouse gas emissions target by 12 million tonnes.
The Environmental Protection Agency described this as "a wide margin" and said the country now needs to use carbon credits and possibly purchase surplus annual emission allocations from other EU member states to achieve compliance with our EU climate obligations.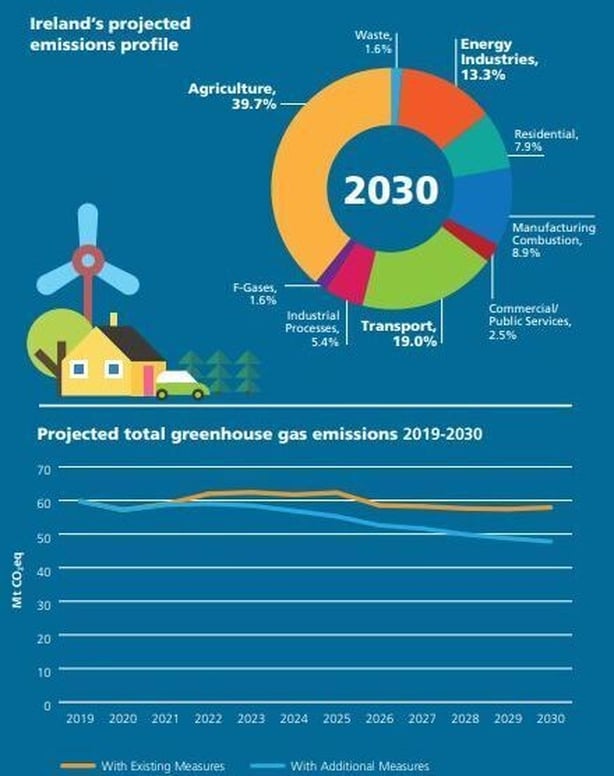 The ambitious Climate Action Plan drawn up in 2019 commits to having:
- 70% of electricity generated by renewables by 2030.
- Installing 600,000 heat pumps and retrofitting 500,000 homes for improved energy efficiency,
- One million electric vehicles on our roads by 2030.
However, the EPA said this is no longer enough to achieve the targets set out in the new Climate Bill passed in the Dáil last Wednesday and that the scale and pace of the change needs to be significantly and immediately increased.
Speaking to RTÉ's Morning Ireland, EPA Director General Laura Burke has said that Ireland needs to introduce policies and actions "above and beyond" its current commitments.
"We need to concentrate efforts across all sectors and all sectors need to play a part and identify actions they can target," said Ms Burke.
She said that "it's not that we can't do it but if we are to do it, we need significant new actions and policies above and beyond what has already been committed to".