Ireland's greenhouse gas emissions decreased by 4.5% last year, according to provisional emissions figures for 2019 published by the Environmental Protection Agency.
It is the largest annual reduction in emissions since 2011.
These decreases come despite a modest growth in the domestic economy of 1.7% over the year.
Nevertheless, it looks like Ireland will still exceed its 2019 annual emissions allocation by 6.98 Megatonnes (Mt).
The EPA said this means it is "highly unlikely that Ireland will meet its overall 2020 targets, even taking the impact of Covid-19 on emissions in 2020 into account."
Minister for the Environment, Climate, Communications and Transport Eamon Ryan said that the progress made in reducing greenhouse gas emissions is "a step in the right direction" and is a signal that efforts can now be ramped up to reduce emissions in more sectors.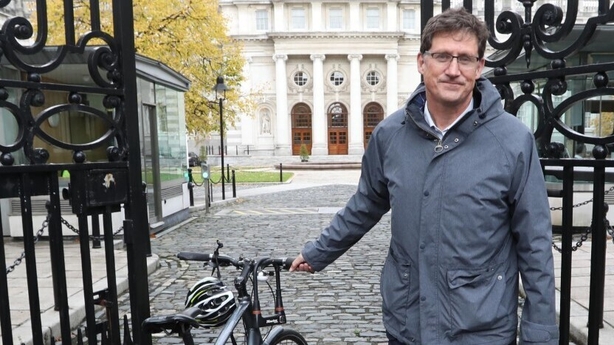 Speaking on RTÉ's News at One, the Green Party leader said Ireland is "only starting to take steps in the right direction... but this is the right direction".
He said that the three key areas that contributed to the reduction in emissions included a move away from fossil fuels, the switch away from fertilisers on farms and greater efficiencies in home energy efficiency.
Minister Ryan said that the switch in power generation from coal and peat to wind power reduced carbon emissions by a million tonnes.
The changes in fertiliser use in agriculture last year cut carbon by under one million tonnes and changes made to home heating led to a cut of half a million tonnes.
He said these were positive signals that show "we can make cuts that can be good for the country and save us money on paying for imported fossil fuels, fertilisers and home heating".
He said that more needs to happen in transport, commercial services, industry and waste to reduce emissions.
"But this is a signal that we can ramp this up and make it work for us," he said.
The EPA report found that energy industry emissions decreased by 11%, with their use of coal down significantly, by 69%, and the burning of peat down 8%.
Electricity generated from wind increased by 16% last year, and renewables accounted for 37.6% of electricity generated.
Agriculture emissions decreased by 3.9%, driven by the reduced use of fertiliser (down 10.1%) and lime (down 25.4%) on soils.
The EPA said that other key drivers of emissions in this sector, such as the number of dairy cows, continued to rise in 2019.
Residential emissions reduced by 7.3% last year. This is largely attributed to a warmer winter.
However, the EPA warned that emissions per household have plateaued in recent years, and said there is a need to step up retrofit activity.
Greenhouse gas emissions from the transport sector reduced marginally by 0.3%, with an increase in demand largely offsetting a 21.9% increase in the use of biofuel.
"These 2019 figures illustrate where our economy and emissions were heading before the Covid-19 pandemic, senior manager with the EPA, Stephen Tracey, said.
"While, 2020 is likely to see a reduction in emissions caused by the impact of the pandemic, this does not negate the need for long term and sustained action," he added.
Reductions 'circumstantial', but a start
Friends of the Earth Ireland has described the reduction achieved last year, but warned that some of them were "circumstantial" rather than due to policies in the area.
The organisation's director, Oisín Coghlan, highlighted that the reduction in emissions from residential properties were connected to a warmer winter, and while there was a reduction in fertiliser and lime use on farms, there had been an increase in their use the year before.
In terms of energy generation, Mr Coghlan said "we were getting a lot of bang for our buck at the moment from phasing out coal and peat," but the harder work lay ahead in "phasing out gas and ramping up renewables all the more."
"There is a lot more work to do still this is not a trend, it is a step," Mr Coghlan said.