In an article published last summer in Nature magazine, scientists explored the question; can climate change cause conflict?
In the scenario where global temperatures rise by two degrees Celsius beyond pre-industrial levels - which is the stated goal of the Paris Climate Agreement - the influence of climate on conflicts would more than double, rising to a 13% change.
With a four degree rise, there's a 26% chance of substantial increase in conflict.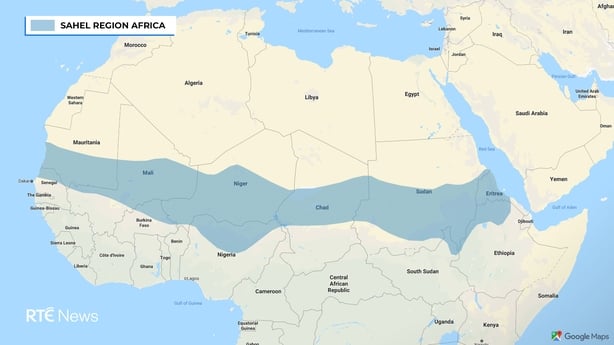 The Sahel spans Africa to the south of the Sahara Desert.
While geographic definitions vary, it generally separates the Sahara in the north of Africa and the tropical savannahs to the south.
The semi-arid region is home to a population of some 300 million people, and is the most youthful region of the world, with 65% of its population under 25.
While it is one of the richest regions in terms of natural resources and potential for solar energy, the Sahel faces serious challenges with high poverty, violent extremism and gender-based inequalities.
The United Nations has also identified climate change as a driving force in creating conflicts in the region.
Last year, the British Ministry of Defence published a report which places climate and related risks among the highest impact and most likely threats to defence and security worldwide.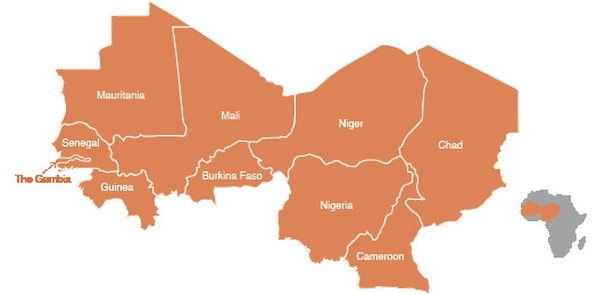 In recent years, the Sahel has drawn international attention due to famines, religious terrorism and trafficking of drugs, arms and people.
Mali has suffered significantly from Islamist extremism, despite local and international efforts to address it.
The UN has about 15,000 peacekeepers in Mali, which it ranks as its most dangerous peacekeeping mission.
There are currently 20 Irish troops in Mali as part of the European Union Training Mission. Members of the Army Rangers wing are also in Mali at present assisting the UN on peacekeeping duties, as part of MINUSMA, the UN's Multidimensional Integrated Stabilisation Mission in Mali.
Admiral Mark Mellett, Chief of Staff of the Defence Forces, visited Mali earlier this year.
"What we see in Africa is the impact of climate change which is impacting significantly in countries along the Sahel and Mali is one of those countries."
Africa is "perhaps the most impacted continent in the world from the effects of climate change, that's impacting on food resources and the water table, and increased desertification in terms of the expansion of arid areas".
There's also a significant population growth. Looking at Mali specifically, its population has more than doubled to 18.5 million in the past 30 years and today almost 50% of Malians are under the age of 15.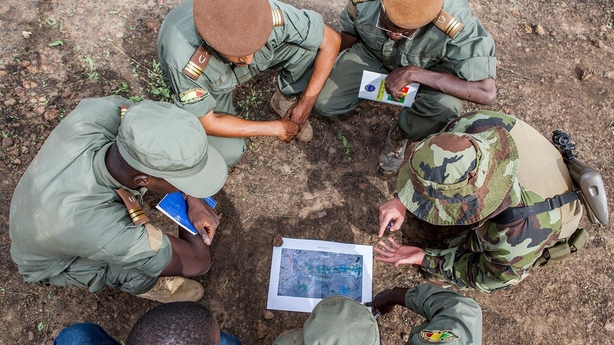 The combination of growing population with significant insecurity means Mali requires significant intervention, according to Vice Admiral Mellett.
"Our troops endeavour through the EU mission and through the UN to bring a safe and secure environment to an area which is at a nexus in terms of a number of challenges; not least of which is violent extremism."
Asked about the British Ministry of Defence's position that climate change is one of the highest impact risks to defence and security, Vice Admiral Mellett said:
"There's no doubt that the two drivers most impacting the Sahel are population growth and the impact of climate change. We see that in the Mediterranean too. For a number of years the Irish Defence Forces worked in rescue operations where we rescued 18,000 people."
What are Irish troops teaching the army in Mali?
According to Vice Admiral Mellett, Irish troops are teaching the Malian army techniques, tactics and procedures, but also international law and humanitarian law.
A number of violent extremists - including al-Qaeda in the Maghreb - are operating in the area.
"It's increasingly seen where different ethnic groups are engaging in conflict - there've been pretty large numbers of deaths in Mali. So by enabling and supporting Malian armed forces, we hope they'll be able to deliver a safe society."
The Army Ranger Wing (Irish Special Forces) has been in Mali since September, specifically in Gao in northern Mali, which the Chief of Staff describes as a particularly challenging environment. Not just because there are lots of extremists in the area, but also due to the size of Mali; it is equivalent to the size of France and Spain combined.
On the subject of migration, Vice Admiral Mellett says: "Most people don't want to leave their homes, but when you have poor governance and the impact of climate change, when you see that your life expectancy is half of what it might be in Europe, there are drivers that are going to force people out of the place they are. They will move elsewhere. It's not something that people are moving by choice, it's simply moving from places of significant insecurity."
CEO of Concern worldwide Dominic MacSorley says the non-governmental organisation (NGO) has been working in Africa for 50 years.
Increasingly, he says its work is responding to the multiple factors that are creating impoverishment and are forcing people to leave.
He says two of those are climate change and conflict. "We're seeing that playing out together ... particularly across the Sahel."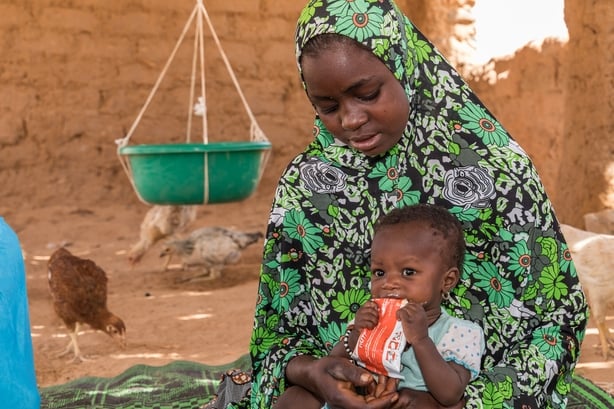 The conflict in Darfur was the world's first war over water, Mr MacSorley says.
"Water and the search for water and drought was a component, a factor in forcing people off their land. If you're in the developed world and you want some water, you turn on a tap, if you're in the Sahel, you have to go and search for it, and you go into communities where they're also looking for it. We're also seeing that playing out in Niger and Chad (where Concern works).
The UN has declared that 80% of the pastoral land in the Sahel is degrading fast due to high temperatures, flood and droughts. This is causing migration and causing populations to move into areas where communities are already overstretched, and that is causing violence."
What can be done to mitigate the violence?
"A lot of our work is going into prevention. We're working on climate-smart agricultural techniques that will not only increase productivity but we're also bringing in drought-resistant plants that will enable people to stay. It's about ensuring you're drilling for water in the right place and ensuring farmers have water."
Concern is working with 480,000 small-holder farmers in 18 countries across Africa and bringing in these techniques.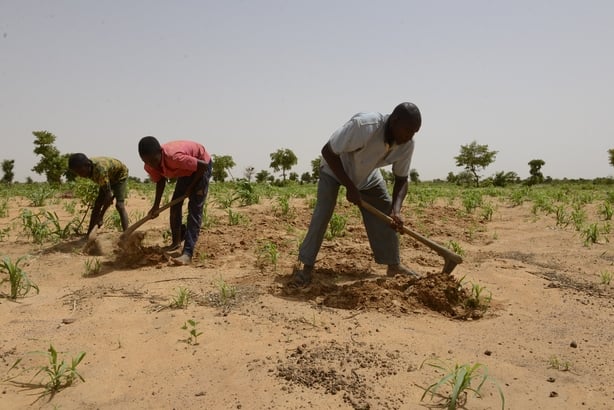 "The other aspect of this, you know, we're working in Niger, areas where Boko Haram is operating. Farmers that are kind of forced off their land, what do they do? They are targeted by terrorist groups, and if you don't have any means of income, they're asked to join the fight.
"We have to look at the interconnectedness of conflict, climate change and militarisation, but not to be overwhelmed. There are very clear solutions, but these need to be scaled up."
We need your consent to load this rte-player contentWe use rte-player to manage extra content that can set cookies on your device and collect data about your activity. Please review their details and accept them to load the content.Manage Preferences
Acknowledging the British Defence Ministry's position on conflict and climate change, what is the Department of Defence's approach?
In a statement, the Department said: "In terms of the security domain, it is well established that, globally, climate change could aggravate existing water and food shortages and increase the likelihood of regional instability, with resultant humanitarian and economic crises.
"Population growth and migration flows will also be influenced by the effects of climate change which can be seen as a threat multiplier that may exacerbate existing trends, tensions and instability both within Europe and across European borders.
"Recent research suggests that an unprecedented drought in the southern Mediterranean has been one of many drivers shaping local conflicts that triggered the Syrian civil war, which ultimately led to the substantial increase in refugee flows to Europe.
"The impacts of climate change on the Arctic region illustrate the multiple interactions between human security and geopolitical risks, even though they are not currently associated with direct geopolitical conflicts".
The Government's White Paper on Defence notes that Ireland's geographic position does not pre-dispose us to the same level of risk of natural disasters as many other countries.
However, it also points out that the effects of climate change are continuing to lead to changes in weather patterns and an increased probability that severe weather events such as flooding could become more commonplace in Ireland.
The Government's approach to emergency planning has continued to evolve in light of recent severe weather emergency events.