Political honeymoons tend to be fleeting affairs. The Greens success in the European and local elections is a case in point.
This Irish green wave has led to a renewed media focus on the Greens, and what they might do if their success was replicated in a general election.
Their new star Euro candidate, Saoirse McHugh, has garnered huge publicity for the political zingers she so adroitly directed at Independent candidate Peter Casey in their Prime Time debate.
It's also triggered a problem.
The Midlands-North-West candidate, who bears a political resemblance to former Green MEP Patricia McKenna, has said she does not "trust" either Fianna Fáil or Fine Gael.
Asked if she would resign from the Greens if they went into a coalition with either party, she replied: "yeah."
Ouch.
In contrast, Green leader Eamon Ryan has been publicly outlining his wish list for any prospective coalition partner: more rail, more retrofitting of houses, more sustainable development.
The stark contrast between these two positions led to an awkward moment for the Green's Ciarán Cuffe at the RDS.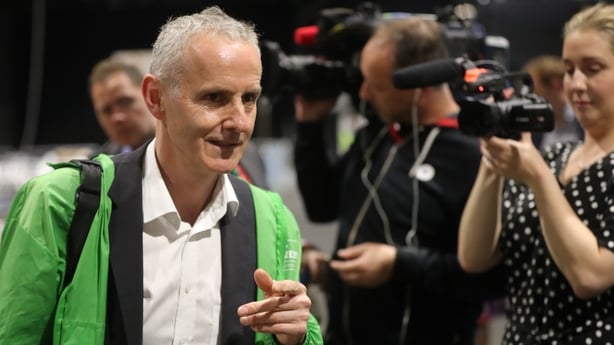 Walking into Simmonscourt, ahead of winning a seat in the European Parliament, Cuffe might have expected to be asked about his plans or Green gains across Europe, particularly in Germany.
Instead, he was asked questions about the difference of opinion between McHugh and Ryan.
He replied: "I think she [McHugh] spoke from the heart and I admire that. These are all hypothetical questions. Let's see how things go today - and then we can have a look at all these issues."
When asked about his personal view, Cuffe declined to answer and moved away.
Many in the party still remember the crushing outcome of the 2011 General Election when the parliamentary party was eviscerated by the electorate for its partnership with Fianna Fáil.
It's taken years of blood, sweat and tears to regain the public trust. The big pending question is what the party intends on doing with that new power.
By the looks of it, it's going to be a very robust debate in the radically expanded Green Party.