Grannies against the right, Generation Z taking the plunge into politics and parties sacking representatives over Hitler photos - the political landscape for EU elections is no doubt controversial, polarising and divisive.
This time next week, voters will go to the polls to decide who will be heading to the European parliament to represent more than 512 million people across 28 member states.
These elections are becoming a test of those in power as countries steer away from more a traditional system.
France is one of those which has been plunged into a new era of politics with Emmanuel Macron's presidency after his historic victory in 2017.
But campaigning on a mostly pro-European platform with major reforms, his grand designs haven't got far.
In fairness, he has had a lot to deal with.
The "gilet jaunes" protests about rising inequality and the increase in far-right populists at home and abroad have garnered his attention.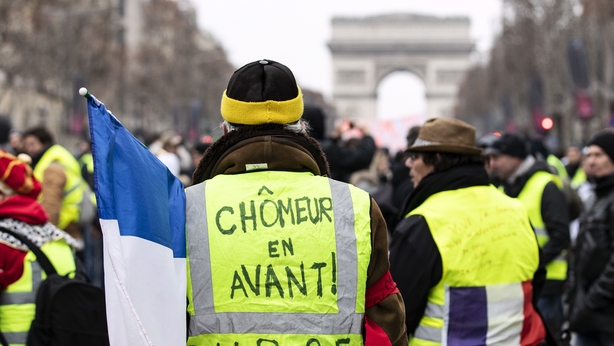 Mr Macron has also been hit by the media, with national newspapers criticising him for focusing too much on the Franco-German alliance, abandoning the rest of Europe. He had ambitious targets for greater EU integration with Germany but most of these have failed to progress.
This European election will be a litmus test to people's opinion on his response to the yellow vests demonstrators but also a repeat of his fight with Marine Le Pen for the presidency.
These two high profile politicians and personalities are not the ones on the ballot though.
The French President's La République En Marche! Is attempting to build a new political group by tapping into growing disaffection among the mainstream alliances on the left and the right.
Former European Affairs Minister Nathalie Loiseau is his top candidate in the elections, but the campaign has staggered and stagnated.
The focus has not been on his 'Renaissance' but on Marine Le Pen's choice to lead her right wing populist National Rally, formally known as Front National. 23-year-old Jordan Bardella is dominating headlines.
In recent French TV debate, each leading candidate was asked to bring an object that symbolised Europe for them.
One brought a copy of Homer's Odyssey. Another brought a piece of the Berlin wall.
Jordan Bardella brought a red kitchen sieve. He held it to the camera to demonstrate that just like a sieve, the EU lacks protection and lets a lot of weapons, migrants and terrorists through.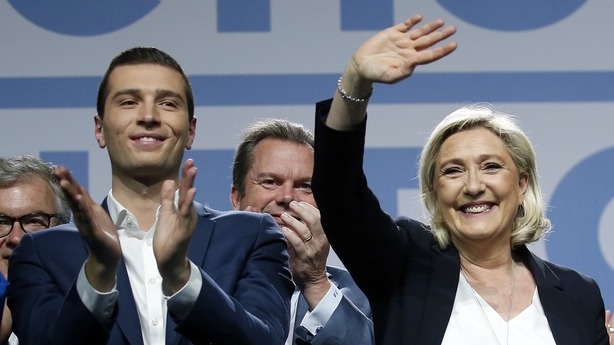 Mr Bardella's move into politics was a fascinating one too. He's the son of an Italian immigrant and lived in a largely migrant area of Paris. But the Parisian argues he's seen, what he calls, the "bad" side of the immigrant which spurred him into politics.
Analysts believe this new political kid on the block was chosen to attract young voters to the National Rally and it is working. Polls suggest that around a quarter of 18 to 24-year-olds are behind him.
More importantly, other polls show that overall the National Rally is now ahead of Mr Macron's group.
What we see in France, and the rest of Europe, is an increasing polarisation between people and movements who want to carry on with the EU with marginal reform and those who want a profound transformation into fully sovereign countries instead of a "super-national construction", according to Amandine Crespy, Associate Professor in Political Science at Institut d'Etudes Européennes, Université libre de Bruxelles.
Prof Crespy said the move of the right even more into mainstream politics has one common denominator -migration. It's something evident which spans across founding members of the EU, even into later recruits.
In Denmark and Sweden, there is a move towards an anti-migrant rhetoric. Polls show the populist Danish People's Party is projected to gain three MEP seats as society debates "welfare tourism", where migrants receive unemployment benefit.
These elections may offer a political compass as to how the country is feeling ahead of a general election in June.
That was seen in Sweden before the end of last year, as migration dominated their election debate. The far-right group there, the Sweden Democrats, is expected to gain two extra seats in Europe.
Its neighbour, the happiest nation in the world according to the UN, Finland is also seeing the rise of the right.
Eurosceptics, The Finns Party, did well in recent elections and have a moderate attitude towards migration.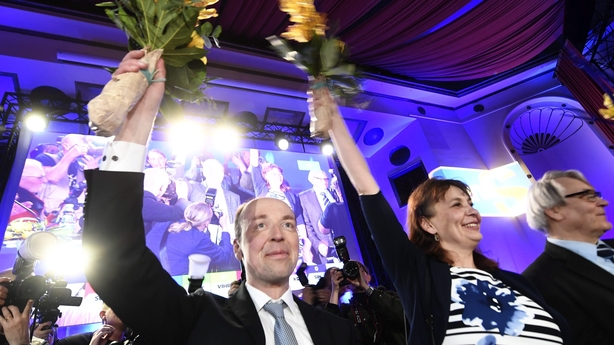 However, an interest in EU affairs may change things slightly for the country too as they take on the EU presidency in mid 2019.
Scepticism over migration can be a factor for countries even where voters have a positive outlook on the EU and consider membership to be a good thing.
In the Netherlands, Prime Minister Mark Rutte's People's Party for Freedom and Democracy (VVD) is still a political force in the country.
They are projected to win six seats, doubling their current number, but are reluctant to change and increase legal pathways for migration to the EU.
Whereas right-wing parties like Geert Wilders' Party for Freedom which is polling in second place in the country, and Thierry Baudet's Forum for Democracy are both groups to watch.
They stunned in recent parliamentary elections and both call for the Netherlands to leave the EU.
While in Belgium - where its capital city is the EU's de facto capital - there is a battle between the right in Flanders even though they are usually optimistic about the EU compared to average numbers.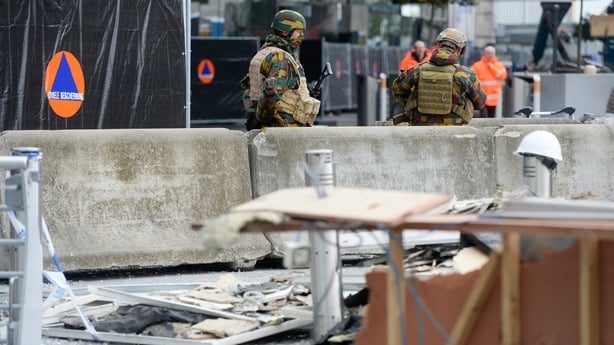 It's the first vote since the March 2016 Brussels bombings and will coincide with federal and regional elections which leave some of the most topical issues in the national ballot bleeding into the EU contact.
The right wing NVA is up against the populist Vlaams Belang. The NVA is trying to become more hard-line on migration, leaving the ruling coalition in December 2018 that was in protest of the country's support for the UN Global Compact on migration.
For Germany, which has more MEPs than any other country as it has the largest population in the EU, Alternative für Deutschland can be cast in the Eurosceptic, anti-immigration profile.
Migration and border controls are still among the most high profile topics of debate in Germany. Last year 200,000 migrants entered Germany, down from 750,000 in 2016.
AfD is expected to win an extra three seats; some in the party think European integration has gone far enough but hails the single market. But it has become the first German party to officially call for a 'Dexit'.
On a side note, Germany could also produce the next President of the European Commission after the elections.
The Christian Union's highest profile candidate, Manfred Weber, could take over from Jean-Claude Juncker.
That's because Mr Weber is the leader of the European People's Party, which is set to remain the largest grouping to party in Brussels after the election and can therefore nominate its leader as the new commission president.
The 46-year-old is not shying away from that prospect, publishing a 12 point plan for reforming the EU which includes a 10,000 man border force to be built up within three years, ending accession talks for Turkey and even finding a cure for cancer.
Christian democrats are the founding fathers of the EU. Now the time has come again to defend the European idea against nationalists and egoists. We need to strengthen our democratic process and introduce an independent rule of law mechanism. #EurovisionDebate #TellEurope

— Manfred Weber (@ManfredWeber) May 15, 2019
On the other side of the coin, some German politicians are calling for the whole EU to have a social security system, minimum wage inclusive like the German model.
They say this would help slow down migration inside the EU which has led to resentment in richer countries against migrants in poorer countries
From the biggest to the smallest - Luxembourg has no major far-right group.
There's always an exception with a majority of voters there agreeing for instance that the country should accept people from conflict zones.
Luxembourg's foreign minister is often praised for his reactions to, for instance Italy's Matteo Salvini, and has suggested expelling Hungary from the EU for building a wall on its borders.
The Alternative Democratic Reform Party is sometimes lumped in with other ring-wing populist parties but it's relatively moderate and more just conservative - similar to Britain's Conservatives.
Austria though has probably become the country most criticised for bringing right wing ideology into the mainstream.
Its new leader Chancellor Sebastian Kurz has already won international headlines for taking a tough line on controlling immigration and what he calls "political Islam".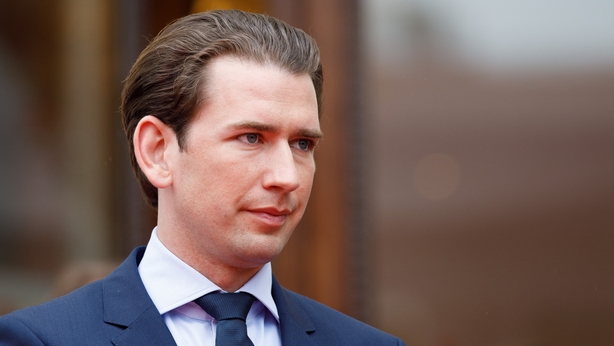 His party, the ÖVP aka Austrian People's Party, went into government with one of Europe's most established nationalist and eurosceptic political movements the FPÖ (Freedom Party of Austria).
In the coalition agreement, the Freedom Party has control of the defence and interior ministries, meaning they have a say over Austria's security and immigration policies.
It is a party that will be watched intensely after a recent share of controversies.
It talks of racist conspiracy theories like the "great replacement" arguing that the white population is being "replaced" by a population of non-white migrants.
At the height of the refugee crisis in 2015, Austria took in approximately 88,000 asylum seekers, or roughly 1% of its population.
In addition, a FPÖ deputy mayor in Adolf Hitler's hometown in Upper Austria was criticised after he wrote a poem that compared foreign migrants to rats.
In March, the party also expelled two of its local councillors after a police investigation revealed that they had shared Hitler photos and quotes on WhatsApp.
But there is generation in Austria that has had enough. A group of older women known as Grannies Against the Right, usually in hand-knitted hats, are protesting the shift.
Even though they have limited influence, the group serves as a reminder of past horrors born of intolerance.
But polls suggest that Chancellor Kurz's party will come out on top, with the FPÖ third after the Social Democrats.
There is the rise of the right is well documented, but there is also the rise of the Greens.
Recent reports on the devastating impact humans are continuing to have on the natural world, mass protests across Europe from young people expressing concern about climate change and the emergence of Swedish teenage climate activist Greta Thunberg have all put the climate issue on the map.
Green parties across Europe, particularly in Germany, Luxembourg and Belgium, are riding on that momentum.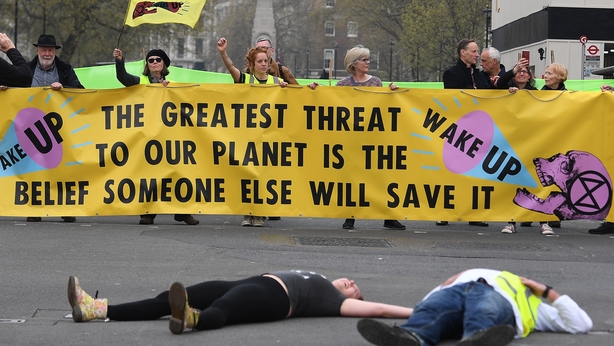 Prof Crespy says across Europe many voters are politically liberal, rather than economically liberal, and don't have a very good offer from social democracy parties and the Greens are an attractive alternative.
She says: "I think the awareness of all the issues surrounding climate change and quality of life and environmental standards have become increasingly salient over the past few years."
In France, Emmanuel Macron is trying to jump on the 'Green' bandwagon by putting the environment at the heart of his European election manifesto.
He pledges to rule out trade deals with countries which are not signed up to the Paris climate accord while investing billions in developing clean energy and transport. It is all part of efforts to overtake the climbing far-right populist movement in Europe and to drum up interest in a stalling campaign.
Not only for Macron, it is a time of unpredictably but no doubt a reinvigoration of how we look at politics. The decisions made next week are a test of the current political climate while shaping the one to come for the rest 2019 and into a new decade.