Fine Gael and Fianna Fáil have once again clashed over the possible role that Sinn Féin may play in the formation of the next government.
Fine Gael leader Leo Varadkar accused Fianna Fáil of arrogance and said a growing list of its election candidates have made it clear they would be willing to go into government with Sinn Féin.
Speaking in Ballincollig in Co Cork, he was asked to respond to Fianna Fáil leader Micheál Martin's assertion that he would not trust Mr Varadkar not to go into coalition with Mary Lou McDonald's party.
"I don't trust Fianna Fáil because quite a lot of their candidates have said they would be open to coalition with Sinn Féin," Mr Varadkar said.
He said Pat the Cope Gallagher, Darragh O'Brien, Eamon Scanlon, Jim McGuinness, Kevin O'Keeffe and Mary Butler had all indicated they were willing to enter government with Sinn Féin.
He added: "So there's quite a growing list of Fianna Fáil people gearing up for coalition with Sinn Féin.
"I think there's elements of Fianna Fáil who think this election is in the bag for them, they're probably measuring up curtains, appointing advisers and talking about bringing back garda cars.
"That's the kind of arrogance we're seeing from Fianna Fáil and I hope they get a surprise next weekend."
Mr Martin, meanwhile, has said Fine Gael has launched a campaign against him by claiming he will enter government with Sinn Féin.
He said he committed before the last election not to enter government with Sinn Féin, and said he kept to his word and will do so again.
He said Fianna Fáil has an "honest disagreement" with Sinn Féin on policies, saying Sinn Féin's policies could damage jobs and the economy.
He said Fine Gael and others are forgetting other parties could form a government with Fianna Fáil.
Responding to Mr Varadkar's naming of Fianna Fáil TDs who he said were open to the possibility of government with Sinn Féin, Mr Martin said "we can all do that".
He described Fine Gael's Regina Doherty as a senior minister who has made "fulsome comments" about Sinn Féin.
He said her party colleagues Kate O'Connell and Jim Daly had done likewise.
Mr Martin said TDs would have views and perspectives but, he said, "actions speak louder than words".
"Stupid, silly childish" Sinn Feins @MaryLouMcDonald responds to Fianna Fáil and Fine Gael exchanges about coalition with her party while canvassing in Carlow @rtenews pic.twitter.com/nMbZOJOdx1

— Samantha Libreri (@SamanthaLibreri) February 1, 2020
Responding to the exchanges between Fianna Fáil and Fine Gael about potential coalition deals with her party, Ms McDonald said the arguments were "stupid, silly and childish".
The Sinn Féin leader said she was not interested in "petty squabbles", saying both parties "had made a lot of noise but they haven't made a lot of sense".
She said it was a measure of the desperation of Fine Gael and Fianna Fáil and that it was remarkable that they were resorting to "this type of nonsense".
Her party has been boosted by an online opinion poll conducted in recent days, which suggests Sinn Féin has overtaken Fine Gael to sit in second place behind Fianna Fáil.
The poll, conducted by British firm Panelbase for The Times Ireland, uses different methodology to previous polls in Ireland, and is the first online political poll to be carried out here.
Ms McDonald is on the hustings in the southeast, campaigning in Wexford, Carlow, and Kilkenny.
Lots of dyed in the wool @sinnfeinireland supporters out in Gorey to meet @MaryLouMcDonald including this lady who named her cat after her. She used to have a dog called Gerry pic.twitter.com/tS4mGAuGAE

— Samantha Libreri (@SamanthaLibreri) February 1, 2020
Elsewhere in the campaign, the Greens were in Dublin repeating their main message of the campaign, with party leader Eamon Ryan saying if voters want change, they must vote Green.
The party was launching its policy on housing, which calls for 20,000 new homes to be built in the city centre on public lands.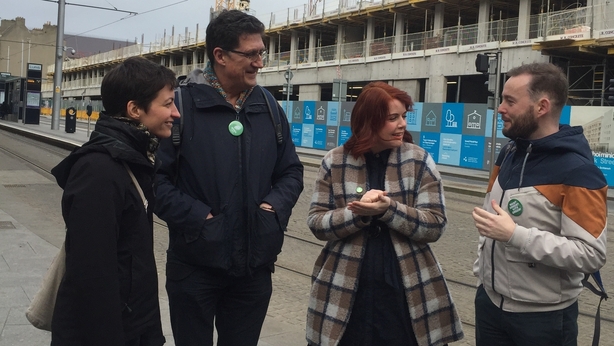 Mr Ryan said increasing supply is key to addressing the housing crisis and said it is important that it is done close to existing services and transport.
Last week, he took aim at independent candidate Shane Ross, labelling him the worst ever minister for transport.
Across town today, Mr Ross hit back.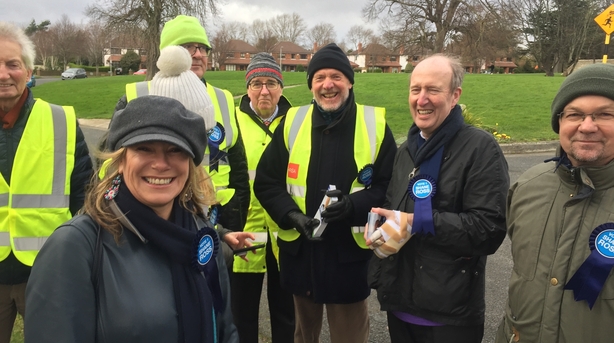 Out canvassing in Goatstown, he said the Green Party leader has been saying that about him since he took office before adding that people forget that Mr Ryan was part of a FF/Green government that "broke the country".
Despite some high profile independent departures in this election, Mr Ross said he believes non-party TDs can play a significant part in the next government.
He says it is likely new alliances will be formed once the Dáil reconvenes.
He predicts the number of Independents will be in double figures.
In #GE2020, @AontuIE leader @Toibin1 launched the party's policy on rural Ireland, pledging to ban selling of below cost beef @RTÈ news pic.twitter.com/nIdCqMQOFM

— Conor Hunt (@conorfhunt) February 1, 2020
Aontú leader Peadar Tóibín took his campaign to a dairy farm outside Navan in CO Meath today to outline the party's plans on agriculture and on rural Ireland.
He is calling for a ban on selling beef below cost.
The talk there though was also of horse-trading, and coalition. He said he would talk to almost any party after the election, but said he would find it very difficult to go into government with Fine Gael, describing it as a party of division.
This week all would-be TDs will be on a twofold mission: to shore up their own support, and to attract the influential and sizable number of undecided voters.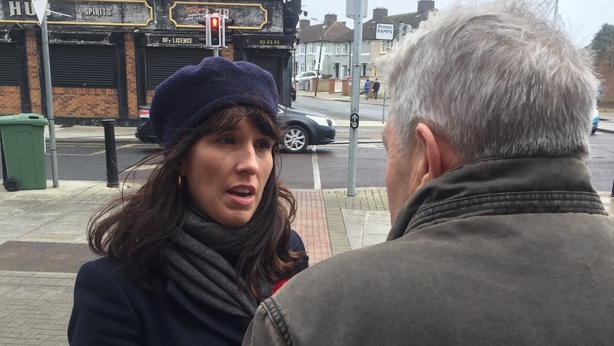 Today Labour's Rebecca Moynihan was doing her best to track them down.
Canvassing in Crumlin in Dublin, she said this will be the week that many will make up their minds about who they will vote for.
She said the campaign will not be over until the polling stations close next Saturday night and said it is clear to her that people do want change.
Reporting Paul Cunningham, Fran McNulty, Vincent Kearney, Samantha Libreri, and Conor Hunt