Campaigning in the General Election continued with parties outlining policies in the areas of housing, public spending and agriculture.
Fine Gael leader Leo Varadkar travelled to the mart in Fermoy, Co Cork, to set out his party's agriculture plans.
"Agriculture is the heartbeat of the rural economy and in many ways is the heartbeat of the Fine Gael party particularly in rural constituencies," said Mr Varadkar.
If re-elected, the Fine Gael leader said his three aims will be to secure a trade deal with the UK post-Brexit that gives Irish farmers tariff-free, tax-free and quota-free access to the UK market.
Fianna Fáil leader Micheál Martin, meanwhile, canvassed in the midlands and his party focused on housing policies.
Mr Martin said his party will double the vacant site levy to 14%.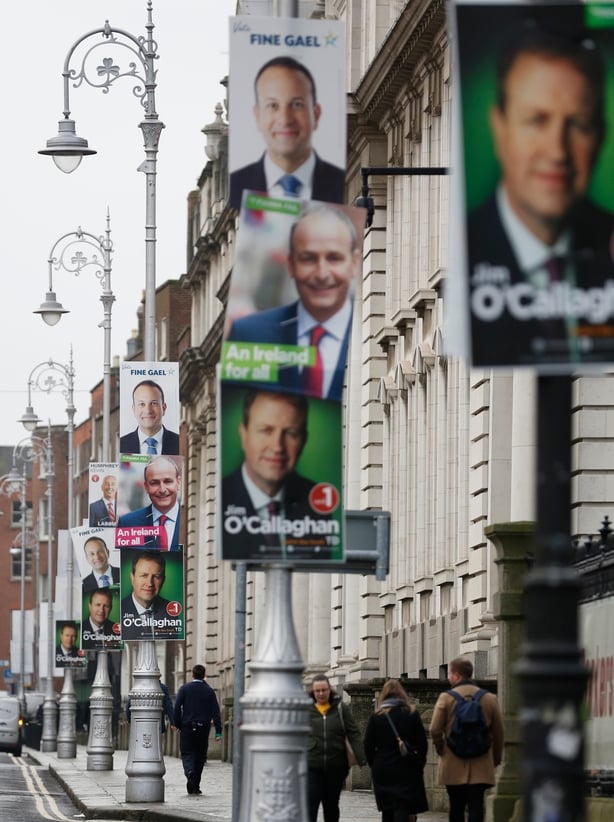 He said developers cannot be sitting on land and hoarding it in the midst of a housing crisis.
Mr Martin said there was "too much hoarding of land" and it needed to be freed up for development.
The Sinn Féin leader has called for a referendum on Irish unity by 2025.
Speaking at the party's candidate launch in Dublin's Mansion House, Mary Lou McDonald said there should be an All-Ireland Forum on Unity to plan for all aspects of reunification ahead of a referendum.
Ms McDonald also appealed to voters who have not been convinced of voting Sinn Féin to give the party a chance and to judge it on how it performs and delivers.
---
Read more:
---
The Labour Party leader said the party was very clear in its position on the State pension and had outlined it as far back as last November.
Brendan Howlin said it would be an absolute condition of his party's support that the State pension age must not rise beyond 66.
The Social Democrats is proposing to tackle the housing crisis with the introduction of a nationwide rent freeze, legislation to prevent land hoarding and the elimination of tax breaks for real estate investment trusts (REITs) and cuckoo funds.
The party is also promising to scale up State housing construction to an average of 20,000 a year or 100,000 homes in the lifetime of the next Dáil.
"This is crucial to make housing affordable," co-leader Catherine Murphy said.
Launching the party's housing manifesto, Ms Murphy proposed a constitutional change to provide a right to housing.
In its biodiversity policy paper, the Green Party said the most worrying environmental problems is the loss of bees and other pollinating insects so it plans to fund and support the National Pollinator Plan across all land types.