Party leaders have been canvassing across the country in the first weekend of the 2020 General Election campaign.
It is a time for candidates to have greater interaction in their constituencies, giving the parties a better assessment of where they stand.
Crime remained a key issue following the violent incidents of this week, while a spoof video from Fine Gael was also among the talking points.
Fine Gael leader Leo Varadkar said the recent high profile incidents do "not mean that law and order has broken down" and said that those responsible would be brought to justice.
Fianna Fáil leader Micheál Martin said so-called "narco gangs" need to be dealt with to "protect our citizens and protect our democracy".
Sinn Féin leader Mary Lou McDonald said people felt increasingly insecure in their areas and swift action was required to resolve what she called a "very serious situation".
Mr Martin is canvassing in Cork, while Mr Varadkar was in Dublin, where he launched his party's plan for warmer homes and cleaner air. He will travel to Clonmel in the afternoon.
Ms McDonald is canvassing across Meath and Dublin. She launched her party's proposal to extend free travel on public transport for all under-18s, which she said would cost €27.4m.
Labour leader Brendan Howlin is in Wexford. The Green Party is focusing on the capital, where it is hoping to pick up seats.
The weekend is also expected to show the first opinion polls of the campaign, which will be eagerly anticipated by all those hoping to win a seat in three weeks' time.
---
Read more
Battle between FF and FG is focus of campaign so far
More General Election stories
---
McDonald hits out at 'arrogant' parties over potential coalition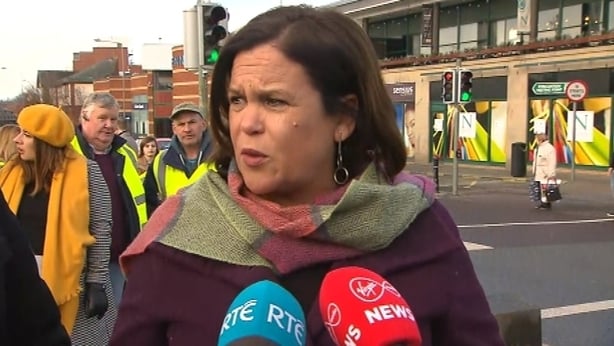 Ms McDonald has accused Fianna Fáil and Fine Gael of being arrogant and hypocritical by ruling out going into coalition with her party.
She said neither party had any business "looking down their nose at us or dismissing us" and described it as "a very dangerous road to go down".
Ms McDonald said both parties had plenty to do with Sinn Féin in Northern Ireland and said both parties' track record in government was "nothing to crow about".
Earlier, the Fianna Fáil leader once again ruled out entering government with Sinn Féin after the General Election.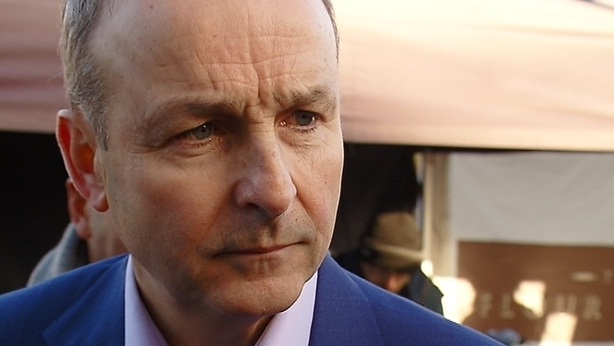 "It will not happen," he said when responding to comments from Pat 'The Cope' Gallagher.
Mr Gallagher had suggested in a radio interview yesterday that the party should consider Sinn Féin as potential partners in government.
Speaking to RTÉ News in Cork city this morning, Mr Martin said he had spoken with Mr Gallagher, who now accepted the party position on the matter.
Mr Martin also branded a spoof election video as "silly and juvenile". He made the comments after the video was removed from online platforms by Fine Gael.
The Fianna Fáil leader said now was the time for "serious politics".
Mr Varadkar defended the video, saying it was an attempt to highlight the fact that Fianna Fáil had not produced any serious policies so far in the campaign.
He said: "The video was making a serious point in a comical way.
"The serious point being that Fianna Fáil has no serious policies and the party that purports to wish to lead the next government isn't offering anything serious in terms of the economy, of Brexit, or health or housing or anything and they should do that."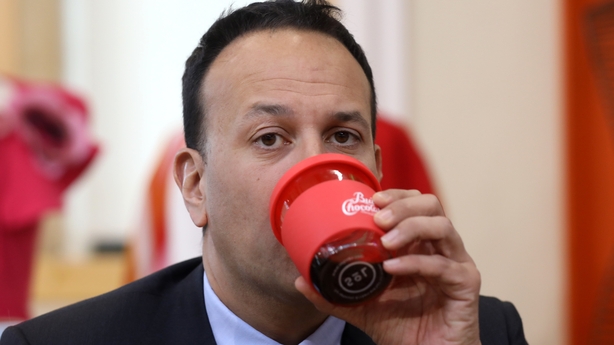 Asked if he regretted the video being made and why the party had taken it down if he was defending it, he replied: "Because some people thought it was silly and ... we want to make the same point perhaps in a more serious way, but the serious point stands."
Earlier, Fine Gael pledged to deliver 70% more renewable electricity, with a major new offshore wind project and underwater cable linking Ireland to France.
Mr Varadkar outlined his party's plans for tackling climate change at an event in Ballymun this morning.
Speaking in the Rediscovery Centre, where all products are made from recycled items, he said a Fine Gael government would "deliver real climate action".
Minister for Communications, Climate Action and Environment Richard Bruton said the window for dealing with the world's climate emergency "is fast closing".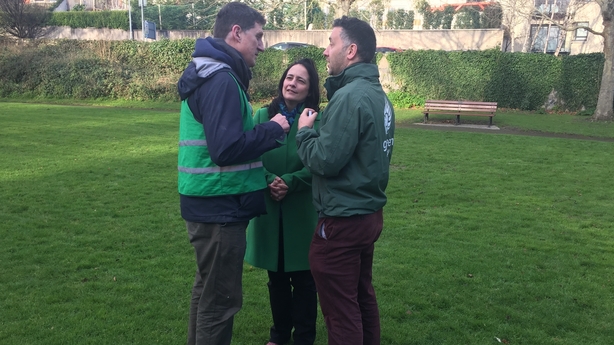 Greens say climate issue needs 'leap in ambition'
Green Party Leader Eamon Ryan responded to Mr Varadkar's recent comments that Green Party climate proposals were "extreme", by saying what was needed was "a leap in ambition to tackle climate change".
Mr Ryan said that voters faced a choice in this election.
"Do you want to vote for the status quo and a lack of ambition, and a lack of progress on climate that Fine Gael epitomise, or do you want to make the leap and make the progress and make the improvement that we think is possible and is needed?
"I think the Irish people are ready to do that," Mr Ryan said.
Reporting Mary Regan, Samantha Libreri, Fran McNulty, Vincent Kearney and Laura Fletcher