There is bad news for Fine Gael and Sinn Féin tonight, with the latest opinion poll suggesting falls in their support, while Independents have gained.
The poll was carried out by RED C for the Irish Sun.
Just over 1,000 people were polled between last Thursday and yesterday evening.
The poll takes into account the first leaders' debate on TV3 last Thursday, but not last night's seven-way debate on RTÉ.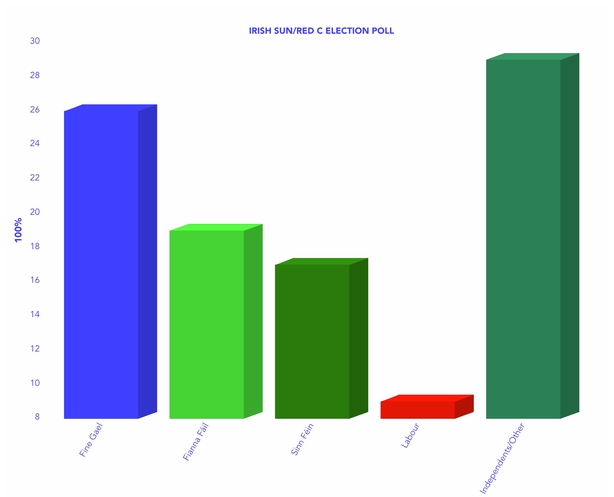 When undecided voters at 9% are excluded, the poll suggests that Fine Gael is at 26%, down two percentage points on the last Red C poll published at the weekend.
This is bad news for the party, which has seen its support fall over the last few polls.
Labour is at 9%, up one point and Fianna Fáil is also up one at 19%.
Sinn Féin is at 17%, down three points.
The last poll had seen an increase in its support, although it had faced criticism for its policy to abolish the Special Criminal Court.
There is good news for Independents and others at 29%, up three points.
A further breakdown of that figure suggests non-aligned Independents are at 18% up two points; AAA-PBP is at 2%, down one point; the Social Democrats is at 3%, down one point; the Green Party is at 4%, up two points; while Renua is at 2%, up one point.
All the movements fall within the margin of error, which is plus or minus 3.1%.