Finance Minister 'does not need to correct record'
Friday 29 January 2016 14.56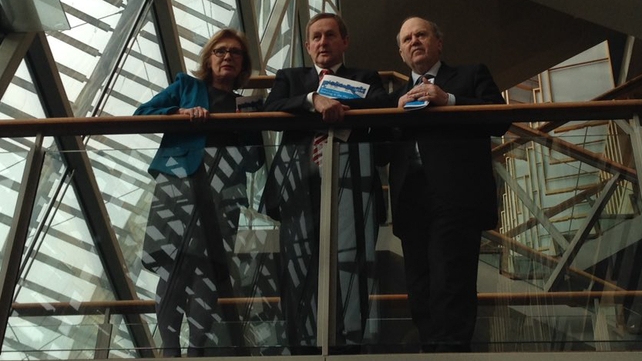 Taoiseach Enda Kenny has said Finance Minister Michael Noonan does not need to correct the record of the Dail following accusations that there are disparities between his comments in the Dáil chamber in 2011 and what emerged from the Banking Inquiry about whether or not the ECB had issued threats him.
"Michael Noonan pointed out quite clearly that the risks of burning bond holders were pointed out to him by the ECB and that opportunities lay in other places to get a better result which is what we did with the promissory note," Mr Kenny said.
When asked specifically about the comment by the then ECB Chief Jean-Claude Trichet to Minister Noonan that "a bomb would go off in Dublin" and why Mr Noonan did not raise this when questioned in the Dáil the Taoiseach responded that "he did reveal it in the Dáil in that that the risks were pointed out by the ECB of the potential consequences."
Fianna Fail's finance spokesman Michael McGrath this week told RTÉ's Morning Ireland that he believes Mr Noonan "misled the Dáil" in relation to the threat from the ECB - a claim which Mr Noonan refuted.
Irish finances are 'on safe side' - Taoiseach
Enda Kenny has said the Government is not "going overboard in terms of election auctioneering".
He was responding to comments made by Fiscal Advisory Council chairman Professor John McHale on RTÉ's Morning Ireland.
Professor McHale warned that the amount of money available to the next government to pay for tax cuts and spending rises could be just €3bn.
This is significantly less than the Department of Finance's estimate of more than €8.5bn.
Mr Kenny insisted parameters had been set out and European controls still applied, adding that "Ireland will be on the safe side" of those controls.
The Taoiseach added that details would be "spelled out" by Minister for Finance Michael Noonan in a long-term economic plan.
He added that Mr Noonan's proposed stability fund would deal with the many challenges outside of Ireland that may have to be dealt with, and described it as "prudent financing".
Professor McHale spoke about the council's "pre-election view" on what might be the most prudent economic strategy for the next government.
He commented: "Recovery all depends on how it is done ... if the idea is to follow prudent counter-cyclical policy very much in line with the fiscal framework that has been put in place that really ends the 'boom-bust' cycle, then that would be very welcome indeed."
Listen to Professor McHale's interview on Morning Ireland here...