Burton defends record after no-confidence motion
Tuesday 19 January 2016 23.46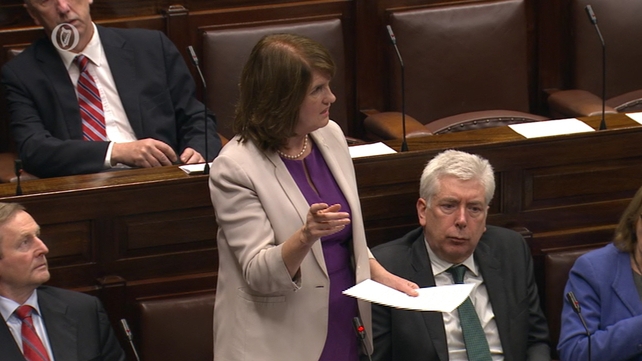 Tánaiste Joan Burton has defended her record as minister after the Independent Alliance moved a no-confidence motion debate in the Dáil following her appointment of David Begg to the Pensions Authority.
The Independent Alliance said the Labour leader's decision to give the ex-trade unionist a State job is a "return to Celtic tiger cronyism".
Ms Burton, who is also Minister for Social Protection, offered Mr Begg the role of chair of the Pensions Authority two weeks ago.
It sparked controversy as the job did not go through the public service advertising or the appointments process.
Tánaiste Joan Burton has criticised the motion of no confidence in herself being debated in the Dáil this evening https://t.co/f6lmas4uA5

— RTÉ News (@rtenews) January 19, 2016
Ms Burton defended her appointment of Mr Begg, describing him was a totally trustworthy man and a person of great ability and experience who has given years of public service.
She also told the Dáil he played a key role in ensuring the workers in Waterford Glass secured their incomes into the future.
The Tánaiste criticised the Independent Alliance for moving the motion.
She said she was proud to say that - together with Fine Gael – Labour has managed to end the worst recession in Ireland in living memory while remaining true to its core commitments.
The Taoiseach also defended Ms Burton, saying he had seen parents trapped in cycles of poverty and Fianna Fáil just hiked welfare payments without reform.
Enda Kenny said this resulted in the highest number of jobless households.
He said Fine Gael and Labour would break the endless cycle of poverty by getting people off the welfare queues.
Mr Kenny said that since Ms Burton's appointment as Tánaiste they had worked closely on delivering the Government's work.
He said he was happy to support Ms Burton as Tánaiste and commend her position to the house.
Moving the motion, John Halligan said it did not give him any pleasure to put forward a motion of no confidence in any minister.
He said the practice of ministers appointing people to boards and quangos before an election is a long-standing practice.
He said Ms Burton personally bypassed the rules to appoint Mr Begg to a role he had not sought.
Mr Halligan said Mr Begg himself said that the €20,000 a year role is not lavishly paid, which he said was an insult.
He said people on disability and other payments are surviving on pittance a week.
He said homelessness is partly down to a policy Ms Burton is standing over while appointing someone who called the pay pittance.
He said Ms Burton is a very nice person but that he lives in the real world, in a city with the highest rate of poverty and deprivation.
Finian McGrath said independent bodies must be set up to make appointments.
He said the issue was not just about one minister, but includes all other ministers.
He called for an end to political appointments and a focus on qualified people.
Fianna Fáil's Sean Fleming said he had been listening with incredulity to the Tánaiste.
He told her she was wrong to claim credit for the recovery, adding: "The Irish people suffered, they are the people who solved the economic crisis."
He said if she kept up that level of arrogance, she would get her answer in a few weeks.
Sinn Féin Deputy Jonathan O'Brien said the Tánaiste had to bear responsibility for the huge suffering out there.
He cited a case of a young couple with two small children whose rent had been increased and who became homeless.
After living in a hotel, he said on 28 December, the man was found trying to take his own life, with paramedics saying he was minutes away from death.
Mr O'Brien said there were too many Labour ministers with such arrogance.
Anti Austerity Alliance TD Paul Murphy said it was clear that the Tánaiste bypassed procedures and processes.
He said this was inexcusable, but that has not stopped the Labour Party from trying to excuse it.
Independent TD Seamus Healy said he believed Mr Begg is particularly unsuited for the chair of the Pensions Authority.
He said Mr Begg was a member of the board of the Central Bank when it allowed a level of borrowing that was ruinous and unprecedented and led to the bust and austerity.
Social Democrat TD Catherine Murphy said that just before a general election there is a rush to appoint people.
She said the abilities of a person are undermined because the system is bypassed to appoint an insider.
Ms Murphy said she had no hesitation in voting against confidence in the Tánaiste.
The debate has now been adjourned and will resume tomorrow.