Gender quota at work in candidate selection
Wednesday 27 January 2016 16.02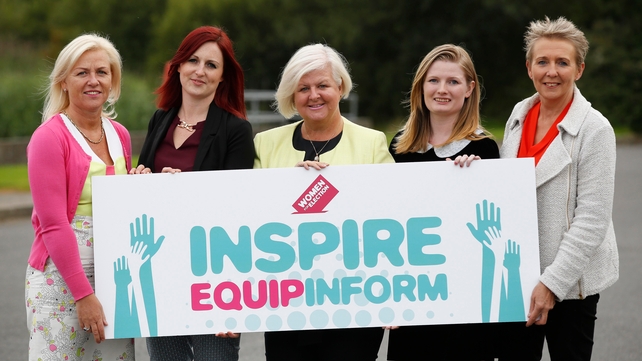 By Conor McMorrow of RTÉ's Political Staff
One of the distinctive features of General Election 2016 is the new requirement for the major political parties that 30% of their candidates must be female.
Gender quotas have not been short of detractors. But one stark statistic shows that some action was necessary to have more female representation in the Dáil – only 95 of the 1,242 TDs elected to Dáil Éireann since 1918 have been women.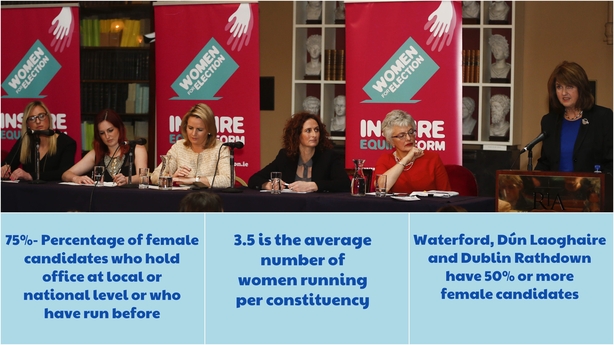 There are currently 27 female TDs (16% of 166 TDs), which is the highest number of women in the Dáil ever.
At this stage, we do not know if the 32nd Dáil will have more women than the current number. But we do know that all parties look set to meet the quota.
The most up-to-date figures from the non-partisan Women for Election group, which was set up to mentor women entering politics, paint a positive picture.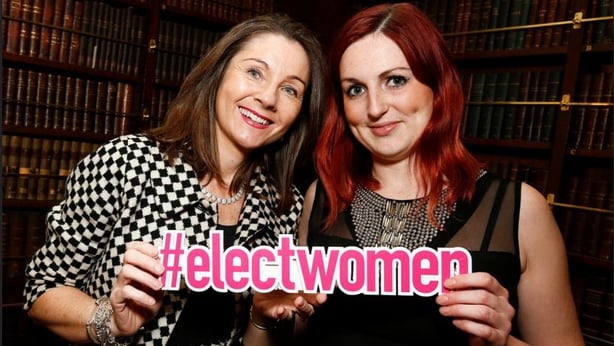 "It certainly looks like all the parties subject to the new rules will meet the gender quotas," Suzanne Collins, Director of Operations and Campaigns with Woman for Election, told RTÉ.
"We find it really interesting that a high percentage of candidates from the four main political parties are already elected representatives at local and national level. These women are competent and qualified, and they are experienced vote winners.
"Parties in the past have claimed they have had difficulty in finding women to run, but with the motivation of the financial penalties, they were able to find women within their own ranks and they have given them the support and encouragement they need to run," she added.
The percentage of women running for the Dáil was on a gradual but steady decline prior to the introduction of the gender quota for selection. It was 20% in the 1997 general election, 19% in 2002, 17% in 2007 and just 15% in 2011.
The target for Election 2016 is 30% – here is the latest breakdown of where each party stands in terms of female candidates.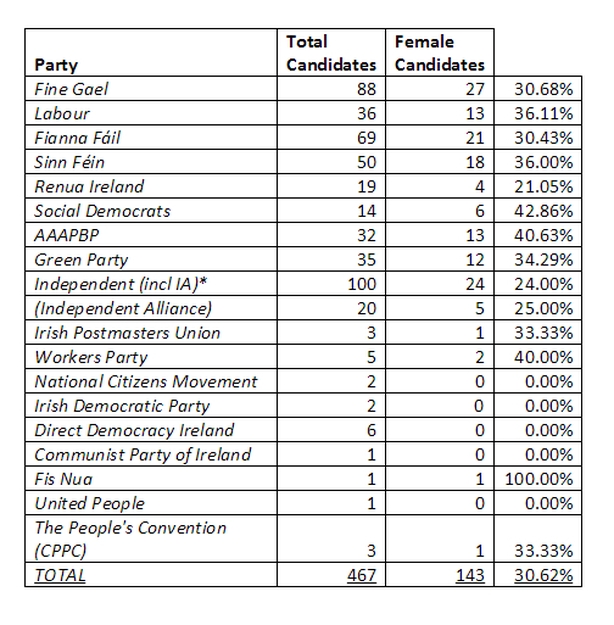 When it comes to the four larger parties – Fine Gael, Fianna Fáil, Labour and Sinn Féin – the percentage of female candidates who hold office at local or national level, or who have run before, stands at 85%.
A total of 26 constituencies have 30% or above female candidates.
The total number of declared candidates now stands at 462, of which 142 are women.
One constituency, Limerick County, has no women running while Dublin South-West has seven, the highest number of women running in a constituency.
---
By Conor McMorrow, RTÉ's Political Staff