The Masters of two of Ireland's main maternity hospitals have said they have "major concerns" about women procuring abortion pills online to terminate their pregnancies.
Speaking at a joint press conference to call for a 'Yes' vote in Friday's referendum, Dr Rhona Mahony of the National Maternity Hospital in Holles Street and Professor Fergal Malone of the Rotunda Hospital expressed concerns about the health implications for women who take abortion pills.
Prof Malone said that about 2-3% of the 1,500 women who procure abortion pills online every year will run into medical complications.
He said that by-and-large women are probably taking the correct medication but given that it is unsupervised he fears people who "run into trouble" will feel like they do not have support.
Prof Malone said a number of women who have had complications as a result of ectopic pregnancies have delayed presenting to the Rotunda Hospital because they had procured their own termination.
---
Read more:
3.2m people registered to vote in referendum
A guide to the referendum
Referendum: The ballot paper explained
---
Dr Mahony said the Eighth Amendment has not prevented termination of pregnancy but just ensured it happens in "a dangerous way".
She said these women are being excluded from the healthcare system and she appealed to women in these situations not to be afraid to present to maternity hospitals.
"Please come and seek help if you are not well, we are not policemen", she said.
Dr Mahony said doctors need to engage with these women and find out what brings them to this point.
"We need to look, understand and listen to these women".
Minister for Health Simon Harris said he had previously sought advice about lowering the criminal sanction for a termination from 14 years but the advice from the Attorney General was that because the Eighth Amendment gives equal rights to the mother and the unborn the penalty could not be adjusted.
Mr Harris said "that's quite frightening" and hoped a 'Yes' vote on Friday would "decriminalise women".
Dr Mahony said that during the debate about the Protection of Life During Pregnancy Act in 2013 there were claims that women "would be suicidal all over Ireland" and that that did not happen.
She said that when women express suicidal intent they need to "be listened to and believed ... and it's terribly important that we don't undermine that".
Dr Mahony said the "deeply misogynistic" theory that the act would "open the floodgates" has been put to bed.
Mr Harris said the term about floodgates was "disgusting now and disgusting then".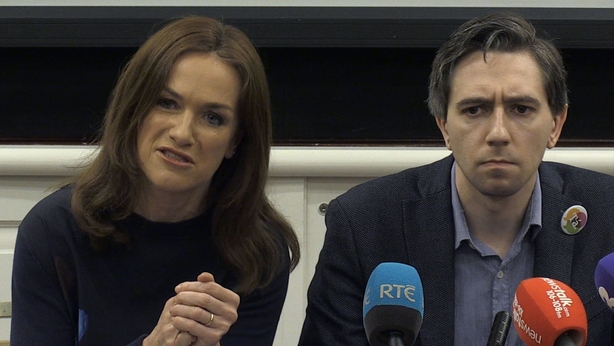 He said it was interesting that some of those who had vigorously opposed the Protection of Life During Pregnancy Act are now in favour of it.
Minister Harris said he thought the country had "come a lot further" in destigmatising mental health but that when women's bodies were discussed "we go back to stigmatising women's health".
Elsewhere, the LoveBoth campaign has said if the Minister for Health was really concerned about abortion pills, he would do more to promote the dangers of them and resourcing Customs authorities to intercept them.
The campaign's legal adviser Caroline Simons accused Mr Harris of cynically using the issue of abortion pills, to argue for the repeal of the Eighth Amendment.
"People deserve actual solutions to the problem of abortion pills, not the removal of all rights of the unborn child which will solve the problem", she said.
#LoveBoth accuses @SimonHarrisTD & Masters of Maternity Hospitals of using the issue of abortion pills to secure a yes vote in the #8thref pic.twitter.com/dzw78oNzeB

— Ailbhe Conneely (@AilbheConneely) May 21, 2018
Meanwhile, former taoiseach and leader of Fine Gael John Bruton has explained why he is advocating for a 'No' vote in the referendum.
Speaking on RTÉ's Today with Sean O'Rourke, Mr Bruton said he trusts the Irish people to uphold human rights and to bear in mind that there are two lives involved.
He spoke of State intervention when babies are being mistreated after birth, but he said it is okay to intervene and protect the life of the child, but we are facilitating the ending of a life of a similar baby a few months earlier.
"Where does human life begin? In my view, human life begins far far earlier than abortion is being allowed".
On the issue of pregnancy as a result of rape, Mr Bruton spoke of recovery from a trauma, and said "traumatising somebody is awful, but it's not as final as killing somebody".
In relation to fatal foetal abnormalities, Mr Bruton said: "There is a sense if you are looking at what's best, to allow the thing to take its natural course, saying that one would feel that they have done everything possible".
He also said that mistakes can be made, adding: "We should be cautious ... when in doubt opt for life".
In response to a question about the fact that since the amendment was inserted into the Constitution, 180,000 Irish people have had abortions in the UK, Mr Bruton was it not hypocritical to accept the right to travel and refuse to allow it to take place in Ireland.
He said: "Yes, there may be an element of hypocrisy here in that we allow one thing, but on the other hand each state in the US is entitled to have its own law".
He said he feels more people will opt for abortion if it is "freely available" here, than if they had to travel.
"I want to ensure that a baby has the freedom to live, and has the freedom to make choices in its own life having been born, because a baby whose life is cut off before it's born isn't free to chose anything".
Meanwhile a row over the referendum has erupted between a long-serving former leader of the country's trade union movement and Labour Party leader Brendan Howlin.
Mr Howlin rejected David Begg's assertion that the issue of abortion is so fundamental to the Irish people's values that it is entirely appropriate to regulate it in the Constitution.
However, Mr Howlin countered that the Constitution was not the place to deal with complex medical issues and the trauma faced by those seeking a termination in cases of rape, incest and potentially fatal foetal abnormalities.
Earlier, in an article for the theological periodical Doctrine and Life, Mr Begg said his conscience obliged him to vote 'No' in this week's referendum because of what he calls "the inevitable consequences" that would follow a victory for the 'Yes' campaign.
Mr Begg, who served for 14 years as head of the ICTU, wrote that removing the Eighth Amendment would not achieve an optimal solution to the problem of unwanted pregnancy and that a better outcome might have been possible by amending article 40.3.3, the technical term for the controversial clause.
He suggested that its text could be strengthened to remove any ambiguity about the priority that must be given to saving the life of the mother.
In a statement responding to the article, Mr Howlin said that only repealing the Eighth Amendment can allow for terminations in the cases of rape, incest and potentially fatal foetal abnormalities.
He said the issue was considered in detail by the Oireachtas committee, and that amending the article to do so had been described by legal experts as "unworkable".
Emphasising that he admires Mr Begg and respects his views, he added that he differs with the former trade union leader on Friday's referendum.