Campaigners from both sides of the debate on the Eighth Amendment have been urging Irish people living abroad to return home to cast their ballot in this month's abortion referendum.
There is no postal vote from abroad, so emigrants who wish to vote in the referendum will have to travel back if they want their say.
Any Irish citizen living abroad for less than 18 months is eligible to cast their ballot.
According to figures from the Central Statistics offices, over 64,000 emigrated last year compared with 66,000 the year before.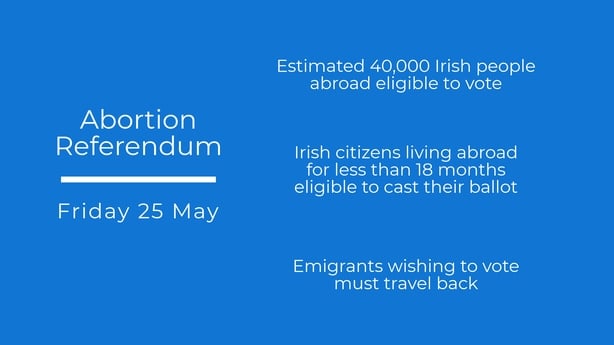 Travelling back to Ireland for referendums is nothing new.
Irish people living abroad made headlines around the world in 2015, when they made the journey home to vote in the same-sex marriage referendum.
Kim Ward, a 21-year-old paediatric nursing student at Canterbury in Kent, is flying home to Monaghan to vote.
She said she was not aware how much of an issue the Eighth Amendment was until she moved to England for her studies.
Ms Ward said working in placement opened her eyes to the reasons women need access to abortion services.
She said: "It is an issue that not only affects adults, but it affects teenagers and young people and it is just vital that these services and healthcare is there for them."
Things are different for Rebecca Farrell, who works in London as a secondary school teacher.
She is coming home to Dublin to vote No as she has said she thinks that a repeal vote will lead to abortion on demand.
Ms Farrell said she feels "really uncomfortable" by the Government's proposals to introduce abortion on request for up to 12 weeks if the Eighth Amendment is repealed.
She said: "I just feel like it is a very slippery slope we are entering into ... I don't trust politicians to leave it at 12 weeks."
Campaigners urging Irish abroad to return home to vote https://t.co/mh7pE5D4KL pic.twitter.com/EP8r0vCHpg

— RTÉ News (@rtenews) May 4, 2018
Groups estimate that 40,000 Irish people abroad are eligible to vote in the abortion referendum.
Some organisations are raising funds for those struggling with travel costs.
Abroad For Yes is helping Rachel de Nólga get home for the vote.
She will be in Ireland for 72 hours so she can vote Yes.
Ms de Nólga said: "If I'm totally honest I didn't really know much about it [the Eighth Amendment]. I was personally affected by the Eighth Amendment so it was kind of then I really took a notice and something needs to change."

She continued: "The country can't treat women like criminals anymore and a woman's choice should be respected."
Seáinín MacBrádaigh said he also had a personal experience with the Eighth Amendment and he will be coming home from southeast England to vote No.
He said: "I believe that every life, no matter how short, no matter how seemingly insignificant it seemed to anyone else, it deserves that chance and I want the Constitution to reflect that."
Irish people living abroad have been using #HometoVote on social media documenting their travel plans home.