People Before Profit has claimed that people are confused on what they will be voting on in the upcoming referendum on the Eighth Amendment.
This afternoon, the party launched its campaign calling for a Yes vote on 25 May.
Deputy Richard Boyd Barrett said confusion was reflected in a poll published last weekend, which showed 47% of people planned to vote yes, but 62% think women have the right to choose.
Mr Boyd Barrett said voting yes is about trusting women and giving them a choice.
"It's not about our personal views on abortion, it's about allowing women to make their own choices", he said.
Deputy Bríd Smith said it was unnacceptable to the majority of people that women with crisis pregnancies have been exiled out of the country or forced to take abortion pills.
We need your consent to load this rte-player contentWe use rte-player to manage extra content that can set cookies on your device and collect data about your activity. Please review their details and accept them to load the content.Manage Preferences
She said it was worse again for asylum seekers and those in Direct Provision who are "forced to continue with unwanted pregnancies because they cannot travel abroad".
Deputy Gino Kenny said the feedback and sentiment in Dublin west was five to one towards a yes vote.
He also said the posters on the no side are pushing people who were "on the fence" to vote yes.
Ms Smith said a lot of people think they will be voting on the proposed legislation but she said they will be voting on removing an amendment from the constitution.
"I think they need to separate the two things and trust women in the first place," she said.
She said if people do not like the position that politicians take on abortion they can respond to that.
She predicted that if the amendment is repealed, there would be attempts to roll back on what has been committed in the proposed Government legislation.
Meanwhile, a war of words has broken out between Amnesty International Ireland and the Save the 8th campaign today after a woman spoke about finding out she was pregnant knowing that she could potentially die if she continued with the pregnancy.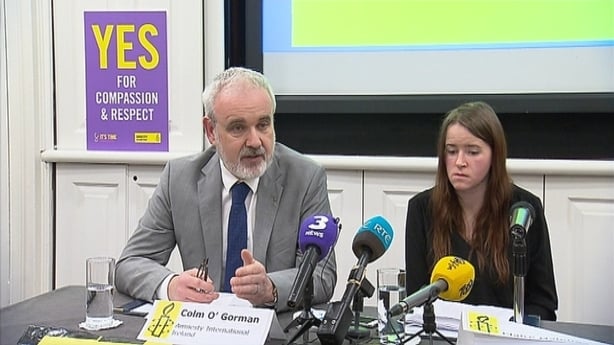 Claire Malone, who has a number of complex and life-threatening health conditions, spoke at an Amnesty International press conference in Dublin this morning about finding out she was pregnant knowing that she could potentially die if she continued with the pregnancy.
However, her comments were criticised by the Save the 8th group who said her "story published today seems to be at significant odds with Ms Malone's account of her pregnancy, as chronicled on her personal blog".
Ms Malone said that because of the Eighth Amendment she was not able to get a termination in Ireland.
Ms Malone, a Co Wexford widow who already had two children when she became pregnant with her third child last year, explained that going to the UK was impossible for her.
She also pointed out that her doctors were not legally able to consult doctors in the UK if she was having a termination, and the British doctors said her case was too complex without the support of Irish medical teams.
She said she had to prepare herself and her children for the worst, and that she went into labour believing she was going to die.
Ms Malone, whose baby is now six weeks old, said her health, which was already poor, has been shattered by the experience.
If she ends up in the same position again she wants the choice, she said, adding that being pro-choice does not mean pro-abortion.
However, Save the 8th, a group campaigning for a No vote in the referendum on 25 May, said they had "very serious, confusing, and concerning questions" about Ms Malone's story.
They claim that Ms Malone blogged about being hopeful about the pregnancy.
But Amnesty International responded this afternoon to say: "The response by the Save the 8th campaign is completely predictable. They know that they cannot respond to the irrefutable evidence of the harm done to the health of pregnant women under the Eighth Amendment."
Amnesty said that Ms Malone's medical records show that when she found out she was pregnant, she was immediately concerned for her health and that she wanted an abortion if her health became endangered.
Its statement also said that under the Eighth Amendment, when a pregnancy is "seriously endangering women's health, doctors are powerless to intervene and women are denied the right to make the best decisions for their health, lives and families".
This afternoon, the LoveBoth campaign held an awareness event to mark the 50th anniversary of the introduction of the Abortion Act in Britain.
.@loveboth8 which is calling for for no vote in #8thref holds awareness event outside the Dáil to mark 50th anniversary of UK Abortion Act pic.twitter.com/RWQvDj8etp

— Ailbhe Conneely (@AilbheConneely) April 27, 2018
The group said that the only way to prevent Ireland's abortion laws becoming like Britain is to vote No on 25 May.
LoveBoth's spokesperson Cora Sherlock said the Eighth Amendment has kept Ireland's abortion rate much lower than in other countries in Europe.
She said abortion has nothing to do with healthcare because it ends the life of a baby in a womb and she said Ireland has an excellent record in looking after mothers and looking after babies.
Elsewhere, one of the founders of the Lawers for a No Vote group has said that the doctors and obstetricians made the correct judgement in not agreeing to a termination for Ms Malone.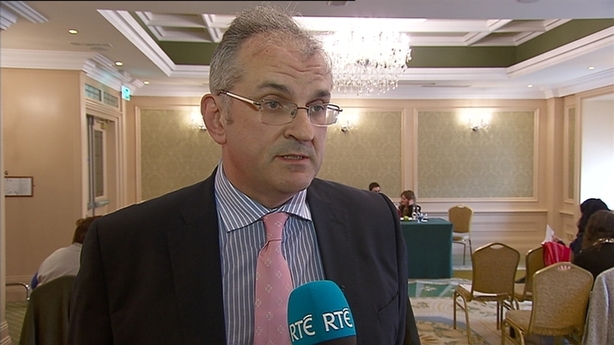 Ben Ó Flionn told RTÉ News that the Eighth Amendment does protect women whose lives are in danger.