Did Budget 2023 do enough for third-level students who are struggling with a cost-of-living crisis as well as an accommodation crisis? Students and student union representatives say the work is far from finished.
The cost-of-living crisis has had a major impact on the student experience this year, and student unions have been following news of Budget 2023 this week.
Many universities say that students are finding jobs, including full-time jobs, to cope financially. They say the student accommodation crisis is one of the main reasons for their struggles.
Dublin City University Students' Union (DCUSU) has heard of students commuting from as far away as Galway.
DCUSU President Thomas O'Dowd fears that lengthy commutes will impact student attendance in the months ahead.
"Come winter when it's a bit colder, a bit darker, and maybe the weather might take a turn, students might be less likely to get up in the morning and commute these distances," he said.
"So many students are dropping out and deferring and coming to us asking if we can help them with accommodation," said Míde Nic Fhionnlaoich, UCD Students' Union's welfare officer.
"And their next question is 'can I defer?' because they've exercised every single possibility."
The issue of deferrals is not just a problem in the capital. Deferrals and the cost of living are major focus points around the country - something Sai Gujulla, President of University of Galway Students' Union, knows all about.
"Coming from their hometown and getting used to the college environment, students are unable to afford accommodation, unable to afford groceries, unable to afford the basic needs that they need to attend university in Galway," said Mr Gujulla.
Kevin Boushel, a PhD student in music at DCU, says the cost of living is affecting every single part of life for students.
It is preventing them from socialising, being able to go out for a drink, and "just being carefree and the way that students are supposed to be", he said.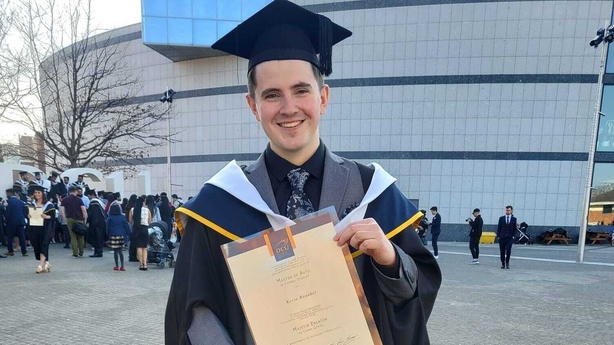 The Government addressed many of these issues in Budget 2023 but their efforts have been met with mixed reactions.
Mr Boushel said there is a lack of clarity when it comes to the stipends for PhD students.
"There's a promise of a winter bonus as well, but that's not really easing the anxiety of a lot of PhD students that I've been talking to here in DCU. There's still massive uncertainty in terms of how much money we should start putting aside for the winter because we have no idea what's in store for us."
Maeve Richardson, spokesperson for the Union of Students in Ireland (USI), said it is very disappointing to see a "small" stipend increase of €500.
She said it only applies to SFI [Science Foundation Ireland] and IRC [Irish Research Council] PhD students "and they're still going to be mostly near minimum wage, never mind near living wage".
The way the Government handled the student accommodation crisis in Budget 2023 was also criticised.
"Student renters in particular are going to be a worry for us," said Ms Richardson. "With the potential tax credit for renters, we're worried about how the finance legislation is going to be implemented for those who have unregistered tenancies, those who are in house-shares, those who are in digs, and how that's going to affect them."
UCD's welfare officer also thinks a lot of students won't be able to avail of the tax credit for renters for these reasons. "A lot of those students are not protected by normal tenancy laws and are still kind of being left behind in extremely vulnerable positions."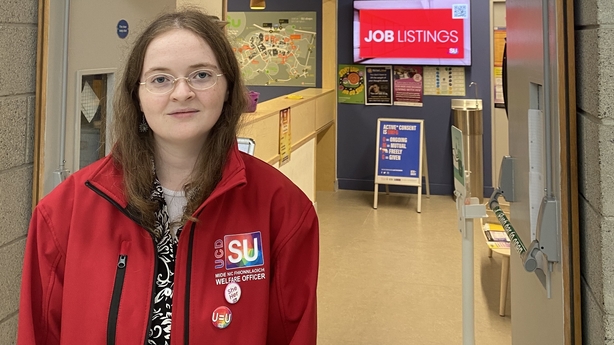 The once-off reduction of the Student Contribution Charge is welcome news to student unions but they felt more could have been done to address the issues facing students beyond this year.
DCUSU says it will continue to advocate for Publicly Funded Higher Education, and towards an eventual abolition of the Student Contribution Charge.
Similarly, Mr Gujulla said that "the Student Contribution Charge itself is a barrier to education so a once-off payment is definitely not enough".
The cost-of-living crisis is a student crisis too❗️

We, the students, need to take a stand for affordable, accessible education

Students can't afford to stay quiet, so we're walking out

Join us on October 13 at 11.11am

Get all the info at https://t.co/pGCN9uGZgC#USIWalkout pic.twitter.com/H6APQE5qrk

— Union of Students in Ireland (@TheUSI) September 28, 2022
Third-level students and student unions have been protesting in September, with Galway students protesting earlier this week to highlight the accommodation crisis, and students in Dublin on the streets over the cost-of-living last month.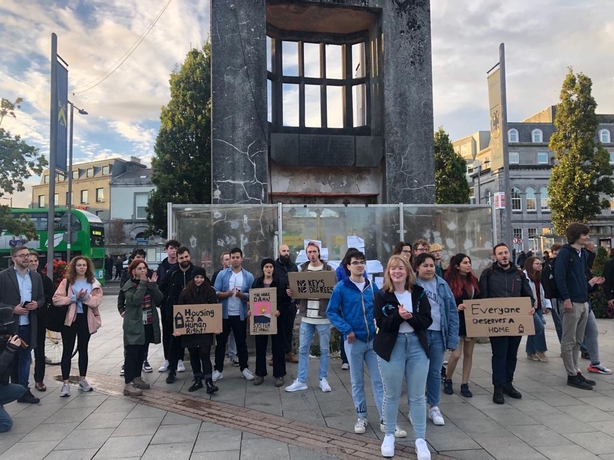 Young people will continue to ask for change in October, as the USI is organising a student walkout on 13 October.
"We're encouraging all students across the country in every institution to join in and walk out because third-level has been left behind for so long," said Ms Richardson.
"It's truly the crisis that's never ended. We're still paying the highest student contribution charge in the EU. Our PhDs are being left behind. We are so lacking in purpose-built student accommodation and that's something that was really missed out in the budget."
Speaking earlier this week on RTÉ's Today with Claire Byrne, Minister for Further and Higher Education Simon Harris said "whatever way you say it, college fees have fallen".
College fees were reduced in the budget for the first time in 27 years, he said.
Addressing the accommodation crisis, he said while some students won't be able to avail of the rent relief, there are supports for student renters, including a student assistance fund for those having problems paying their rent.
He further added the policy around student accommodation has been changed so that the State will start to build and help fund private accommodation.
Additionally, there are a number of third level institutions who have land and permission to build ,the minister added.
---
Read more:
€1,000 cut to third-level fees announced
Galway students protest over lack of accommodation