The Ombudsman for Children has said he is fully supportive of the demand by Leaving Certificate students for a hybrid approach to assessment this year, to include an accredited grades option.
Dr Niall Muldoon's comments come as students held protests today to highlight their concern at plans to proceed with a traditional Leaving Certificate this year.
In the suburbs of Dublin and outside Leinster House, in Waterford City and elsewhere, students swapped school for the streets for a time today to draw attention to the pressure they are under.
They called for a fairer approach to assessment this year and many want to see accredited grades offered again as a choice.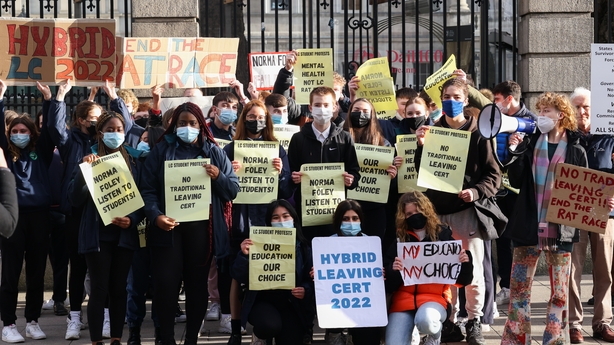 The Taoiseach told the Dáil that consideration of a hybrid model this year was complicated by the fact that the third level education sector might not be able to provide as many places for new entrants this September, as it did last year or the year before.
But the Ombudsman for Children said a hybrid model should be investigated. Dr Niall Muldoon said all solution-focused options in the best interests of children must be considered.
He said students needed to be listened to and they were saying that accommodations already proposed did not fully address the disruption to education they have experienced over the past two years.
In a statement, Dr Muldoon said: "The disadvantage of missing school, teacher absences and no online tuition was not equally distributed and it is impossible to know which students are most affected.
"Therefore, it is vital that the Department of Education and the education partners come together to create a solution that takes these losses into account for all Leaving Certificate students".
Dr Muldoon said the adjustments made in the examination papers in August did not foresee the level of disruption that would come from a new Covid variant like Omicron and that that now needed to be catered for.
Leaving Cert students from schools in the Dublin 15 área among those protesting nationwide this morning in pursuit of fairer exams/assessments this year. They're concerned that with recent points inflation they'll be disadvantaged re college entry if exams only proceed. pic.twitter.com/BjGhS1Dg7C

— emma o kelly (@emma_okelly) January 19, 2022
Traditional exam 'not fair' after all disruption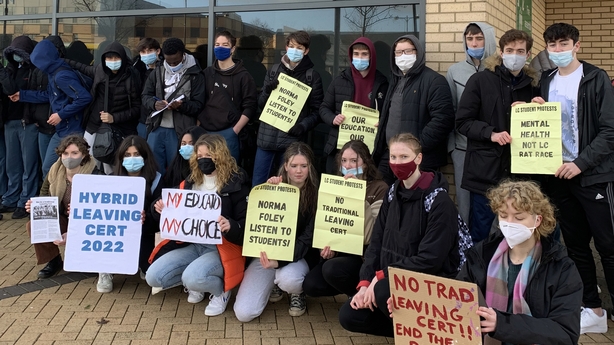 At Blanchardstown in Dublin, around 30 students from five local secondary schools called on the Minister for Education to listen to the class of 2022.
Marty Pawlak, organiser of the protest, said that students had mixed views as to what needed to be done.
She said some wanted accredited grades while others wanted further adjustments made to planned examinations. However, she said they all agreed that some form of additional accommodation was necessary to compensate students for the disruption they have faced over the past two years.
We need your consent to load this rte-player contentWe use rte-player to manage extra content that can set cookies on your device and collect data about your activity. Please review their details and accept them to load the content.Manage Preferences
Alex Jakowski from Dublin's Coolmine Community School said the students were worried that they might not get into college, as a result of the points inflation of the past two years.
He said points for the DCU course he has set his heart on - Translation Studies - have jumped by 100 since 2019. Students like Alex feel that they will be severely disadvantaged if they too are not offered concessions similar to those offered to students in the past two years.
They feel they will not be able to compete for scarce college places with students applying from last year and the year before.
At both protests students complained of freezing cold classrooms, absent teachers, and missing classes themselves due to illness or isolation requirements. They also complained of the damage done by last year's lengthy school closures when they were in fifth year.
"That was a huge chunk of our education," said student Alice Jennings from Newtown School in Waterford, where around 30 students took part in the protest.
"It is not fair that we have to sit a traditional exam after all that disruption."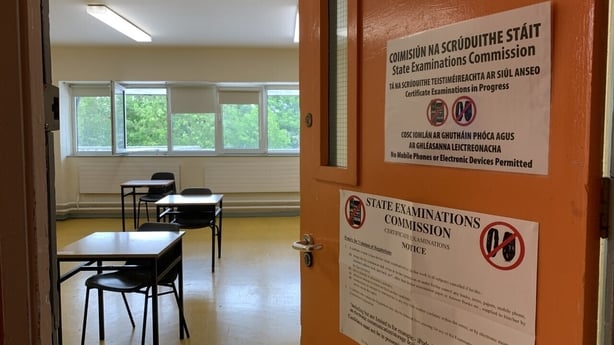 Officials from the Department of Education will meet student representatives tomorrow afternoon. The meeting will also be attended by teacher and parent representatives as well as officials from the State Examinations Commission.
However, the Department of Education has this week reiterated its determination to proceed with a traditional Leaving Certificate exam, albeit with a number of adjustments such as a greater choice of questions and more time for practical coursework assignments.
This morning, the Minister for Higher Education said that clarity and certainty should be brought to the status of the Leaving Cert exams "urgently".
Simon Harris said there should be a recognition that the senior cycle had a very difficult time.
He said any solution should reflect the fact that this year's students have not had a normal Leaving Cert experience.
This afternoon, the Taoiseach told the Dáil that he accepts and understands "the need for clarity and certainty" given the "worry, anxiety and stress" that the students are going through.
However, he contended that "significant adjustments" to the Leaving Cert process have been made due to the disruption students have already experienced, including allowing for greater choice while retaining the "familiar structure" of the exam.
The Taoiseach added that Education Minister Norma Foley was engaging with partners on the topic tomorrow, and while he did not want to pre-empt that meeting, he accepted the "need for certainty" and the Government would move as "quickly" as it can.
He was replying to questions from Labour leader Alan Kelly who said thousands of students were waiting for an answer regarding the format of the Leaving Cert and his party "absolutely believe" in holding a hybrid exam.
Labour Party leader Alan Kelly says Leaving Certificate students 'need answers' about the exam model this year, with the Taoiseach saying an advisory group is taking place tomorrow with the various stakeholders| Read more political coverage: https://t.co/rJqD002c58 pic.twitter.com/NBsaAsCfsz

— RTÉ News (@rtenews) January 19, 2022
Mr Kelly said he accepted that a hybrid Leaving Cert "can't be a carbon copy of last year" but he contended that it was "absolutely necessary" to change the format.
The Labour leader said the stress on Leaving Cert students was "huge". He implored the Taoiseach to take a decision swiftly.
Additional reporting Emma O Kelly