At a discussion this week on plans to reform the Leaving Certificate, school principal Fionnghuala King told a story that encapsulates the central problem that many students - as well as their parents and teachers - have with the current system.
She described a consultation evening at her school, Mount St Michael's in Claremorris, Co Mayo, where parents were asked by the National Council for Curriculum and Assessment (NCCA) to say what they thought was the purpose of senior cycle education.
The parents were divided up into four groups and after some discussion all four came back with the same answer. They each had the same one word written on a piece of paper – "points". One group, she said, had written the word in capital letters, with exclamation marks after it.
Two precious years of a teenager's life - their valuable educational experience - are subjugated to such a mean purpose: The gaining of points for college entry.
Parents, students, and school principals like Fionnghuala King, have long railed against a Leaving Certificate programme they see as far too narrow and points driven. Many are looking to a senior cycle reform process currently under way that they hope will do away with this tyranny.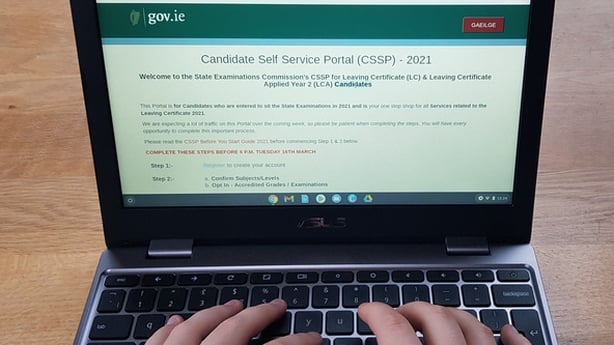 Change is certainly on the way. The NCCA has spent the past five years researching and consulting to see how the last three years of second level education could be transformed, to make the experience more meaningful and relevant for students, it says.
The Minister for Education has the NCCA final report on her desk since the summer and its publication is anticipated.
The NCCA wants any newly designed programme to encourage things like critical thinking and problem solving, and promote curiosity, creativity and a love of learning - and who could disagree with any of this? It wants a move away from the current exam-focused system, towards one with more continuous assessment.
Pandemic highlighted other options
The Leaving Certificate experiences of the past two years have really concentrated minds. With the dead weight of the traditional exams lifted from many by the calculated grades option, many students had a far more positive and less stressful end-of-year experience.
The almost universal cry now seems to be "down with this outdated exam-focused Leaving Certificate! Continuous assessment let's be having you!"
But two highly knowledgeable and influential speakers at a conference of secondary school principals and managers poured a certain amount of cold water on such sentiments this week, and they raised some important questions.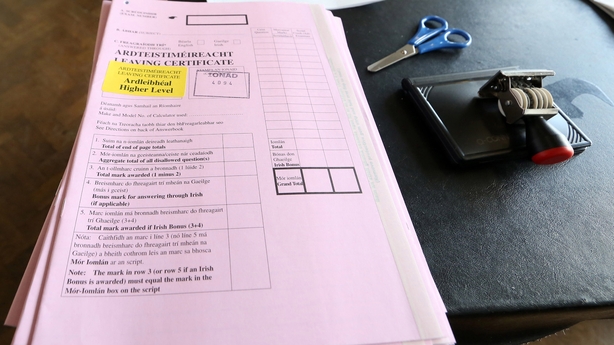 It's always worth earwigging when senior civil servants speak to school leaders and this was one such occasion.
They were the head of the State Examinations Commission, Andrea Feeney, and Dalton Tattan, who is Assistant General Secretary at the Department of Education with responsibility for curriculum and assessment.
They were addressing school principals and managers at the annual conference of the secondary school system's Joint Managerial Body.
Not all exams focus on final test
Andrea Feeney began by attacking what she called a "bugbear" of hers, the false belief, she said, that the current process is predominantly focused on the terminal examination. She noted that out of 41 Leaving Certificate subjects, only 14 are examined entirely via an end-of-year exam.
"We have oral examinations, we have practical tests, we have practical performance tests. We have portfolios, those portfolios take the form of written booklets but also digital coursework. We have projects. We have a variety of assessment modalities as I've mentioned. So it's not just everything is in the terminal exam."
And she sounded a warning: "A myriad of assessments also has its downsides, and that needs to be considered."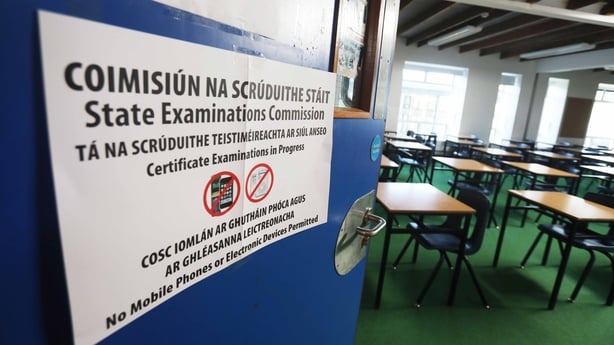 Dalton Tattan elaborated. On more continuous assessment he warned, "we need to think carefully".
"Students favour this idea of continuous assessment and reduced stress for them. And that may well be the case, but I think we need to test the thinking around that, because it could also raise the temperature."
Mr Tattan warned that a lot of assessment, happening on a regular basis, can turn out to be just as stressful for pupils, and may not suit all students.
"What does that do to the experience for students in senior cycle?", he asked, "Do they start to focus purely on the assessment event? Is that all their focus? Do they start to lose other things that enrich their lives, or enrich their school communities?
"And what's the impact on teaching and learning in the classroom if there is another deadline a few weeks hence? Is every class suddenly dominated by preparing for that and the bigger picture gets lost?"
Assessing continuous assessment
Dalton Tattan warned that continuous assessment could lead to the fragmentation of learning, that a student assessed on a component at the end of fifth year could think "finished with that now, I don't need to know that ever again. I can close the book".
"Is that going to improve the experience for the senior cycle?" this senior civil servant asked. His own view was clear; not necessarily.
"It's not to say that we're against these things," Mr Tattan concluded, "but we should think through all the implications."
Andrea Feeney referred to the international picture. She said she wasn't sure if other jurisdictions, which had opted for more continuous assessment, had gotten things right.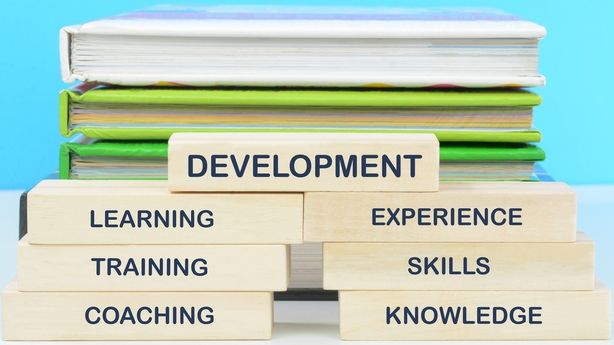 Returning to the vexed issue of college entry and the points race, she warned against swapping one set of problems with another; replacing the current system with one that placed pressure on students throughout fifth year too.
"If I'm in fifth year, and I really want to make sure that I'm doing all I can to get what I want at the end of sixth year ... does it mean that I put [other] things aside?"
Andrea Feeney did not elaborate but presumably she was referring to hobbies, sporting and cultural activities, things that enrich a young person's life immeasurably.
She said there was anecdotal evidence that continuous assessment in Northern Ireland had led to this.
"How do we space and time the assessment events so that we're reducing the burden and the anxiety on students and not increasing it?" she mused.
Current system has huge trust
Dalton Tattan warned that a flawed examination system could undermine even the most excellent of new curriculums, because teachers, of course, teach to the test.
"That is the only logical thing to do," he said.
"So we need to think about how can we ensure that the assessment system that we have for the future supports the kind of approach we want for senior cycle."
Both speakers referenced the huge public trust and confidence that the current system enjoys.
"I think we need to be measured in our approach to reform," the head of the State Examinations Commission told the audience of school principals and managers.
"We need to be very careful," she warned. "You build up trust over a very long number of years, but it doesn't take much to undermine it."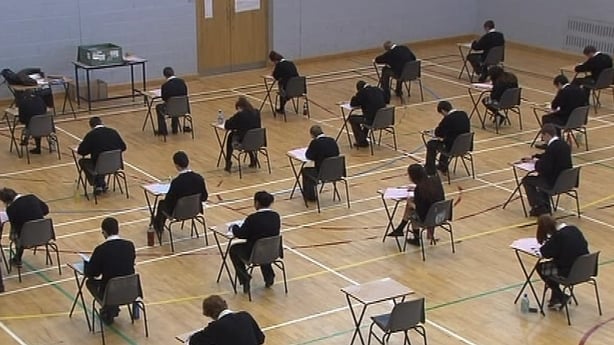 Andrea Feeney said all subjects would have to be looked at on an individual level, and she said listening to the student experience at junior cycle level might provide the key to successful transformation.
Both Minister for Education Norma Foley and Minister for Higher and Further Education Simon Harris also addressed this conference, and spoke on the topic of senior cycle reform.
But it was these two key public servants who gave this audience of school leaders an insight as to the challenges involved.
Both are fully aware of the need for reform. They know that senior cycle education has to be about more than the dismal picture painted by those parents in Claremorris.
But on Wednesday they sounded some important alarms. Tread very carefully, they warned, getting this right is too important, and there is no easy answer.