The National Development Plan, announced by Government this afternoon, commits €4.4bn in spending to primary and second-level education as well as just under €2.9bn to spending in further and higher education.
It envisages an average of 150 to 200 school building projects to be delivered annually over the period 2021 to 2025 to meet demographic need and to support the modernisation of existing school facilities. The plan says this will include "as much as possible" future proofing from a climate action perspective.
The NDP says it will also support delivery of key priorities in the schools' sector, which include catering for special needs requirements with a particular emphasis at post-primary level, and a strengthened focus on the refurbishment of existing school stock "as part of underpinning the transition of the school system to an era of Net Zero carbon by 2050".
Despite the fact that primary school enrolment is now in decline after a peak two years ago, the plans says that significant regional and local variations mean there will continue to be requirements for additional capacity in more than a third of local school areas.
It states that at post primary level 90% of local school areas will require additional capacity. An enrolment peak at post primary level is due to be reached by 2024/25.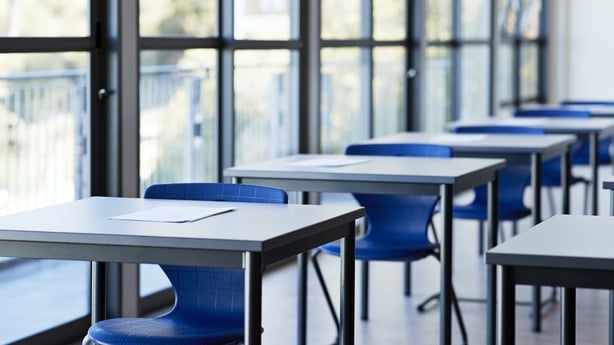 The plan lists school laboratories and PE halls as among a number of areas where there will be a "strengthened focus on refurbishment of existing school stock".
It says that following a number of pilot projects there will be a "commencement and progression of a deep energy retrofit of schools built prior to 2008, to deliver on 2030 and 2050 Climate Action targets".
It states that there will be investment in appropriate ICT infrastructure to support curricular developments such as Computer Science at senior cycle, the planned review of the primary maths curriculum (to include computational thinking), and the implementation of the STEM strategy.
With regard to spending on further and higher education, the plan states that over the coming decade "we will intensify our commitment to leveraging the role of further and higher education institutions as anchors for enterprise and for regional growth".
It says investments in these sectors will directly support the target of ensuring that jobs growth in the Eastern and Midland regions is at least matched by that of the Northern and Western and Southern regions combined.
---
Read more:
NDP a pathway to build 300,000 homes by 2030 - Martin
Metro North delay latest in long list of postponements
---
The plan envisages "a significant step up" in funding for the further education and training sector.
"Support will be provided for the development of FET Colleges of the Future, both through targeted investments in existing buildings and the development of a small number of strategic new campuses aligned with regional needs".
It states that it will prioritise investments in the expansion of apprenticeship provision in line with targets for new registrations. A key focus of current investments is expansion of capacity for electrical and plumbing apprenticeships.
According to the NDP, annual capital investment by the Department of Further and Higher Education, Research, Innovation and Science will progressively increase from a total of €500 million this year to €652 million by 2025, representing an increase of 30%.